28 things you'll only know if you've done Lands End to John O'Groats
Steve Shrubsall tells us what he found on his LeJog ride; things people can only know if they've done it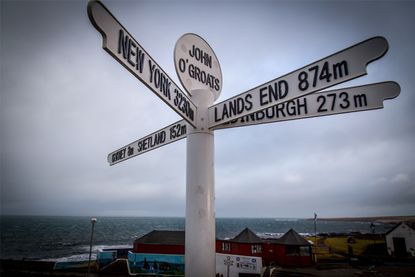 Lands End to John O'Groats is one of the most challenging endurance rides you can do. For those who have conquered LeJog, there are a few things they wish they'd known before setting off on this epic adventure.
Here are the 28 things that might come up for anyone heading from Cornwall to the top of Scotland.
Cornish pasties will keep you going
Fortuitously, the start of the journey sees you smack-bang in the middle of the world's foremost pasty enclave, Cornwall.
>>> How to fuel for long distance rides
Feast heartily on this fine foodstuff- a) for the sensational tastes and textures, and b) at 500 plus calories a pop, they'll bolster your chances of meeting the next county in relatively fine fettle. Eat, eat and eat again!
The Cornish hills do end, eventually
The initial day's riding will have you questioning whether flatness was a figment of your imagination.
Cornwall is incorrigibly hilly. It undulates to the very last metre with gradients so keen you'll be rifling through your panniers for a harness and carabiners.
>>> Four tips to nail any climb (video)
Nil desperandum - this is arguably the toughest day of the trip… things, as they say, can only get better.
Journey planning is essential
After several hours of accosting random Devonians on day two and making urgent inquiries about how to get from here to there, you soon realise that, after nearly riding head first into a river, you should've perhaps spent a little more time on the route.
Accommodation en route is not cheap
Unless you've already booked, this just won't happen in Devon. It's pretty, people like going on holiday there.
>>> Team Sky's mobile home for sale on eBay
So when you rock up to Barnstaple with 80 gruelling miles in the legs and knock hopefully on the door of every B&B in town, expect to be turned away from each before eventually finding a room at the most expensive hotel in the world.
You'll be happy when you see the 'Somerset' sign
This is a landmark. It marks the start of a new era. After 2.5 days of hissing expletives at hills, the Levels of this glorious county are a welcome respite for your thighs, and a chicken soup for your rapidly fragmenting soul. Hail Somerset! It is indeed a sensational place.
Cider is the drink of champions
You're proud of yourself, and rightly so. It's time to celebrate emerging unscathed from the first three days of riding with several glasses of the local brew.
Complement your evening meal with a pint or four of Thatchers - it makes plenty of good sense.
Waterproofs are worth the space they take up
Some people are ignorantly optimistic. "It's summertime for Pete's sake, I'll pack one solitary showerproof gilet and be done with it." Big mistake.
>>> Cycling in the rain: How to survive it
It is summertime, yes, but this is Britain, where the weather has a track record of misbehaving like pubescent youth. And the odds are, like some people, you may get doused by a vehement deluge while traversing the Severn Bridge. Hideously unpleasant.
Looking at the map makes you realise how far you've still got to go
With four hard days in the legs, it may irk you somewhat to learn that you've only covered a quarter of the total distance, and any extensive perusal of the atlas may just have you hightailing to the nearest train station for a one on one counselling session with the first conductor you come across.
Can't speak Welsh? You'll be able to soon
Riding the length of Wales is a great way of adding to your multi-linguistic arsenal. Now, not only can you can say, 'Bonjour', 'Ole' and 'Auf wiedersehen, pet', but you can bolster that eclectic little list with words like ARAF (slow), YSGOL (school), and LLID Y BLEDREN DYMCHWELYD (cyclists dismount).
You'll be fluent by the time your reach Liverpool, if a little dry in the throat.
The sun might shine, it will burn you
Every once in awhile, the British weather chucks us a bone to gnaw on, and praise be! Sunshine! Make sure, however, that you are well lathered up with sun protection - lest you arrive in Manchester with a face redder than Utd's home strip.
Eat natural foods to boost performance
You'll appreciate the distance you've covered
One morning people were calling you 'boyo', by the evening you're 'our kid'. That's a pretty good day's riding.
>>> It's never too late: taking up racing as a veteran
From 'boyo' to 'our kid' in 10 hours. But it's only when we hear 'big man', that we know the end of the trip is nigh.
There are better roads, even if they're not the quickest
Taking the A483 into Wrexham will either result in succumbing to a 16 wheeler, or, at the very least, becoming the owner of an irredeemably besmirched pair of bibshorts.
>>> Don't go that way! When cyclists go AWOL
Avoid all green A roads like the plague. They are not for us. They are for massive chunks of metal piloted by massive men with mighty tattoos.
Punctures are part and parcel of cycling trips
Your first reaction may be to have a little bit of a cry. Your second might be to pitch your steed into the nearest available body of water.
But, hopefully, your third will be to approach the situation with pragmatism and simply fix the puncture.
>>> How to fix a puncture
If the puncture persists, remember that crying isn't necessarily frowned upon, but try to do it as discreetly as possible - and don't scream, screaming just simply isn't cricket.
The Liverpool/Manchester conurbation area doesn't go on forever
It just feels like it does. It only lasts a day - a day of undiluted faff, yes, but only a day of it. Perhaps make a game of it. Spot the football ground could keep you busy for the duration if you're canny enough with the map.
The views are worth admiring, so don't just stare at your stem
Take them in, but not too long, we haven't got all day... Admire the intricately crafted dry stone walls, which should by this stage be a very common sight. They really are a work of precision - and their abundance! Someone had a mighty hard day at the office.
There will be temptation, you must resist it
You're in the Lakes and have been thwarted by the puncture from hell. It's literally unfixable. Something, some microscopic shard of hate has buried itself deep in your back tyre and you're unable to locate it.
>>> Buyer's guide to road bike tyres (video)
With five miles until the nearest bike shop, do you a) yomp it out, or b) accept a lift from the kindly stranger with the pick-up truck? Well, a) of course. You wouldn't want to reach the end having been chauffeured halfway through Cumbria, would you?
There's a huge satisfaction in knowing you've just ridden your bicycle to Scotland
Scotland! You have ridden your bicycle to Scotland! Say it out loud. Inform strangers of this feat of endurance. And if they don't look suitably impressed, phone your mum and tell her.
Even this far, the map still isn't your friend
It will be the psychological equivalent of a right hander from Reddick Bowe. Scotland is rather long, you see. And as much as it pains me to write these words, you're just about halfway to the top of the UK.
>>> Best cycling apps for iPhone and Android
Disregard the last sentence - banish it from your brain immediately.
You'll love a big Scottish breakfast
With Lorne sausage, potato cake and black pudding among standard componentry, you can pretty much rely on one these glorious plates of calorific stodge to see you through to elevenses.
>>> Who said it: cycling commentator or Alan Partridge?
As Alan Partridge once proclaimed: "It's called cholesterol, Scottish people eat it."
The road through Moffat towards Edinburgh is unmissable
Jaw-dropping, breathtaking, eye-popping, and any other such cliches you can muster describe the sumptuous scenery you will travel through today.
The trip in its entirety becomes inconsequential. You are caught in an utterly wondrous and joyful now. This is cycle touring at its liberating best.
Worth knowing
Audiobooks will keep you company
This is possibly a touch controversial due to safety issues, but needs must when you're going insane.
Bill Bryson, Michael Palin and John Grisham all conspired to stave off the onset of lunacy during my journey. It gets pretty lonely out there - and try as you might, it's not all that easy to strike up a stimulating conversation with a woodland thicket. Cluck-cluck, jibber jibber etc...
The Forth Bridge will give you vertigo
Sure, this may actually only apply to those who already have vertigo, but there are enough of us for this to merit the list. A separate cycle path runs parallel to the main road, which after 100 metres or so totally segregates, leaving a 105 feet drop down either side.
>>> NYC cyclist films the problems he encounters riding over Brooklyn Bridge (video)
The bridge has an official cycle speed limit of 15mph, although I think I caused a sonic boom at the rate at which negotiated it.
Credit cards are not de rigeur in the Highlands
Cash is king in the north. Credit cards will be scoffed at. Unless you've got the cold, hard readies in your wallet, you may have to go without.
And there can often be miles of total desolation between settlements, with only circling eagles, stags and sheep to share your woes with.
You don't need to fear the Highlands
Yes, you are alone in the Highlands. Yes, you are enveloped by menacing peaks and jagged spires. Yes, you are being stung by a vitriolic shower and whipped by a spiteful crosswind. But don't be scared. You're British for heaven's sake.
Locals know best
I informed mein host at a B&B that I was planning on taking the A9 to John O'Groats. He looked at me like I'd just gone berserk with a bottle of single malt, and subsequently advised me of an infinitely safer and more scenic route.
>>> Watch: Mark Beaumont's epic non-stop ride around the north of Scotland
I heeded his counsel - and the day's riding transpired to be the best I've ever spent in the saddle.
A visit to one of the Scottish distilleries is a must
By now you should be in Glenmorangie territory. By all means pop in a for a quick snifter. But don't get carried away. You wouldn't want to bring your trip to a premature end by riding full tilt into the nearest loch.
There's a unique satisfaction in knowing you've just ridden from one end of the UK to the other
Savour the feeling for a few long minutes before locating a suitable hostelry and tanning several celebratory ales and a selection of the most calorific items on the menu. You've earnt it.
What goes up must come down
And home is more than likely a 100-odd quid down a train line. Book in advance, lest you wish to succumb to the wrath of Network Rail's extortionate last-minute fees.
Thank you for reading 10 articles this month* Join now for unlimited access
Enjoy your first month for just £1 / $1 / €1
*Read 5 free articles per month without a subscription
Join now for unlimited access
Try first month for just £1 / $1 / €1
Founded in 1891, Cycling Weekly and its team of expert journalists brings cyclists in-depth reviews, extensive coverage of both professional and domestic racing, as well as fitness advice and 'brew a cuppa and put your feet up' features. Cycling Weekly serves its audience across a range of platforms, from good old-fashioned print to online journalism, and video.