Don't go that way! When cyclists go AWOL
It appears to be surprisingly common for cyclists, pros and public alike, to take the occasional wrong turn when out on the bike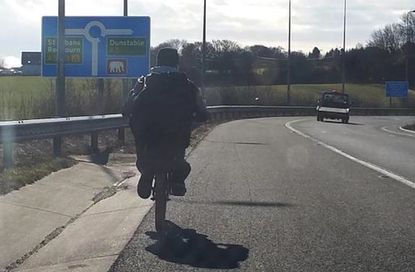 If you were to do all your riding in an area where cyclists can use every road, moving to somewhere with a thing called motorways could cause confusion.
Away from public mishaps with slip roads and confusing signage, some pros take wrong turns too. Most entertaining of these incidents are those that occur in a race situation. However, some riders also manage to get lost when training or transferring between stages at a race.
Here we look at some of the more amusing mishaps people have managed whilst cycling.
Salvatore Puccio takes a wrong turn
The Italian Team Sky rider couldn't be tracked down after stage four of the 2015 Vuelta a España and his team weren't sure where he was for about 40 minutes.
Puccio had returned down the finishing climb to where some team buses were parked, but Sky's wasn't one of them. He said at the time he wasn't lost and had been passing the time with some Cannondale-Garmin riders who found themselves in the same predicament.
Ironically, Puccio got back to the hotel first that evening when he hitched a lift with some team mechanics and the bus got stuck in traffic.
Betancur stays at home
Colombian rider Carlos Betancur has made more headlines for his missed appointments than his victories in recent seasons. Back in June 2014 his team struggled to get in touch with him when he didn't return from Colombia as scheduled to ride the Tour de Suisse.
He missed that race and the Tour de France, and this year came 20th in the Giro d'Italia. He now finds himself looking for a team for 2016.
Rwandans get lost during Worlds training
This tweet popped up during the World Championships in Richmond, Virginia. It appears that a couple of the Rwandan team had headed out for a training ride but couldn't find their way back.
Thankfully through the power of social media, the riders were found and guided home.
Brazilian cycling team escorted by police off Canadian motorway
The first of two Canadian occurrences in this list, this one took place during 2015's Pan American Games in Toronto.
The team was spotted riding up the hard shoulder of a motorway after what appeared to have been a wrong turn. Generous in their reaction, the police escorted them off the main road, advised them of better training routes and didn't take the matter any further.
Peloton misses turning at Tour of Alberta
https://www.youtube.com/watch?v=SIgB9OR7-7M
Here's the second example of directional mishaps in Canada, this time in a professional race.
The peloton missed a right turn during the closing kilometres of stage five at the Tour of Alberta which allowed solo breakaway rider Lasse Norman Hansen (Cannondale-Garmin) to stay away and take the victory.
What was even more bizarre was that Laurent Didier (Trek Factory Racing) took second as a result of following the correct course, despite the fact he was actually off the back of the peloton having been dropped.
Bahamas' Commonwealth Games cycling team end up on motorway
Another missed country lane, and another international cycling team plodding their way up a motorway. This time it was the Bahamas team at 2014 Commonwealth Games in Glasgow.
Once again the police played an informative rather than punitive role and helped the riders onto some quieter lanes.
The Caribbean riders weren't the first stray onto bike free roads at those Games: triathlete Jonny Brownlee had already spotted the Sri Lankan squad training on the M74.
As well as riders in wrong places, the Commonwealth Games also had one go "missing". Mohamed Tholley from Sierra Leone failed to turn up for the time trial amid reports that his team were looking to extend their stay in Scotland rather than return home during the ebola epidemic.
The Sierra Leone chef de mission claimed to know where the cyclist was all along and stressed that he was not missing.
The public riding on motorways, something of a series
British motorways went through a spell of being an accidentally popular place to spot lost cyclists with the M1, M3, M4 and M25 all subject to errant riders over the last year; and they're just the ones we've heard about.
One rider in particular had even more reason not to gain the police's attention with his antics on the Surrey section of the M25 back in June 2014.
In a separate incident, thrown by the airport's name one visitor from Eastern Europe who arrived at "London" Luton Airport thought he must have been within an easy ride of the capital. Unfortunately not.
A couple of riders found themselves where they shouldn't be and blamed satellite navigation apps on their smartphones.
>>> Best cycling apps for iPhone and Android
Perhaps the routes were set to 'fastest route' which aims to take motorists from A to B in the shortest possible time, but whatever was going on the police intercepted the riders and 'helped' them back into more suitable roads.
The final example involvers a pensioner who attempted a shortcut on the M25. Using the hardshoudler on Britain's busiest motorway, the unnamed woman was given a £50 fine for her deviation when police escorted her away from the fast moving traffic.
Thank you for reading 10 articles this month* Join now for unlimited access
Enjoy your first month for just £1 / $1 / €1
*Read 5 free articles per month without a subscription
Join now for unlimited access
Try first month for just £1 / $1 / €1
Jack Elton-Walters hails from the Isle of Wight, and would be quick to tell anyone that it's his favourite place to ride. He has covered a varied range of topics for Cycling Weekly, producing articles focusing on tech, professional racing as well as cycling culture. He moved on to work for Cyclist Magazine in 2017 where he stayed for four years until going freelance. He now returns to Cycling Weekly from time-to-time to cover racing and write longer features for print and online. He is not responsible for misspelled titles on box outs