Boris bikes open to all next Friday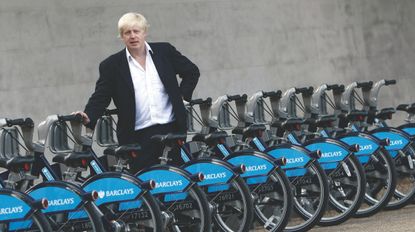 24th November 2010 Words: Nick Rearden
London's Barclays Cycle Hire bikes will be available for everyone to ride from next Friday 3rd December. Up until now the scheme has required pe-registration but it will now be instantly open to anyone with a credit or debit card.
Hirers will be able to purchase either a 24 hour (£1) or seven day (£5) access period, of which the first 30 minutes is free.
That means no increase in the existing charge compared to that for registered members. It will take a little longer to clear the card payment - Transport for London (TfL) anticipate no more than three minutes - than with the members' key but otherwise the scheme will be open to casual riders, tourists and visitors.
Mayor of London Boris Johnson said: "It is fantastic that the Barclays Cycle Hire scheme has not only proved incredibly popular but the system has shown itself to be rigorous and robust. Now it has been thoroughly tried and tested by more than a hundred thousand members we are ready for the next stage where anyone who fancies taking to two wheels can do so in an instant with a simple swipe of their card."
More than 100,00 people have already joined the scheme, and over 1.7 million journeys have been made on the bikes. According to a TfL spokesman, the initial problems that saw hundreds of people over charged have all been ironed out.
Related post
Boris launches hire bike scheme
Thank you for reading 20 articles this month* Join now for unlimited access
Enjoy your first month for just £1 / $1 / €1
*Read 5 free articles per month without a subscription
Join now for unlimited access
Try first month for just £1 / $1 / €1