Moulton track bike is mini 'Old faithful'
Moulton, legendary makers of small-wheel bicycles, has produced a one-off track machine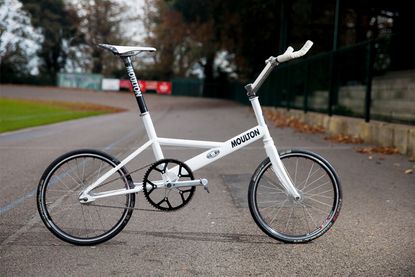 To celebrate over 50 years of racing and innovation by the British bike maker, Moulton has produced a one-off track machine. Already knows as legendary makers of small-wheel bicycles, the brand has made something that might look a bit extreme on the commute but looks great on a track.
Handbuilt in steel with carbon forks and 20in large flange track wheels with Schwalbe tyres the track special weighs 15lb and is a tribute to Moulton's 1960's F-frame track bikes which impressed with their speed and celebrity riders including Tom Simpson.
And fans of Scottish Hour Record breaker Graeme Obree may also appreciate the resemblance to Obree's 1993 record breaking Old Faithful machine with similar white-painted frame and handlebars.
Both bikes are banned from UCI events too, the Moulton due to its small wheels and Old Faithful thanks to its extreme riding position.
Read all about Moulton's unique track bike in the April issue of Cycling Active on sale now
Thank you for reading 5 articles this month* Join now for unlimited access
Enjoy your first month for just £1 / $1 / €1
*Read 5 free articles per month without a subscription
Join now for unlimited access
Try first month for just £1 / $1 / €1