THE BIG INTERVIEW: CHRIS NEWTON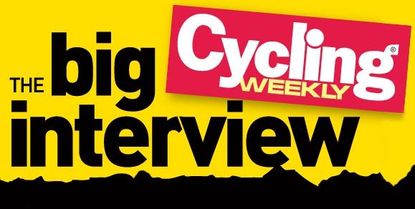 Get The Leadout Newsletter
The latest race content, interviews, features, reviews and expert buying guides, direct to your inbox!
Thank you for signing up to The Pick. You will receive a verification email shortly.
There was a problem. Please refresh the page and try again.
Chris Newton is well on track for Beijing ? both as part of the ultra-strong team pursuit squad and as Britain?s best medal hope in the unpredictable and super-competitive points race.
And there are changes on the road for 2008, with his Recycling squad joining forces with Rapha-Condor to form one of the strongest domestic teams in years.
Despite his youthful appearance, Newton, who has just turned 34 and become a father, is now one of the elder statesmen of British cycling.
He?s looking forward to passing on his experience to the younger riders in the Rapha-Condor-Recycling squad ? as well as sharing the responsibility for winning the big Premier Calendar races and giving the sponsors a big return on their investments.
How?s it going? You?re not changing a nappy are you?
CN: I was actually, yeah. It?s really nice to be back. It was only a short trip, only a couple of weeks away but it?s good to be back so I can have time with my wife and the baby. As for the nappies, there?s no excuses now, it?s my turn.
Looking back at Sydney and Beijing, you finished sixth and second in the points races ? crucial results as qualification for the Olympics is so tight ? but the races themselves have become so competitive. Do you have a set, tactical approach?
CN: You?ve got to be really open-minded and prepare for every eventuality. You have to take care of the intermediate sprints and think about how you?re going to get laps, or be able to respond if someone else tries to take a lap. It?s a lot of high-end, intensive work for a prolonged period and you have to cover all those bases.
I?m quite fortunate, really. I said to one of the coaches, ?I don?t know how it happens but I seem to figure it out as I go along.? I see sixth and below as a bad result now, but it?s a stressful event. You have to get through qualifying and they are just as hard as the finals.
Do you watch videos of the races and try to learn the tactics of the other riders?
CN: Yes. We look at different sections of the race and try to break it down into segments. I don?t want to give too much away, to be honest.
And how do you train for that effort? The points race is almost like a hard interval session isn?t it?
CN: In a way, yes. A few years ago, we went away from the endurance-based stuff to high-end efforts and that worked while the track season was during the road season because your road racing took care of all that endurance and gave you enough. But now that the track season has its own little season you don?t automatically get that road basis, so I do a lot more longer road sessions during the winter than I used to and I feel better and stronger for it.
So, just as the road season is ending, you?re getting the miles in? When do you take a break, because the danger is you could be flat out all year round?
CN: I try to do the best I can in every race so I don?t like being out of form during the road season, but I take a break after the road nationals and after the track nationals, just a week at a time when I don?t touch the bike. It freshens me up but without losing condition.
How busy will Christmas be for you? Will you train on Christmas day?
CN: That?ll be a day off. In the past I?d have trained and then raced on Boxing Day but this year I have a seven-day block, then a couple of days off. I?m going to Majorca on January 2 for a training camp and then off to Los Angeles for the next World Cup.
Following Sydney and Beijing you?re looking pretty good for Olympic qualification. Not everyone in the GB team is going to LA. Will there be a team pursuit squad there, or are you concentrating on the points race?
CN: I don?t think there will be. I?m going to LA to consolidate in the points race rankings. I?m currently second overall, a point off the lead and I need top six overall to guarantee an Olympic place. I always suffer a bit with jet-lag on the way back so I?ll go in a day or two before and come straight back. I?ve got a bit of a buffer so the pressure is off, but if I can pick up a few points to keep it ticking over that?ll be good.
The team pursuit squad is in terrific shape. Looking at the Aussies, they have a lot of work to do. Wouldn?t you be worried if you were as far adrift as they seem to be right now?
CN: I don?t know. I think they are doing the bare minimum at the moment and haven?t got going. They?re going to get stronger. Remember last time they brought in two or three road pros who were in great shape and after a heavy road season they?ll be strong. It?s not just about the Aussies anyway. The Danes were going really well and would have got bronze if they hadn?t broken a saddle.
In terms of times, you must be pleased though?
CN: In training you look at your times and you know where you are. If you can do a 4-01 or a 4-02 you know you?re going to be in the top four in the world.
What sort of time will it take in Beijing?
CN: It?s going to be under four minutes but I?m not sure if it?ll be a world record. The track has quite tight banking, which you don?t notice individually or in a bunch race, but in a team it takes quite a lot of power. It?s going to be fast but to be honest I couldn?t care less what the time is. My philosophy is a win?s a win, even if it?s a 4-10.
You?ve been a pro for over a decade now and have been around since the formation of the World Class Performance Plan, which had a lot of critics. Did you envisage things turning out the way they have?
CN: To be honest, I didn?t imagine it to be like this. When I started it was solely a track-orientated programme but we?re not stupid, we were aware of the problems in European road racing. On the track you could compete and get results cleanly with a lot of organisation and hard work. It was a cycle ? better results meant more funding and so on. The big clean up in Continental racing is helping and a lot of pro teams are interested in our young riders now because they can test them and they know what they?re getting.
And we?re pinching people from other sports too ? such as Rebecca Romero, the former Olympic medallist at rowing. If you had to compete at the Olympics in another sport what would you choose?
CN: I come from a running background, the 1,500 metres, and plan to do marathons when I pack in cycling. I don?t know if short legs will hamper me! I?m looking forward to having a go, seeing what time I can do and improving with each race. I don?t want to be a slouch, that?s for sure.
On the road you?ll be riding for Rapha-Condor-Recycling, an amalgamation of two squads. How do you see it?
CN: I think we?ll have a really strong programme and a team that can be split, sometimes racing abroad but also being competitive at home. It?s the perfect environment for young riders to learn in too, particularly with John Herety in charge. When I started I did a lot of local races, just 100k or so. It?s a couple of hours? racing and it gets you to hone your skills of how to ride with the ability you have.
I was fast for short periods but not as strong so I had to figure out how to win those races against older, stronger guys. The field is smaller, the racing starts from the gun, so I used to treat it as if you?re already in the break ? trying to miss turns, finding out which wheels to follow, weighing up the other riders. Then when you get in the bigger races you already know how to race and win and you can transfer that.
Has your Rapha kit turned up yet? Are you hoping to get a wardrobe full of their casual gear?
CN: I?ve had a few bits sent up and it?s really nice stuff. I?m very impressed with it. We went down to see them and Condor and they?re a good bunch. I?m certainly expecting to get some more stuff, though, yes.
Thank you for reading 20 articles this month* Join now for unlimited access
Enjoy your first month for just £1 / $1 / €1
*Read 5 free articles per month without a subscription
Join now for unlimited access
Try first month for just £1 / $1 / €1
Get The Leadout Newsletter
The latest race content, interviews, features, reviews and expert buying guides, direct to your inbox!
Founded in 1891, Cycling Weekly and its team of expert journalists brings cyclists in-depth reviews, extensive coverage of both professional and domestic racing, as well as fitness advice and 'brew a cuppa and put your feet up' features. Cycling Weekly serves its audience across a range of platforms, from good old-fashioned print to online journalism, and video.