THE BIG INTERVIEW: CRAIG MACLEAN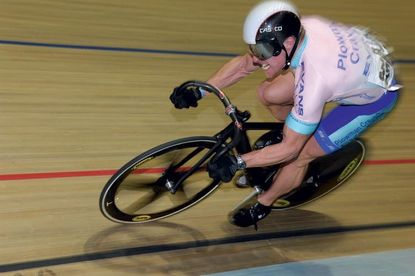 Craig MacLean received a unique honour when he led Scotland out at the Commonwealth Games in 2002 with his country?s flag in his hands.
But after years of riding for Scotland and Britain, does he feel a closer link to one or the other identity?
And why is it that everyone unconnected with cycling knows of fellow countryman Chris Hoy but not much of him?
In our latest Big Interview, Cycling Weekly gets to the bottom of what makes this
36 year old powerhouse tick.
Back in 2004, you had a horrible year with a virus and back injury. I bet you are hoping you won?t have an Olympic year like that this time?
CM: I have had a couple of injuries and, with the squad being like it is at the moment, I?m continually playing catch-up because I?ve missed four or five weeks training, so it will be a tough year.
What events do you want to do in the Olympics?
CM: All being well, I?d like the team sprint and the individual sprint, but I will take anything that is going so long as I?m on the plane.
An article once said that you were cheesed off with not receiving any recognition for your efforts in years gone by in the team sprints, when individual sprint winners were lauded over. Has that attitude changed now?
CM: I don?t know if I was misquoted, but of course you don?t get the same recognition as you do from an individual event. But especially in this country, people are aware of who you are and what you have achieved.
I have had a lot of success in individual sprints so that has certainly boosted my own profile and helped the team. It?s given the team a bit more credibility, I suppose. It?s not just my profile but Jamie [Staff] in the keirin and Ross [Edgar]. In all sprint disciplines, we are performing at quite a high level.
There must be a lot of rivalry among you, though?
CM: Absolutely. I would like to say we all support each other and of course we do but, at the end of the day, we are all competing with each other to be in the British squad as well. It makes for exciting training sessions.
How has signing for Plowman Craven helped?
CM: I have not really had a team before, I?ve not really belonged anywhere. I had bits and pieces so it is just nice to have a bit of extra motivation as well. Just on the off chance last year, I asked Tony Gibb if there was any room for a track rider in the team and, before I knew it, I was there. Sometimes you don?t feel like doing it for yourself so it?s good to have that incentive of doing it for the team.
The management don?t get on your back, do they?
CM: They don?t, not really, but there is a responsibility to the team to perform.
Looking a long way back, after the Sydney Olympics in 2000, you were disenchanted about cycling. Eight years on, has that changed and how?
CM: Yes, I was. Directly after the Olympics in Sydney, I was down. It was probably naivety more than anything else. You think before the Olympics that, if I win a medal, then potentially I?m made for life. The track team was so successful there ? and more so in Athens ? that you are just going to merge into the background unless you are a gold medallist.
Even in the team events, it?s very hard to name all the people who won gold medals. You become almost insignificant.
You have to get the points in the bag from the World Cup events for Olympic selection this year. Where do you think you stand in that respect?
CM: The team is reasonably safe and I think one more good result in Copenhagen will secure it. We need to score there just to make sure. But there is no guarantee that I?m going to get a place in the individuals at the Worlds or the Olympics, so we will just have to cross that bridge when we come to it.
Do you have any spare time outside cycling to do anything else?
CM: Well, as a sprinter you don?t do hours and hours on the road but the training is so intense that, if you don?t take adequate recovery time and do absolutely nothing when you get the chance, then your next training session is going to be compromised.
What sort of advice would you give to any youngster wanting to be a track rider?
CM: I think, primarily, just enjoy riding your bike. Don?t get too caught up about training. Enjoyment has got to be part of it and, as it becomes your job, then, if you are not enjoying it, you are never going to last.
What is your greatest achievement?
CM: I got second in the Worlds [individual sprint] but probably being flag-bearer for Scotland at the Manchester Commonwealth Games was the highlight. That was quite special. Then there is the only time I?ve won the World Championships in the team sprint [2002] and winning the Commonwealths in 2006 [team sprint for Scotland]. They are all special for their own reasons.
So, in that respect, are you a Scot or a Brit?
CM: Oh, I?m a Brit. You don?t get the chance to ride for Scotland that often and it?s nice to do it, but I?m not racist like that.
Thank you for reading 10 articles this month* Join now for unlimited access
Enjoy your first month for just £1 / $1 / €1
*Read 5 free articles per month without a subscription
Join now for unlimited access
Try first month for just £1 / $1 / €1
Founded in 1891, Cycling Weekly and its team of expert journalists brings cyclists in-depth reviews, extensive coverage of both professional and domestic racing, as well as fitness advice and 'brew a cuppa and put your feet up' features. Cycling Weekly serves its audience across a range of platforms, from good old-fashioned print to online journalism, and video.