THE BIG INTERVIEW: DAVID O'LOUGHLIN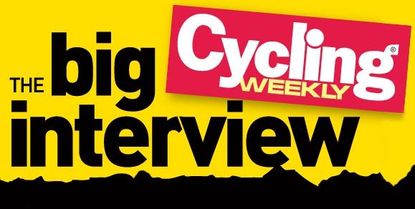 Should David O?Loughlin get his way, then come the Beijing Games this summer he?ll become the first cyclist to win an Olympic medal for Ireland.
It?s a bold ambition, but focusing on the individual pursuit, he has already shown a certain amount of potential by beating Athens finalists Bradley Wiggins and Brad McGee in a special match at his first ever track meet in Manchester last year.
But for all its entertainment value, the Revolution is not the Olympics, and the odds still stand stacked against O?Loughlin. Coming from a country that doesn?t have a velodrome, he only had his first ride on the boards aged 27. He produced some impressive top-10 rides in the track World Cup last season but failed to step up his game as the bar was raised at the World Championships in Majorca.
Nonetheless, the County Mayo resident, now aged 29, remains undeterred. Cycling Ireland has put a new emphasis on its track team and has employed specialist coaching staff. Now free from the sometimes conflicting road commitments of the recently disbanded Navigators team, O?Loughlin is hoping to hit another level during this winter?s track season, and then hit Beijing with all guns blazing.
CW: After carving out a decent career as a road rider, what made you look to the track?
DO: I was getting a bit stale and wanted a fresh new challenge. I?ve always kept an eye on what was going on on the track. I did a couple of training sessions at Newport in 2005, then in September last year I set myself the target of trying to beat the Irish [4,000m] pursuit record.
Did you put much preparation into it?
DO: No. It was the end of the road season and it was just something I?d organised myself at the Newport track. [Navigators team-mate] Ciaran Power went with me
to do some sessions, but I?d done no specific training and did a 4-29
on road race form. The previous record was a 4-34 by Phil Collins in 1996. After that I got a call to see if I?d ride that Revolution event.
That?s where you claimed the scalps of Wiggins, McGee and Millar in an individual pursuit match.
DO: Yeah. That was a huge motivational boost. But last year was mostly a huge learning curve. That Revolution was my first ever track meet. I?ve come a long way since then and the national team has since started taking more of an interest.
Is that on the back of your exploits?
DO: I think they saw what could be achieved. We?ve got a lot of road talent in Ireland and I think they?ve seen from the British success how it?s possible to turn that into medals and world rankings.
Had you been personally inspired by British success on the track?
DO: Yeah, definitely. There were guys I was sometimes racing with on the road ? people like Paul Manning and Rob Hayles ? who?d won Olympic medals. Also, there were people I?d raced with on the road in America, like Colby Pierce and Marty Nothstein, who rode the track. It was always an ambition of mine to go to the Olympics. Last time round I?d been a reserve for the road and this time I really wanted to go for something where I thought maybe I could qualify myself.
Do you still have ambitions on the road?
DO: I still enjoy it and I?ll be doing a mixed programme, but come the spring I?m definitely thinking primarily of World Cups, improving on the track, and the Olympics. Last year I did it mostly with just myself and my road coach, Padraig Marrey. The two of us were going into it fairly blind: we didn?t know what we were doing and made a lot of mistakes on the way. One of the good things about riding the World Cup series last year was that I knew I had the luxury of going into it and learning a lot. So what if we made mistakes? We?ve learnt from them.
What mistakes did you make?
DO: There were many little things. At the first World Cup I did in Moscow, I?d never even used a start gate before. I tried to go when they counted down to ?one?, rather than on the gun. Of course, the gate didn?t release and I had to try to go again, which cost me time.
How do you train for the track in a country without a velodrome?
DO: I think there are plans to build one, but that?s no use for me right now, so I?ve been travelling a lot. We use Ghent often because the Irish Federation has a base in Belgium. We also use Newport and occasionally Manchester.
We go and do week-long blocks, and then go home for 10 days or so before going back for another week. Last year, I did a lot of stuff off my own back, but this year its all federation funded.
What about when you?re back in Ireland between camps?
There?s lots of different ways to train for the track without being on it. You can do standing start efforts and short time trials on the road, or cadence work on the rollers ? all geared towards emulating what we do on the track. You also have to work a lot on your aerobic fitness and that?s best done on the road anyway.
The favourites for the Olympic pursuit, like Wiggins and McGee, gain a very good road base from being in ProTour road squads. Will you not be at a disadvantage riding the road at a slightly lower level?
DO: I have done some ProTour races in the past and I don?t really think that they will have an impact on the track racing. I?ll still be racing a good road programme in Europe, with also a handful of races in Britain. Sometimes you?re better off having more control over your race programme.
Tell us a bit more about your new team, Pezula Racing?
DO: It?s my uncle?s construction contracts and project management company that?s behind it. Last year, when I was doing the track World Cup series, we had a chat and he offered to support me with equipment and things. It grew from there into a team and I committed to it long before I knew Navigators was folding. It?s good to have that backing: there?s no pressure whatsoever to do a big road race programme and I can concentrate on preparing for the Olympics.
Swipe to scroll horizontally
?I?m not going to say I?m definitely going to come back with a medal, but we?ll aim for the gold and see how far we can get?
How realistic is your aim of winning an Olympic medal?
DO: I know I have the ability but it?s just a case of getting it out of me. I?m not going to say I?m definitely going to come back with a medal, but we?ll aim for the gold and see how far we can get. I have to believe in myself.
Belief is one thing but last year you consistently clocked around the 4-30 mark in competition pursuits. You?ll have to go maybe 15 seconds quicker to win an Olympic medal...
DO: That was a bit frustrating. I broke the Irish record with a 4-29 just on road form, but as the season went on I didn?t really make a lot of progress into that. I probably actually spent a bit too much time on the track and not enough time on the road improving my conditioning. Road commitments with Navigators in January, February and March also interfered. I was doing big endurance blocks at training camps right between World Cups.
But how can you improve by 15 seconds this year?
DO: I think it?s realistic. I still haven?t done a 4-15 or even a 4-25 but I?ve gone at those speeds for distances of 2km or 3km. We think the capabilities are there when broken down. This year [former British Cycling coach] Simon Jones has come on board as a coaching consultant for Cycling Ireland and the Irish Sports Institute. That?s been a big help. He?s given me lots of direction and brought in quite a methodical approach to it. We?re looking at everything from how I ride the black line to all the different types of physical training we?re doing.
What sort of physical aspects are you working on?
DO: One of the weaknesses we?ve identified is that I have poor ability to tolerate lactic acid. At the very top-end I tended to give up instead of fight. Something like your lactic tolerance is quite easy to work on. It?s working on all the little bits and pieces that should make a difference.
What are your expectations in the other disciplines you?ve been riding, like the points race and team pursuit?
DO: I?ll just go out and enjoy the points race, but there?s no pressure on me. For the team pursuit we?ve been doing good times in training. We?re working hard and going faster but there?s a lot of things I can?t control in that.
Thank you for reading 10 articles this month* Join now for unlimited access
Enjoy your first month for just £1 / $1 / €1
*Read 5 free articles per month without a subscription
Join now for unlimited access
Try first month for just £1 / $1 / €1
Founded in 1891, Cycling Weekly and its team of expert journalists brings cyclists in-depth reviews, extensive coverage of both professional and domestic racing, as well as fitness advice and 'brew a cuppa and put your feet up' features. Cycling Weekly serves its audience across a range of platforms, from good old-fashioned print to online journalism, and video.