The world's first 3D-printed steel bike frame is like nothing you've seen before
Robot-built bike took on the Dutch cobbles without a glitch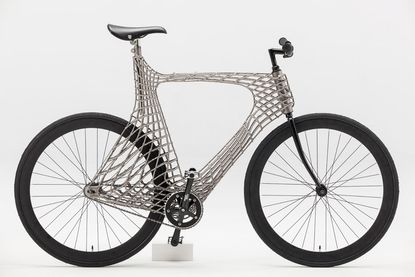 In a world first, an entire bicycle frame has been made by printing with steel.
The creators didn't use traditional tubes of the metal, or even sheets. Instead, they made an open mesh frame, every wire of which was built up just one millimetre at a time by a robot.
The mechanical slave welded a tiny piece of steel onto each wire in turn until they had grown into a full frame. The full process took 100 hours.
>>> Dutch researchers will pay you to ride up on Mont Ventoux on EPO
It needed no lugs or jigs, and was virtually untouched by human hands until the head tube, seat tube clamp, drop outs and bottom bracket were fitted.
Then a human being proved its worth by riding the bike over cobbled streets.
"We tested the bicycle on the streets and it performed well. It offers quite a smooth ride," say the creators, a team of five students at the Technical University of Delft, Netherlands.
Despite not being a solid frame, it's not light either. "It weighs slightly more than a normal steel bicycle, yet less than 20kg," says the team. "Our main concern when designing the frame was the strength.
"We didn't know how the material would behave so we chose to make it extra strong and sacrifice a bit of weight. Our frame proves it's possible to produce a bicycle frame in this way – that was our goal."
>>> How does weight affect your climbing speed? (video)
The bizarre frame was part of a three-month project to demonstrate the versatility of the new manufacturing method, known as Wire and Arc Additive Manufacturing (WAAM). Additive manufacturing is another name for 3D printing.
The team hopes others will develop their research when designing 3D-printed bicycles in the future.
"It was important for us to design a functional object that people use every day," says the team. "Being students in the Netherlands, a bicycle naturally came to mind. A bicycle frame is a good test for the technology because of the complex forces involved."
Watch: How much speed can you buy?
The frame was printed with the help of MX3D of Amsterdam. It has developed a method for using multi-axis robotic arms as 3D printers, which allows metals and resins to be printed mid-air in any direction without the need for support structures.
Whatever the technology used to build it, it could certainly appeal to the UCI commissaires. The see-through frame leaves no place to hide a motor.
Max Glaskin is an award-winning freelance journalist who tweets about cycling and science as @CyclingScience1 (opens in new tab) and is the author of Cycling Science (published by Frances Lincoln UK, Chicago University Press USA, and seven other languages).
Thank you for reading 10 articles this month* Join now for unlimited access
Enjoy your first month for just £1 / $1 / €1
*Read 5 free articles per month without a subscription
Join now for unlimited access
Try first month for just £1 / $1 / €1