Tinkov: We need a boring, meticulous manager, like Brailsford
Managers – and cycling as a whole – need to modernise for the internet age, says Tinkoff-Saxo owner as he seeks to replace Bjarne Riis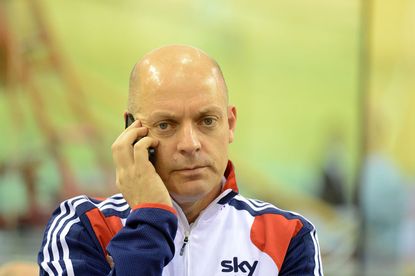 Oleg Tinkov is looking for someone "boring and meticulous" to manage Tinkoff-Saxo in the wake of the team's split with Bjarne Riis, and has named Team Sky's principal, David Brailsford, as an example.
The Russian is due to announce a new manager next week. On Sunday, his team issued a statement saying that it had parted company with Riis "by mutual agreement".
Tinkov and Riis argued at the Tirreno-Adriatico stage race in Italy after the team failed to add to its two wins so far in 2015. Afterwards, Riis sat at home instead of guiding Peter Sagan in Milan-San Remo and Alberto Contador in the Volta a Catalunya.
"Managing a team is not just about issuing instructions from a car radio or about casting a spell over the riders at which Riis was unsurpassed," Tinkov wrote on his Facebook page this afternoon.
"Managing a team is about boring, monotonous work in the office. The day of the boring and meticulous managers has come – guys like Dave Brailsford."
Italian Omar Piscina, who was a sports director in Tinkov's Tinkoff Credit Systems team, has been named as a possible replacement. Italian Stefano Feltrin, who is the team's CEO, has also been mentioned.
After winning the 1996 Tour and retiring, Riis managed team Home-Jack & Jones in 1999 and took over control as it developed into CSC and Saxo Bank.
The 50-year-old from Herning, Denmark, sold the team to Tinkov in December 2013 for a reported €6m. He became team manager with a contract rumoured at €1m a year.
Over the years, Riis guided star riders Fabian Cancellara, Carlos Sastre, Fränk and Andy Schleck, and Alberto Contador.
Riis also dealt with his share of doping scandals. He admitted to using drugs en route to his Tour title and is under investigation in Denmark, a case due to close within months.
Overnight, Riis explained that he will not go into further details concerning his departure from the team. He issued a statement that said, "We, the team management of Tinkoff Sport and I, have agreed to refrain from making any further comments on the subject."
Tinkov, however, has issued a long statement.
"Cycling has to change," he wrote. "The times of [Manolo] Saiz, [Johan] Bruyneel and Riis are over – they were stuck in the 2000s and that is not necessarily about doping. They just don't get some obvious things and don't know how to manage teams in modern way.
"Directing the team and its riders from preparation today must be driven by mathematical and statistical analysis and data mining. Sport science is the king now! Today the winner is not the one that trains the most but the one who trains the right way, not the one who injects EPO, but the one with a healthy diet and the one who consumes the right drinks before, after and during lengthy training sessions."
David Brailsford-type managers, he added, would be better off running teams than others like Riis.
Tinkov said, "There needs to be more team-owners rather than former sportsmen who managed to find sponsors and survive, earning their million-a-year."
Brailsford did not reply when asked for comment on this article.
Cycling must change or die and teams are too dependent on sponsors for money, added Tinkov. He suggested a series of steps to improve the situation, including shortening races and reducing their number, in order to make it easier for Grand Tour contenders to face each other more regularly through the season.
In the past, he has used his social media accounts to criticise his riders. After the 2013 Tour de France, he wrote Contador's salary does not match his performance.
A lack of results, so far only two wins this year, was reportedly part of the row between Riis and Tinkov. With the current management shakeup in the middle of the Classics season, however, Peter Sagan must find it hard to concentrate on the Tour of Flanders and Paris-Roubaix.
"Who can stop me from Tweeting?" Tinkov told Cycle Sport in 2013.
"There is no person in the world, not even Vladimir Putin, who can tell me to stop writing something. If others do not like it then that is their problem."
Thank you for reading 20 articles this month* Join now for unlimited access
Enjoy your first month for just £1 / $1 / €1
*Read 5 free articles per month without a subscription
Join now for unlimited access
Try first month for just £1 / $1 / €1