Tony Martin hopes to attempt Hour Record in 2015
Omega Pharma-QuickStep rider will attempt to break the Hour Record next year if he has time fit it in alongside his goals on the road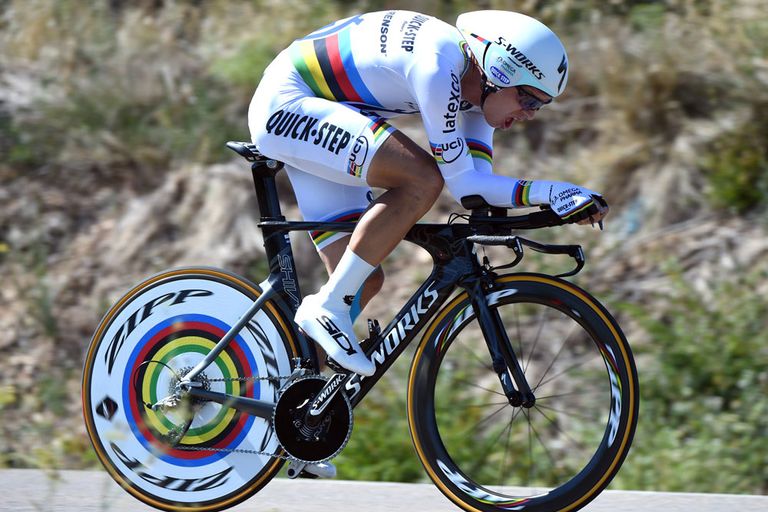 (Image credit: Graham Watson)
Three-time world time trial champion Tony Martin has announced he intends to attempt the Hour Record in 2015, as long as the preparation does not affect his goals on the road.
The Omega Pharma-QuickStep rider told German website Radsport-News the Hour is on his agenda and is confident the people around him at the Belgian team will be able to help him balance his 2015 targets.
"I will discuss it with my team in December so that we can implement it without my goals on the road being affected," he said. "That is the essential factor.
"I need to find time to prepare without affecting my road shape. Since I have capable people around me, and a team that supports me, I think that we will find a date in the coming year."
Martin may have his work cut out if he attempts his Hour after Sir Bradley Wiggins, who was backed by the manager of current holder Mattias Brändle to break the record, while former holder Ole Ritter says Wiggins' record will be unbeatable.
And Martin admits that Wiggins holds the upper hand in the battle, with the Englishman targeting few races on the road in the coming year.
Wiggins' experience on the track will also be a factor, and Martin says he will have to test himself on the wooden boards to see if he has what it takes to mount a serious challenge.
"Above all, his advantage from the outset is already infinitely large, in terms of experience. He comes from the track," Martin continued. "I am sure that I will need more time to adapt than he will. Maybe two, three or four experiments will be needed to find the punch that he will have. But I want to work on it, and after the first training on the track I will be able to tell if it is realistic or not."
Martin lost his world championship jersey to his British rival in Ponferrada in September, but insists the setback has simply spurred him on even more to regain the title in 2015, when Wiggins is unlikely to participate.
"The disappointment gave way pretty rapidly to the fighting spirit and motivation to try for the jersey next year," Martin said. "I was tired and had miscalculated something. I should have had the courage to gap. But I learned from it, and it is better that this is happening now than before the Olympic Games.
"I will correct the faults and show to everyone next year that I am the best."
Source: Radsport-News
Dutchman Thomas Dekker will attempt to beat Matthias Brändle's Hour Record in the spring despite being without a team in