Bradley Wiggins will beat Brändle's Hour Record, says IAM Cycling owner
IAM Cycling's Matthias Brändle set a new Hour Record, but his team's owner Michel Thétaz thinks that Bradley Wiggins will smash his time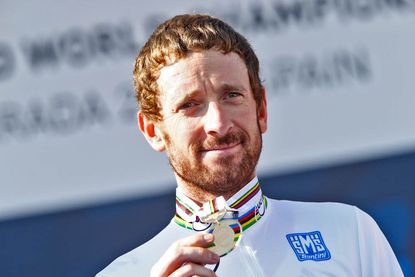 (Image credit: Watson)
Matthias Brändle timed his hour record perfectly on Thursday between Jens Voigt and Bradley Wiggins, explained IAM Cycling owner Michel Thétaz.
"Wiggins will beat it, no problem, but Brändle's name will be there for ever in the hour books," Thétaz told Cycling Weekly.
The 24-year-old Austrian topped the 51.115-kilometre record Voigt set in September with 51.852. Others may try, but Wiggins is expected to set a difficult mark to reach next summer.
"He's a young rider, that's the clever aspect of it. A lot of guys with the same strength will try now, but it will be tough to beat Matthias' record," Thétaz continued.
"It would be a marginal gain, a small distance ahead. It won't be easy to get 52 or 53 kilometres. Some riders will hesitate to go for.
Matthias' timing was perfect at the end of the season. It won't be easy as we go further into the winter. I don't see many riders trying to ride the hour for the next few months. He was clever to do it when he did it, off of Voigt's record and the road season."
Alex Dowsett (Movistar) and Taylor Phinney (BMC Racing) have shown interest, but neither has scheduled a date to do so. Besides Wiggins, Fabian Cancellara (Trek Factory Racing) is the only other cyclist to plan an attempt.
Brändle, besides being the first Austrian, became the youngest cyclist to set the hour record mark since 1958 when Frenchman Roger Rivière was 22.
His engine helped him to two stage wins and place fifth behind Wiggins in the final time trial of the Tour of Britain. He did not race on IAM cycling's Tour de France or Vuelta a España teams as he had hoped. Instead, he turned his attention to the hour in August.
"What we saw in 2013 when we met for a team camp at the Mallorca velodrome that he has power," Thétaz said. "Two months ago, he just gave me a call and said, 'I think I can do it.' He had it in his mind. He knows he's very powerful. He was confident."
Thétaz explained that Brändle has been progressing steadily since his early days as a professional with teams Elk Haus, Geox and NetApp.
"He's a very tall and powerful guy. You should see him in stages, where he can do 250 kilometres and win the stage. He's a breakaway rider, a stage winner that we saw in Britain this year.
"I think he'll be helping our leaders in stage races in 2015 and leading in some week-long stage races and classics."
More on the Hour Record
It may have been harder and hotter than Matthias Brändle expected, but he still set a new Hour Record
Bradley Wiggins says he was inspired by Jens Voigt's new Hour record
Thank you for reading 20 articles this month* Join now for unlimited access
Enjoy your first month for just £1 / $1 / €1
*Read 5 free articles per month without a subscription
Join now for unlimited access
Try first month for just £1 / $1 / €1