TOUR OF AMERICA MARK II - IT'S STILL PIE IN THE SKY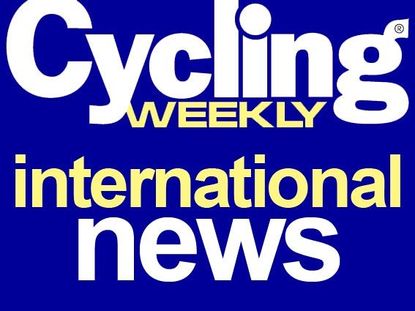 Get The Leadout Newsletter
The latest race content, interviews, features, reviews and expert buying guides, direct to your inbox!
Thank you for signing up to The Pick. You will receive a verification email shortly.
There was a problem. Please refresh the page and try again.
When Frank Arokiasamy, the president of Aqu Sports, breathlessly unveiled his plans for a 4,000-mile, four-week Tour of America at the Las Vegas trade show in the autumn, the sniggers were scarcely concealed.
Mr Arokiasamy didn't seem to appreciate that a trifling matter such as the UCI's regulations on stage race formats meant his event would not be sanctioned by the world's governing body.
And the lack of concrete dates, start and finish towns or indeed any confirmation from any city officials anywhere in the United States, gave the whole thing a less than assured look.
Pie in the sky, it's never going to happen.
Well, Mr Arokiasamy and his team has been back to the drawing board and, undeterred by the mocking laughter last time, has tabled a new schedule ? with dates and everything.
The planned dates are September 6 to 28, 2008.
The only problem with that is it clashes with the World Championships and the Vuelta a Espana as well as an established stage race in the US, the Tour of Missouri.
It doesn't look any more likely to happen.
But today the organisers unveiled their revised plans. It's now three weeks ? just like the Tour de France ? and will cover 2,200 miles as it crosses from Central Park in New York City to Palo Alto in California.
There's going to be a team time trial in Maryland, six mountain stages and individual time trials in Indianapolis and Santa Rosa. In fact, unless we're very much mistaken, the format looks remarkably similar to that of the 2008 Tour de France.
However, there is a caveat ? and one that suggests the Tour of America may be no more realistic a dream than it was a couple of months ago.
On the race's official website ? Tour of America official site ? it says: "This is a tentative route and subject to change upon city approval."
Now, the Tour of America is scheduled to start in Central Park on September 6, finishing three weeks later. Logistically a race of such magnitude is going to be very, very difficult to manage.
But there's an even more pressing problem ? it clashes with the World Championships. The Tour of America finishes on September 28, the same day as the elite road race. Somehow we don't think the UCI will be too keen to move its flagship event to avoid a clash.
Not only that but the Vuelta a Espana runs at the same time.
And even the domestic professionals in America will be forced to make a sacrifice ? the Tour of Missouri, one of the top US races, ranked 2.1 on the UCI calendar and won by George Hincapie this year, runs from September 8 to 14.
The Tour of Missouri organisers are bound to be delighted by Arokiasamy's proposed choice of dates.
Mr Arokiasamy said: "During and after our announcement at Interbike, almost daily I received emails and phone calls with positive and negative comments about the race.
"The overwhelming response showed there was an interest and a need for a 'Tour de France-style' race here in the United States. Based on the feedback from everyone, we realised our first plans were perhaps too ambitious and that the original race schedule didn't fit within standard racing protocols. To ensure the race would attract the best international racing teams and the support of both cycling enthusiasts and sports fans alike, we've modified the race schedule and route to its current form.
"Our goal is to make this race happen in September 2008. There is a lot to accomplish between now and then. With help and co-operation of host cities, racers, bicycle racing enthusiasts and potential sponsors, we can make it happen. The United States needs its own world caliber race and one that will be around for a long time."
On another page of the race's website, which is smartly-designed, perhaps to attract the eye of major corporate backers, is a breakdown of the prize money. A million dollars for the overall winner. As the site itself says, these are 'extraordinarily huge prizes for the innaugural Tour of America'.
Even with these revised details, the Tour of America looks like nothing more than an extravagant dream at this stage.
Swipe to scroll horizontally
Tour of America: September 6 ? 28
Stage 1: Central Park, New York ? Philadelphia 122 miles
Stage 2: Philadelphia ? College Park, Maryland 135 miles
Stage 3: Olney ? Frederick, Maryland 30 miles team time trial
Stage 4: Winchester, Virginia ? Morgantown, West Virginia 139 miles
Stage 5: Fairmont, West Virginia ? Athens, Ohio 142 miles
Stage 6: McArthur ? Cincinnati, Ohio 125 miles
Stage 7: Greenfield ? Indianapolis, Indiana 27 miles time trial
Stage 8: Casey, Illinois ? St Louis, Missouri 143 miles
Stage 9: St Louis ? Colombia, Missouri 134 miles
Rest day Transfer from Colombia to Denver, Colorado by air
Stage 10: Denver ? Buena Vista, Colorado 120 miles, mountain stage
Stage 11: Poncha Springs ? Pagosa Springs, Colorado 135 miles, mountain stage
Stage 12: Farmington ? Gallup, New Mexico 118 miles
Stage 13: Window Rock ? Winslow, Arizona 125 miles, mountain stage
Stage 14: Cameron ? Williams, Arizona 113 miles, mountain stage
Stage 15: Kingman ? Las Vegas, Nevada 110 miles
Stage 16: Las Vegas 35 miles time trial
Rest day Las Vegas
Stage 17: Ridgecrest ? Whitney Portal, California 92 miles mountain stage
Stage 18: Big Pine ? Yosemite 118 miles, mountain stage
Stage 19: Harden Flat ? Sacramento 127 miles
Stage 20: Napa ? Santa Rosa 40 miles, time trial
Stage 21: Santa Rosa ? Palo Alto 107 miles
TOTAL DISTANCE 2,237 miles (3,579 kilometres)
Swipe to scroll horizontally
If the Tour of America does happen, what kind of field will race? All the top professionals have other engagements ? and the domestic riders will get signed up for the Tour of Missouri before Mr A and his team have finished negotiations.
MAJOR RACES THAT CLASH WITH TOUR OF AMERICA
August 29 to September 6 Tour of Germany
August 30 to September 21 Vuelta a Espana
September 7 Vattenfalls Classic, Germany
September 7-14 Tour of Britain
September 8-14 Tour of Missouri, USA
September 15-21 Tour of Poland
September 24-28 World Championships
EXTERNAL LINK
Thank you for reading 20 articles this month* Join now for unlimited access
Enjoy your first month for just £1 / $1 / €1
*Read 5 free articles per month without a subscription
Join now for unlimited access
Try first month for just £1 / $1 / €1
Get The Leadout Newsletter
The latest race content, interviews, features, reviews and expert buying guides, direct to your inbox!
Sports journalist Lionel Birnie has written professionally for Sunday Times, Procycling and of course Cycling Weekly. He is also an author, publisher, and co-founder of The Cycling Podcast. His first experience covering the Tour de France came in 1999, and he has presented The Cycling Podcast with Richard Moore and Daniel Friebe since 2013. He founded Peloton Publishing in 2010 and has ghostwritten and published the autobiography of Sean Kelly, as well as a number of other sports icons.