Tour Series: Chester and Southend for final rounds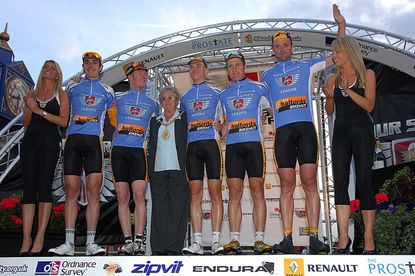 It is the last week of the Tour Series and the final two rounds in Chester and Southend bring the curtain down on what has been an excellent set of ten races.
Halfords Bikehut finally forged a gap last week after their fourth win of the series in front of another big crowd in Colchester. It is still a four-way battle but a four-point lead over second-placed Rapha-Condor should be enough for the team wearing blue leader's jerseys.
But Rapha-Condor refuse to lie down and Dean Downing says the Colchester result could have gone the way of his team but for some misfortune.
"We got some pretty good results, but we had a bit of bad luck as well. Matt Cronshaw hit a kerb and got a flat tyre – he would have been our third counter – but we still got a result and we won the individual race thanks to Tom Southam."
Both Chris Newton and Christian House will be available for selection this week, so "Chester will be the first time I will have fielded our strongest team" manager John Herety told Cycling Weekly.
It's not over yet.
BARGAIN BASEMENT
There may be gaps appearing at top of the table but just a point separates the two teams propping up the league. And both teams are determined not to finish bottom.
BMC and Cyclingbargains.com have fought tooth and nail to get away from tenth position and Cyclingbargains currently have the edge.
Running two businesses and fitting in training and racing has been a struggle for Essex-based Jason White, but the 36 year old bike shop owner is doing his bit for Cyclingbargains.
"I have done every round so far but struggled in the last two because of hay fever," he said. "I regretted doing those, but the team isn't strong enough to field anyone else. I have climbed off in the last two races but at least I was near the front for 30 minutes, giving the team some exposure."
White has found the travelling stressful but the racing hugely enjoyable. "Last week I went up to Southport, straight over to Newcastle for Friday's crit, travelled back and got home four o'clock Saturday morning, and then I was in work at eight. It's not good," said White.
But ask him if he will be back for more next year and there is no hesitation. "I am well up for doing it again. I have had two teams approach me already, but I can't commit to them because of the time.
"I didn't take the opportunities when I was younger and now I am knocking on 37 and didn't really think I would ever be able to ride against guys who are pros and race fairly competitively on such limited raining time. In an hour crit, I can get away with it, but there is no way I am going to go and ride Premier Calendars.
"But I don't regret it. It's been great."
Look out for White in the final race at Southend. He is the local boy with the big fan club.
Cyclingbargains team manager Rod Freeman also hopes to be back next year, bigger and stronger. "If I had my time again I would have been more public on us trying to get into it so we could have attracted a few more stronger riders," he said. "I don't think anyone took us seriously at first. Hopefully we have done enough to secure an invite back next year so we can develop and strengthen the team for then."
Jason White in action. Photo courtesy MPhotography
RESULTS
Team Results – Round 8 – Colchester
1. Halfords Bikehut
2. Rapha–Condor
3. Candi TV–Marshalls Pasta
4. Madison.co.uk
5. Team Corley Cycles
6. Sigma Sport Cycling Team
7. Sports Beans–Wilier
8. Endura Racing
9. BMC UK Racing Team
10. Cyclingbargains.com


Team Standings after Round 8
1. Halfords Bikehut 77 points
2. Rapha–Condor 73
3. CandiTV–Marshalls Pasta 72
4. Madison.co.uk 69
5. Sigma Sport Cycling Team 42
6. Sports Beans–Wilier 39
7. Team Corley Cycles 35
8. Endura Racing 22
9. Cyclingbargains.com 18
10. BMC UK Racing Team 17


THE TOUR SERIES: 2009 DATES
June 23 Tour Series criterium 9, Chester
June 25 Tour Series criterium 10, Southend on Sea
TOUR SERIES ON TELLY
Chester, ITV4, 7pm, Wednesday, June 24.
Southend, ITV4, 7pm, Friday, June 25
Also available online with ITV Player if you miss it live.


SUPER TEAM CHALLENGE
Our Super Team Challenge table is looking not dissimilar to the Tour Series standings. Halfords have floated to the top, Rapha and CandiTV and tucked in behind and Madison are hanging on.
Then there's a big gap to the next batch of smaller teams. It's another busy week, with two Tour Series rounds and the all-important National Championships, so another shake up is due.
Will Halfords continue the winning streak or can CandiTV get back in the driving seat? Hold your breath 'til next Monday. Actually, don't do that. A week is a long time in cycling. Or should that be politics? Either way, no dodgy expenses claims from these guys. Every point is kosher and hard earned.
Halfords Bikehut 166
CandiTV-Marshalls Pasta 160
Rapha-Condor 91
Madison.co.uk 46
Sports Beans-Wilier 26
Le Col-Colnago 10
Sportscover 8
Corley Cycles 6
Pendragon-Kalas 4
Sigma Sport 1
RELATED LINKS
Fourth win for Halfords as Southam celebrates victory
Round seven: Downing take first win in Stoke but Halfords lead
Halfords notch up another Tour Series win in Southport
Hayles defies Downing to take Blackpool Tour Series
Wilkinson wins in Peterborough
Downing claims second Tour Series win in Woking
Dean Downing blasts to victory in Exeter crit
Briggs wins first round of Tour Series
Thank you for reading 20 articles this month* Join now for unlimited access
Enjoy your first month for just £1 / $1 / €1
*Read 5 free articles per month without a subscription
Join now for unlimited access
Try first month for just £1 / $1 / €1