TRACK WORLDS: SUNDAY AS IT HAPPENED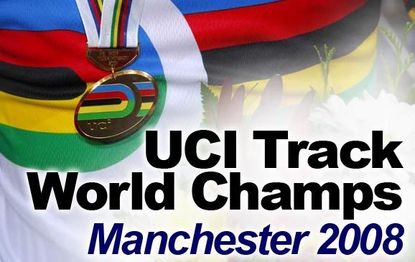 That's all from Manchester. We hope you enjoyed our coverage and that it filled in the gaps between the television coverage.
Look-out for Thursday's souvenir special of Cycling Weekly with pictures, reaction and analysis.
At the start of the week we predicted the medals the Great Britain team would win.
How did we do? Well, we thought we were asking a lot to think five gold, five silver and two bronze was possible. Rather than be daunted by high expectation levels, the GB team excelled themselves with a near-complete domination. They won half of the events in the championships and took silver in two others.
Our predictions were:
GOLD
Wiggins - individual pursuit. Result: Gold
Men's team pursuit. Result: Gold
Women's team sprint. Result: Gold
Chris Hoy - Keirin. Result: Gold
Victoria Pendleton - Keirin. Result: Silver
SILVER
Men's team sprint. Result: Silver
Rebecca Romero - individual pursuit. Result: Gold
Chris Hoy - sprint. Result: Gold
Women's team pursuit. Result: Gold
Victoria Pendleton - sprint. Result: Gold
BRONZE
Shanaze Reade - 500m. Result: 7th
Mark Cavendish - points race. Result: 15th
The one we missed:
Madison gold
FINAL MEDAL TABLE
1 Great Britain (9 gold, 2 silver, 0 bronze)
2 Netherlands (2 gold, 3 silver, 2 bronze)
3 Belarus (2 gold, 0 silver, 1 bronze)
4 France (1 gold, 3 silver, 3 bronze)
5 USA (1 gold, 1 silver, 1 bronze)
6 Cuba (1 gold, 1 silver, 0 bronze)
7 New Zealand (1 gold, 0 silver, 0 bronze)
8 Denmark (0 gold, 2 silver, 1 bronze)
9 Lithuania (0 gold, 2 silver, 0 bronze)
10 Germany (0 gold, 1 silver, 4 bronze)
11 Australia (0 gold, 1 silver, 3 bronze)
12 China (0 gold, 1 silver, 0 bronze)
= Ukraine (0 gold, 1 silver, 0 bronze)
14 Russia (0 gold, 0 silver, 1 bronze)
= Italy (0 gold, 0 silver, 1 bronze)
= Greece (0 gold, 0 silver, 1 bronze)
WOMEN'S KEIRIN FINAL
17.33 PENDLETON BEATEN Jennie Reed of the USA gets it to add to her bronze in the sprint. Pendleton led out and looked good but Reed came past in the final few metres. There's a photo finish for the other two places to see if Pendleton got a medal.
17.16 Both Victoria Pendleton and Anna Blyth are in the Keirin final, which is up soon.
17.13 Britain's Steven Burke has just won the kilometre time trial race in the men's Omnium (an event made up of five different disciplines). He recorded a time of 1-03.080 which would have been enough for 13th place in the actual kilometre competition held earlier.
For the record, Britain's other rider in the kilo, David Daniell, was 12th in 1-03.018.
WOMEN'S SCRATCH RACE
RESULTS
1 Eleonora Van Dijk (Netherlands)
2 Yumari Gonzalez Valdiviesco (Cuba)
3 Belinda Goss (Australia)
7 Lizzie Armitstead (Great Britain)
16.41 It's turning into Dutch Sunday here in Manchester. Eleonora Van Dijk gives them their second gold of the day (following Mulder in the kilo) by attacking late on and holding off a spirited chase. Yumari Gonzalez Valdiviesco of Cuba was second. Belinda Goss of Australia was third.
Lizzie Armitstead, the 19-year-old British rider, was in the thick of things throughout the race and looked very accomplished. She was swamped in the last couple of laps as the sprint opened up but she took seventh.
WOMEN'S KEIRIN SECOND ROUND
16.14 Victoria Pendleton and Anna Blyth were in the same race and they go through to the final after taking first and second places respectively. The judges gave Anna Blyth a warning for squeezing the French rider in that heat. No penalty though.
16.01 The men's Omnium has been in progress throughout the day. Steven Burke has just won the final sprint in the points race to clinch sixth place in the event, which is one of five in the competition. There's just the Omnium kilometre TT to go now.
MEN'S KILOMETRE TIME TRIAL
RESULTS - TOP 4
1 Teun Mulder (Netherlands) 1-01.332
2 Michael D'Almeida (France) 1-01.514
3 Francois Pervis (France) 1-01.579
4 Matt Crampton (Great Britain) 1-01.822
15.36 CRAMPTON DENIED Pervis went off very fast and was quickest man at the first split, but he faded first to silver position, then bronze over the second half of the race. Britain's Matt Crampton misses out narrowly, having held a medal position until the last man crossed the line.
15.33 Mulder's well out of the medals. Now the last man. Francois Pervis. The odds are he'll do enough to get in the top three - but Crampton will be crossing his fingers. Pervis won the World Cups in Sydney and Beijing.
15.30 NEW BEST TIME With two riders to go, Teun Mulder is guaranteed a medal. For the first time, Crampton's mark looks vulnerable. The last two are Tim Veldt and Francois Pervis, who are both fast.
15.24 Four to go now - Henriette of France, Mulder and Veldt of the Netherlands and Pervis, also of France.
Scott Sunderland - not the CSC team director, a different one - set off quickly and set a good time at the first two splits but faded.
The next ten minutes will determine whether Crampton gets a medal for his ride.
15.19 There are six riders to go now. Crampton is still in silver medal position.
15.09 NEW BEST TIME Crampton's mark is beaten by Frenchman Michael D'Almeida.
15.03 Half the riders have ridden now - 11 more to go. Tisin of Malaysia has just gone close-ish to Crampton's time.
14.44 Can Crampton's time withstand 18 cracks at it by the other riders in the field?
14.43 NEW BEST TIME Phew. Crampton has just done a 1-01.822. That might be enough for a medal.
14.40 Feng of China has beaten Daniell's time but now it's Matt Crampton, who is an outside medal chance.
14.38 Ben Kersten was first off and his time has been beaten by 18-year-old David Daniell.
14.27 Hope you had a pleasant lunch. Manchester Velodrome canteen sandwiches for us again today.
Two British riders in the 22-man field for the kilo. Both go off pretty early in the field. Middlesbrough youngster David Daniell is off second, Matt Crampton is off fourth.
12.10 Check in this afternoon for the results of the women's Keirin, the men's kilometre
WOMEN'S KEIRIN
12.09 In the repechage races, Anna Blyth got through but Jessica Varnish didn't. That means there are two British riders in round two.
11.40 In the final heat, Jessica Varnish - the youngest rider in the competition at 17 - was undaunted early on, trying to push her way into the front of the line. No one was willing to let her in, so she dropped to the back, then just as the motorpacer pulled off she attacked from last place and led out. The Russian rider Oksana Grishina crashed. Jennie Reed and Jinjie Gong go through.
11.36 Anna Blyth will have to go through the repechage if she's going to progress. Diana Gloss won heat two, with Swetlana Grankowskaja taking second.
11.33 Victoria Pendleton cruises through the first of three heats. With Lisandra Guerra Rodriguez of Cuba also going through to round two. The others, including sprint silver medallist Simona Krupeckaite, must go through the repechage.
2008 TRACK WORLD CHAMPIONSHIPS: DAILY REPORTS
Sunday, day five>>
Saturday, day four>>
Friday, day three>>
Thursday, day two>>
Wednesday, day one>>
RELATED LINKS
Women's Keirin: Reed denies Pendleton the perfect finish
Who are Brit's golden nine?
Hoy wins the Keirin
Eighth gold for Britain in the Madison
Gold for Pendleton in the sprint
Chris Hoy wins sprint gold
Pursuit women take fifth British gold medal
Jo Rowsell's gold: the toast of Sutton Cycling Club
Belarussian wins men's points race
Britain going for more gold on Friday
Comment: How many more gold for GB?
Hat-trick of golds for Britain
Britain break team pursuit world record
GB into women's team pursuit final
Gold for Romero in individual pursuit
Reade and Pendleton cruise into team sprint final
Track World Champs: results
Romero breaks British pursuit record
It's Britain vs Denmark in team pursuit final
Britain aiming for team pursuit world record
Britain take silver in team sprint
Crowd step in as French anthem stalls
Hayles denies cheating after failing blood test
Wiggins: "I'm pleased I got the job done"
Wiggins wins pursuit gold
Brailsford defends Hayles after failed blood test
Hayles fails pre-race blood test at Track Worlds
Cycling Weekly's 2008 Track World Championships preview
PHOTO GALLERIES
CW's online gallery section>>
Day three in pictures
Day two in pictures
Day one in pictures
Thank you for reading 20 articles this month* Join now for unlimited access
Enjoy your first month for just £1 / $1 / €1
*Read 5 free articles per month without a subscription
Join now for unlimited access
Try first month for just £1 / $1 / €1