Trial for route planning app which aims to reduce lorries making dangerous left turns
With the number of cyclists killed in collisions with lorries continuing to rise, a British company is trialling an app which can take the danger out of turning left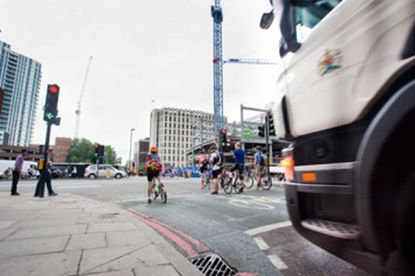 British transport company PIE Mapping has developed a route planning app which enables lorries to avoid dangerous left-hand turns - the sort that has seen numerous collisions with cyclists in recent years.
The app is to be trialled in a scheme funded by the government's Transport Systems Catapult, according to The Register, and guides lorries to route with more right-hand turns and roundabouts.
All five cyclists killed in London this year have been involved in collisions with left-turning lorries, with such incidents sparking calls for HGVs to be banned from to capital's roads.
>>> Why are lorries responsible for so many cyclist deaths?
"At a basic level we need to keep cyclists away from big lorries," London Cycling Campaign's Charlie Lloyd told The Register.
"The worry is, if the suggested routes are even ten per cent longer than the drivers' regular routes then the drivers may be disincentivised to take them."
While the app may increase safety for cyclists, the time it takes for the HGV to drive an alternative route is likely to increase, as will emissions - backing up Mr Lloyd's concerns.
In the United States, logistics and delivery company UPS trials showed that mapping routes which avoid crossing traffic to turn left saved 10 million gallons of petrol and reduced CO2 emissions by 100,000 metrics tons a year.
Thank you for reading 20 articles this month* Join now for unlimited access
Enjoy your first month for just £1 / $1 / €1
*Read 5 free articles per month without a subscription
Join now for unlimited access
Try first month for just £1 / $1 / €1