Twitter reacts to Chris Froome's physiological test results
Have you had your say on Chris Froome's data release? Plenty of people have...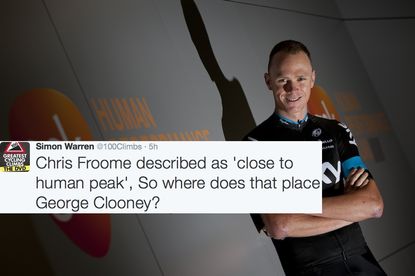 (Image credit: onEdition)
The world and his wife have had their say on the big news overnight - Chris Froome's numbers from his physiological tests.
Some are saying that it's great that Froome is showing transparency, others are concerned that the tests have proved nothing. Some (God bless Twitter) are going online to make witty comments about the data.
Here are just a few of the tweets that caught our eye on the matter.
Sky Sports's Orla Chennaoui says what we were all thinking when we skimmed through the report late last night...
Whereas 100 Climbs author Simon Warren has another man on his mind.
Cycling Weekly's own Dr Hutch, who gave us his thoughts on the data, got this humble brag in.
While Daniel Friebe summed it all up nicely last night so that we didn't have to read all the details.
Gavin Hardwicke's main takeaway from the piece was that Froome's bike handling skills are not as good as many think...
And Neil Hutchins had that sinking feeling that you experience when you discover that you're a long way off being a professional cyclist.
Thank you for reading 20 articles this month* Join now for unlimited access
Enjoy your first month for just £1 / $1 / €1
*Read 5 free articles per month without a subscription
Join now for unlimited access
Try first month for just £1 / $1 / €1