Six humblebrags made by all cyclists
When you get back from a Sunday spin and tell other people of your ride, even the most modest can't help but throw in a few humble brags about our exploits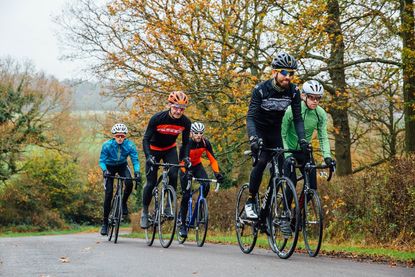 Get The Leadout Newsletter
The latest race content, interviews, features, reviews and expert buying guides, direct to your inbox!
Thank you for signing up to The Pick. You will receive a verification email shortly.
There was a problem. Please refresh the page and try again.
We all like to big up our achievements every now and again, even the most shy and retiring among us. If you win a race, ride a century, outsprint your mate to the signpost or simply stay upright it's something to be proud of.
But when you get back from a Sunday morning spin and tell other people of your ride, even the most modest can't help but throw in a few humble brags about our exploits.
The definition on Urban Dictionary reads: "Subtly letting others now about how fantastic your life is while undercutting it with a bit of self-effacing humor or "woe is me" gloss."
The trick with a humble brag is to big yourself up by depreciating your achievements at the same time. We all do it - but it's often only when we talk to a non-cyclist do we get away with it.
Here's a few of the most common ones we hear on a regular basis.
I only rode 80 miles
"How far did you ride today?" asks your friend.
"Oh, not far. Only 80 miles or so," is your reply, knowing full well that 80 miles is a decent outing on the bike and by far and away your longest ride of the year.
This one works particularly well on non-cyclists and fellow riders who don't really know you or follow you on Strava. For a non rider, 80 miles seems an almost unfathomable distance to go - the distance between London and Southampton.
>>> Five invaluable tips to help you step up from riding 60 to 100 miles
You also imply that you weren't out for very long, even though the 80 miles would have taken a good number of hours.
I only averaged 17mph
Unlike the brag above, playing down the reasonably impressive speed you travelled is not a great one for a non-cyclist to hear.
"You only went at 17mph? You could drive your car faster than that," they'll likely retort, when in actual fact, for an amateur rider, averaging 17mph is decent achievement.
>>> 13 ways to increase your average cycling speed
When chatting with your cycling buddies, though, you can depreciate your speed and make it sound like you were out on a leisurely pootle, when in reality you went hell for leather for three hours.
I didn't think [insert 20 per cent gradient hill] was too difficult
There's always that annoying person at the top of a leg-busting climb who claims to not have struggled.
>>> 13 Tour of Britain climbs to conquer on Strava
Thankfully, when you hear that line, you can almost certainly guarantee that on the inside the person is about to explode with pain and their modesty is just a front for the fact they can't admit it.
Either that or they've been doing a lot more training than they've been letting on...
My bike is quite expensive
This line is often trotted out when a non-cyclist recommends a place where a cyclist can lock their bike up. Usually this place involves leaving their £5,000 Cannondale locked to an insecure railing outside KFC on a dodgy-looking high street.
To those not in the know, all bikes cost a few hundred quid, and if ours is a bit more pricey we have no qualms in telling them.
>>> Bike of the Year 2017
But being British means that we don't just blurt out how many Gs we actually spent on it, preferring instead this humble brag.
I could only hold [insert professional cyclist]'s wheel for two miles
Every now and again we see professional cyclists out on a training ride and every time that happens, the amateur rider thinks it would be a good idea to try and sit on the pro's wheel.
Obviously, the professionals get used to this and usually don't have to try very hard to rid themselves of their unwanted riding companion.
That doesn't stop us telling our friends that we 'rode with Bradley Wiggins' and that we held his wheel for a few miles (even though it's probably an exaggeration of the truth).
My legs feel alright after that
Pack enough hills into your ride route and your legs will be feeling the exertion the next morning. As most riders struggle to walk down the stairs or find themselves unable to get up from the toilet, there's one who seems unnaturally sprightly.
>>> How to make your own recovery bars (videos)
"Anyone fancy a quick spin up [insert mountain] as a recovery ride?" they'll smugly enquire as everyone else lounges on the sofa.
This is, of course, something that we all feel every now and again, and despite the fact that we despise it when someone does it to us, we don't hesitate to tell others when we feel fine.
Thank you for reading 20 articles this month* Join now for unlimited access
Enjoy your first month for just £1 / $1 / €1
*Read 5 free articles per month without a subscription
Join now for unlimited access
Try first month for just £1 / $1 / €1
Get The Leadout Newsletter
The latest race content, interviews, features, reviews and expert buying guides, direct to your inbox!
Stuart Clarke is a News Associates trained journalist who has worked for the likes of the British Olympic Associate, British Rowing and the England and Wales Cricket Board, and of course Cycling Weekly. His work at Cycling Weekly has focused upon professional racing, following the World Tour races and its characters.