13 Tour of Britain climbs to conquer on Strava
Get out now to claim a Strava KoM before the Aviva Tour of Britain peloton dominates the leaderboard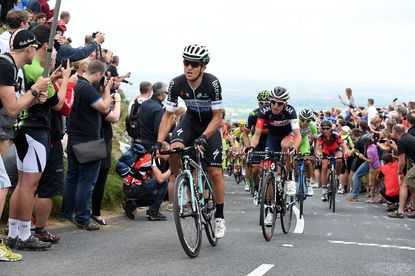 The Aviva Tour of Britain peloton is likely to repeat its daylight robbery of stealing hundreds of Strava King of the Mountains from Average Joes during September's eight-stage race.
Last year we didn't mind too much, for World Champion-to-be Michal Kwiatkowski was the main thief, leaving many to boast that only the World Champion could ascend a particular hill or sprint faster on a respective segment better than them. Which is true, right?
But this year we are going to put up more of a fight and not allow those damn professionals to snap up more of our glorious Strava KOMs.
So with that in mind, we've compiled 13 Strava segments with the help of local cycling experts to set an insurmountable time before the ToB attempts to push you down the leaderboard.
Some are attainable climbs with only a few hundred attempts, some are renowned for being the target of many Strava hunters, and some are the race's official King of the Mountains.
So get out there and set a time that even the pros can't better before the peloton races through and tries to take segment glory. And even if you can't top the leaderboard, it's a measurable way of comparing your times to the elite. We only ask one thing: no cheating, please.
1: Stage One: Pen-y-Pass, Nant Peris, Snowdonia
Segment details: 4.9km; average gradient 5%; maximum gradient 14.5%; 246 metres climbing; Strava rating: category 3
Where: On the road out of Llanberis towards Betws y Coed; the summit of Wales, Snowdon, is on your right.
What: Look to your right when ascending Pen-y-Pass and perched next to Snowdon is a vertigo-inducing, narrow ridge walk that takes in a scramble over Crib Goch – a mountain traverse that resembles the road that cuts through the mountain range beneath it: it never relents, when you start there's no going back, you long for the summit and the difficulty increases the further on you go.
The gradient of Pen-y-Pass bites is at its sharpest towards the end, meaning that a full-blown assault from the outset is the work of naivety.
ToB relevance: Way too early to cause any peloton panic but KOM jersey-hunters will be eager to figure amongst the established breakaway.
What the expert says:"It's a long and measured climb with spectacular scenery. It's pretty wild and rugged. There's a steady gradient at first before it ramps up when you cross the bridge. It gets steep there.
"By the top it ramps up into a hill climb territory of 10-12 per cent gradient. As far as UK climbs go, it's one of the toughest. It's three miles or a 10 minute slog." - Dan Evans, 2014 National Hill Climb Champion
Expert's tip: "The key for a top time is to carry a lot of speed at the bottom of the climb where it isn't too steep. When I set the Strava KOM record I was riding at 30mph at the bottom from a standing start. After the bridge it ramps up and I ended up finishing at 12mph."
2: Stage One: Tafarn y Fedw climb, Llanrwst, Gwynedd
Segment details: 4km; average gradient 6%; maximum gradient 11.4%; 238 metres climbing; Strava rating: category 3.
Where: On the A548, travelling north-east out of Llanrwst.
What: Twisting out of Llanrwst and continuing to meander this way and then that to negotiate the terrain, it's a climb where a constant rhythm is almost impossible to come by, though it does not preclude weaker climbers from ascending without too much difficulty. Not that many Strava attempts to date so a high leaderboard placing is feasible.
ToB relevance: Just like its predecessor, this KOM climb will not shake the stage up because of its relatively early inclusion in the stage.
What the expert says: "The climb is at its equal steepest gradient in the first 400m as you leave the town of Llanrwst at circa 8/10 per cent, but it eases off to a much shallower gradient for over a mile as you leave the trees and enter the hamlet of Tafarn y Fedw.
"The 150m descent here into a hairpin bend is a great opportunity to get some speed as the gradient bites at 10 per cent for 500 metres straight after. The road levels off before sharpening once again.
"Pass the lay-by, follow the road to the left and with the final 100 metres not being too steep you can sprint to the summit." - Marc Colclough, Rhos CC hill climb winner 2013 and 2014.
Expert's tip: "A hill that suits the climber-type, but equally it won't trouble heavier time-trialists. Climbing in a big-ring is the way to go. The breakaway will feel it much more than the more sedate peloton."
3: Stage Two: Coolham Lane climb, Earby, Lancashire
Segment details: 2.9km; average gradient 6%; maximum gradient 13.9%; 172 metres climbing; Strava rating: category 3
Where: Leave the quaint Pendle village of Earby, heading south-east towards the main road of Skipton Old Road.
What: This segment is an elongated version of the race's actual KOM, meaning it's longer, has a shallower overall gradient but is still as brutal. The climb bookends with a simple spin-of-the-leg pace but it is the middle section, with stone walls flanking the fields on both sides and offering little shelter from crosswinds, where it really bites, with a single kilometre averaging 11 per cent.
ToB relevance: The day's second KoM after the early beast of Nick o' Pendle. The breakaway will see this as a good opportunity to attack to extend their advantage. But the peloton are unlikely to let the break's gap stretch too far, especially with Pendle Big End, the day's final KoM, on the horizon.
4: Stage Two: Pasture Lane climb, Nelson, Lancashire
Segment details: 1.4km; average gradient 7%; maximum gradient 13.3%; 100m climbing; Strava rating: category 4.
Where: Situated between the villages of Barrowford and Roughlee, it's only a few miles from the stage's finish in Colne, although the race route involves a large loop before it arrives at its destination.
What: We omitted Nick O' Pendle and Pendle Big End in this guide, not because they're tame to counter, but because the whole area is replete with climbs, and this is no different. The climb can be divided into three similar stages of sharp, short bites followed by a steady gradient. It doesn't make it easy, though – the gradients get tougher the more the climb progresses.
ToB relevance: Coming so soon to Pendle Big End means that neither the breakaway nor the peloton will bat an eyelid on this climb. The breakaway will probably ease off gently ready for the stage's highlight.
5: Stage Three: Note o' the Gate, Saughtree, Scottish Borders
Segment details: 4.3km; average gradient 4%; maximum gradient 23.9%; 171 metres climbing; Strava rating: category 3
Where: A narrow road surrounded by fells and streams, just north of the Scottish Border, on the B6357, travelling northbound towards Hawick.
What: Amidst a long section of road that appears to be averse to anything flat comes this lumpy climb that can serve to punish morale given that it seems to drag on for an entirety.
Fortunately, cresting the summit is rewarded with a long descent into the valley. Nonetheless, with just over 200 people having attempted it, this could be where you set a time that the pros can't better.
ToB relevance: Coming in the final third of the stage, this is a crucial period for the breakaway.
What the expert says: "This climb has a nice steady start following an immediate burn but after about 2km you're hit with a steep section that lasts about 1km. After you go over the cattlegrid and round the corner into the forest you think the climb is over but it drags on for about 750m into the forest.
"Once you reach the top you start to descend but you are soon hit with another climb of 1km to reach the top of Note o' the Gate." - David Beattie, local hill climb champion
Expert's tip: "It's a great climb to attack on if racing in a group because if you put a strong effort in there is hardly any flat bits for rivals to get together and organise a chase between there and Hawick."
6: Stage Three: A6088 climb, Bonchester, Scottish Borders
Segment details: 1.7km; average gradient 6%; maximum gradient 18.2%; 103 metres climbing; Strava rating: category 4.
Where: On the main road approaching Hawthornside after leaving Bonchester Bridge.
What: A fast road with vast views either side that you don't want to be climbing if you only have 30 minutes of riding in your legs. Its frequent incursions into gradients that have double digits pose plenty of opportunities to be explosive but also plenty of opportunities to tire.
ToB relevance: Of equal importance to the Note o' the Gate climb. Given the fast descent into Bonchester, a break that is not collaborating could see one of its members spring off and launch their own attack for glory here.
What the expert says: "There's a nasty steep bit as soon as you leave the village, reaching gradients of 15 per cent for 200 metres. After that it's a steady gradient hovering around 7 per cent for the remainder of the climb allowing you to get into a good rhythm." - David Beattie, Strava KOM holder
Expert's tip: "If you want the fastest time up this climb you have to use the steep section as a platform to attack."
7: Stage Four: Redstone Rig, Haddington, East Lothian
Segment details: 8.7km; average gradient 4%; maximum gradient 16.7%; 313m climbing; Strava rating: category 3.
Where: South bound on the B6355 after leaving Gifford.
What: Sheltered by trees for most of the way, it is a long, remote, country road where the road rises are punctuated by the odd dip that permit recovery or a chance to increase speed.
ToB relevance: The peloton will have barely left the Scottish capital so this is simply a climb to navigate en-route to crossing the border back into England.
What the expert says: 'It's a steady climb with a few 15 per cent sections thrown in. When you come out of the tree line and into open moorland, there's a 150m section that cranks up to 17 per cent that takes you by surprise." - John Archibald, secretary of Haddington Cycle Club
Expert's tip: "The fastest times, as with all climbs, are recorded when there's a tailwind but watch out for the common crosswinds when you exit the tree line.
"Don't go too hard, too soon as you'll pay for it towards the top. It's a heluva lot tougher than what it looks."
8: Stage Four: Ford Bank Hill, Ford, Northumberland
Segment details: 3.1km; average gradient 3%; maximum gradient 19.3%; 105m climbing; Strava rating: category 4.
Where: From the village of Etal, turn left to enter Ford on the B6353.
What: Steep, a gentle – almost downhill – middle section followed by a steep climax; this climb is as rolling as they come. The straightness of the road and the long middle section can make it quite a boring ascent but it's important to maintain a good pace going into the finale.
ToB relevance: Despite crossing the Scottish border and touring around Northumberland, stage four bypasses the area's big climbs. Nevertheless, Ford Bank acts as more KoM points to climb.
What the expert says: "The climb rises in two sections – steeper at the bottom and then a bit of a false flat in the middle before dragging up for another km to the top.
"Riding the lower steep section a fraction more easiliy and then keeping the power down may yield quicker times on the final steep section. The upper part of the climb opens up so any north-easterly wind will make it difficult to set a great time.
"A more measured approach with good pacing is required rather than a violent acceleration." - Ben Lane, Strava KOM holder
Expert's tip: "I'd advice anyone wanting to put the record on the shelf ahead of the pros to rid hard but not all-in over the lower section so that you can recover a little and keep the strain on the chain in the final section. Pick a day with a SW wind, too!"
9: Stage Five entire route: Prudhoe – Hartside Fell summit finish
Segment details: 172.5km; 3,031m climbing.
Where: Northumberland, Hadrian's Wall, Cumbria and back into Northumberland
What: The queen stage of this year's Tour of Britain is a Strava segment thanks to Jamie Seaton's recorded recce. Not entirely difficult as far as the stage is concerned until the summit finish. Then again, though, unlike fellow completed-within-ten-minutes segments, with this one you can expect a full day in the saddle.
ToB relevance: This is the day where the GC contenders do battle. It's doubtful that a breakaway rider will atop Hartside with the GC teams winding them in allowing their leaders to make their move.
What the expert says: "The final climb is the only real climb (of the stage). It traces Hadrian's Wall for a long period. There aren't many climbs apart from Hartside Fell. It's the longest and the hardest climb we've tackled in the summit finishes. Probably the hardest part is the hairpin up to the finish, which should be good." - Mick Bennett, ToB race director
10: Stage Five: Lazonby to Scratchmere Wood climb, Lazonby, Cumbria
Segment details: 5km; average gradient 2%; maximum gradient 8.3%; 119m climbing.
Where: As the name suggests, this climb follows the B6413 road from Lazonby to Plumpton, starting when the road veers right from the River Eden and ending at Scratchmere Wood.
What: A climb on high country roads susceptible to winds because of its openness. Its pattern is repetitive: it levels off, dips a little and then rises again.
ToB relevance: If there's a dangerous rider up ahead, the GC teams could increase the pace on this climb, thinning out the peloton. It'd be a surprise if a race-winning break was to form but one of the outsiders (think a domestic rider) may chance their luck against an off-guard peloton.
What the expert says: "The climb starts as soon as you pass the swimming pool in Lazonby with a gentle incline until you go under a railway bridge. It's here where it's at its steepest for about half-a-mile.
"It flattens off a little bit at the duckpond before another sharp climb of 500 metres. Then it's a pull all the way up to Plumpton." - Steven Banks, Beacon Wheelers rider
Expert's tip: "The steepest section, after the railway bridge, is ideal for an attack as it lasts for quite a while. Us locals don't expect to be in the top-10 on the leaderboard after the 10th!"
11: Stage 5: Hartside Fell, Melmerby, Cumbria
Segment details: 7.9km; average gradient 5%; maximum gradient 13.8%; 414m climbing; Strava rating: category 2.
Where: A twisting back-country road beginning in the woodland and entering into an open landscape high up above the moors of the stunning North Pennines linking Melmerby and Alston, England's joint highest town with Buxton (that is covered below).
What: Organisers are chuffed that they've succeeded in having Hartside as a summit finish and upon completion, you too will be chuffed. Popular as part of the coast-to-coast route, the climb is well-known but not overly hard; there are far harder climbs in the vicinity of this one.
Nonetheless, underestimate it at your peril. If the weather comes out to play then you will be met with idyllic views of the Pennines.
ToB relevance: The summit finish is where the GC top-10 will have its biggest shuffle. Last year's summit finish atop The Tumble saw little-known Italian Edoardo Zardini (Bardiani) surprise the favourites and spring to victory, also taking the yellow jersey that he would later relinquish.
The front-runners will be knowledgeable of that so it's less likely that an unknown will triumph again.
What the expert says: "What this well conditioned road lacks in steep gradient it more than makes up for in distance. To begin with the road constantly twists and turns in and out of the woodland.
"The further you ride, the further the distance between bends, until the scenery opens up – over to your left, a stunning view of the Lake District. Climb on through the empty moor, and soon you'll see the café appear on the horizon.
"A few kinks in the road remain before the final smooth hairpin. Hold your rhythm and push on up the high-altitude finish." - Simon Warren, author of 100 Greatest Cycling Climbs
Expert's tip: "Choose your gear, settle into a rhythm and try to maintain it to the top, avoid the urge to change up when the slope lessens but instead let the legs recover for the next inevitable bite in the gradient."
12: Stage Six: Long Hill climb, Buxton, Derbyshire
Segment details: 2.8km; average gradient 4%; maximum gradient 8.3%; 118m climbing; Strava rating: category 4
Where: Follow the A5004 out of Buxton towards the moorlands of the Peak District. It's official road title is 'Long Hill' but this particular segment isn't too long.
What: The National 2011 Hill Climb Championship venue, albeit from the Whaley Bridge side, it has also appeared in the ToB before. The road doesn't switch this way or that too much but instead allows you to establish a comfortable rhythm.
ToB relevance: This stage's parcours make deciding the winner difficult: will it be a bunch sprint in Nottingham, a reduced sprint or will the breakaway have prevailed? Climbs like this will prove pivotal in deciding the stage's outcome.
What the expert says: "This climb unfolds in sweeping curves. There are no surprises. To the left the fields rise into open fell. On the right they drop down to glimpses of water. Trees provide some shelter from the wind.
"Just before the halfway point there is a move to your right. It is significant. You will respond. A quick look is needed, then you flick out from the group. You dance on the pedals.
"The climb is now three-quarters done. The top is almost in sight. You now see the fells to your left and the drops to your right." - Chris Lea, an extract from Buxton CC's 'Mind Games'
13: Stage 6: Hell Bank, Beeley, Derbyshire
Segment details: 2.5km; average gradient 7 per cent; maximum gradient 15.7 per cent; 182m climbing; Strava rating: category 3
Where: Just less than 10km east of Bakewell.
What: The name itself sends shudders. And the prefix to Bank is conducive to burning sensations if approached incorrectly that will lead you to foul-mouthing a two-word soundbite that ends with 'hell'.
ToB relevance: This is where the formed breakaway during the Tour will be looking to extend their advantage and where crucial King of the Mountain points will be contested.
What the expert says: "It sticks in my mind, this climb. It's a straight-forward climb: a long and steady gradient. It's a little steep at the bottom but towards the top it eases off.
"You can get in a good rhythm which suits people like me who aren't explosive climbers making it a nice 8-10 minute climb. It can get quite exposed, though, making wind a factor." - Tejvan Pettinger, winner of the Buxton CC Hill Climb, 2013.
Expert's tip: "It's good for an Everesting climb."
There's plenty more segments we could have chosen but opted against for various reasons. If you feel like we missed an obvious one, let fellow readers know in the comment box below.
NB: For residents in East Anglia and Central London, we're afraid you just don't have any hills worthy of inclusion. Sod's law.
Thank you for reading 20 articles this month* Join now for unlimited access
Enjoy your first month for just £1 / $1 / €1
*Read 5 free articles per month without a subscription
Join now for unlimited access
Try first month for just £1 / $1 / €1