Tyler Farrar: Next big thing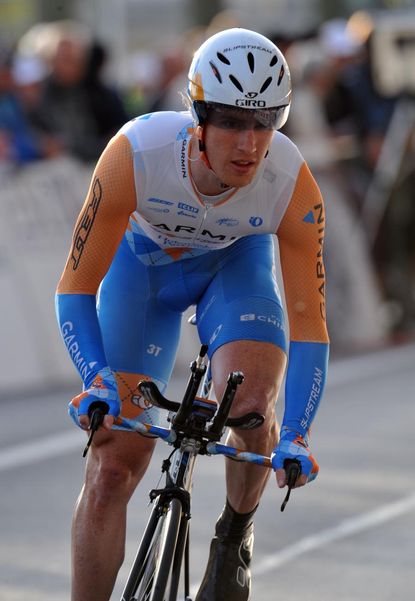 Cycle Sport's Big Read 2009 When we caught up with Tyler Farrar in the spring he was out injured, but confident of a big comeback. We discover what drives the man who has Cavendish in his sights

This appeared in the July 2009 issue of Cycle Sport
One minute you're the next big thing. You've narrowly missed winning a Classic, and you've just outsprinted the fastest sprinter in the world.
The next, you are sitting on the tarmac, watching Milan-San Remo, your first major target of the year, disappear up the road, and there's a big throbbing pain where your shoulder used to be. Damn.
Still, Tyler Farrar is not bitter. In fact, Cycle Sport can't quite believe how relaxed the Garmin rider is about the most important part of his season being taken from him. It's the week before Ghent-Wevelgem, a race the ever-optimistic Farrar believes he can win, and instead of being frustrated at having to watch the race on television, he's already moved on. Life is still good.
"Tyler's a really positive guy. He really believes in himself, which isn't an easy thing in cycling," says his Garmin team boss Jonathan Vaughters.
"Someone like Christian [Vande Velde] always questions his own abilities," he continues.
"Tyler doesn't."
You don't have to be unrealistically positive to understand that Tyler Farrar has potential, in flat classics, sprints and prologues. He finished fifth, at the age of 24, in last year's Paris-Tours, the best ever finish in that race by an American. More importantly, in doing so he won the bunch sprint, just seconds behind the group led by winner Philippe Gilbert. He also did what not many riders have done in the last year or so, and beaten Mark Cavendish in a straight-up sprint at Tirreno-Adriatico.
The last American rider to contest sprints, classics and prologues, George Hincapie, is coming to the end of his career. Tyler Farrar is rushing in to fill the space he's leaving.
Farrar blew into Europe like a Flemish crosswind back in May 2002. Representing the US junior squad, he landed in Belgium, and three days later took part in the junior Tour of Flanders.
"First race in Europe and you're going up the Muur. Awesome. I had always imagined it, but to do it was cool," Farrar says.
"I was hooked the second I did it, racing up the nasty stones. I was so keyed up for it, I was attacking every climb, and ended up in the break."
"It went pretty well. I was second," he adds.
And so began a long love affair with the cobbles, with Belgium and with Belgian-style racing. While virtually every other US rider is based in Girona, Farrar has set up home in Ghent, in an apartment overlooking one of the old town's many squares.
Farrar has made his own way into the professional ranks, doing it the old-fashioned, independent way. He sharpened his sprinting instincts in the competitive US pro scene, riding for Jelly Belly, then Health Net, while making occasional forays to Europe with the US team, participating in the Tour de l'Avenir, where he won stages in 2004 and 2005, when the race was still open to professionals. He also did well in the many tough semi-classics and kermesses either side of the Franco-Belgian border, and this brought him to the attention of Cofidis, who tried to sign him for 2005, finally getting their man for the start of the 2006 season.
His career trajectory followed a familiar pattern for a young sprinter - no wins in 2006. Not every sprinter is as precocious as Mark Cavendish. Then, one small win the following year.
He signed for Slipstream in 2008, wearing the yellow jersey in the Tour of California and taking another single win, a stage in the Tour du Poitou Charentes. But it was his fifth place in Paris-Tours, followed by that beating of Cavendish at Tirreno, which impressed us, and confirmed to Farrar that he perhaps has a Classic win in him.
"They're not easy races to win, and if you win just one in your career, that's a good deal," he says.
"I came close at Paris-Tours, which was a good indication that I'm capable of it."
Garmin's tactics at Paris-Tours were textbook - they got David Zabriskie in the early break, then Farrar stayed at the front through the final hectic 25 kilometres, where narrow, gravelly roads took out many contenders in crashes.
"There was one huge pile-up," he recalls.
"Guys tangled, and 35 guys rode away. I made it, but it jostled up the race and all the sprinters' teams lost a lot of guys who they could put on the front."
Without team-mates to chase, the sprinters had to watch as Gilbert motored away. Farrar won the bunch sprint, which must have been as frustrating as it was pleasing, given that Gilbert and company were only four seconds ahead on the line.
"You cross the line, and you think, 'Wow, I was fifth in Paris-Tours,'" says Farrar.
"Then you think, 'We were four seconds from catching the break. I would have won it.'"
Farrar's fifth place in Paris-Tours was the best-ever American result in the race, and it also made him only the ninth rider from his country to achieve a top five place in a major one-day race. And then, there was the stage win at Tirreno.
"It was ridiculously fast," says Farrar of that day.
"Cervelo got on the front, and it was a long straight tailwind run in. 70k an hour, which suits me really well. High speed finishes are ideal for me and my abilities, and I think having it that fast for as long as it was stung a few of the sprinters."
"Everybody's good at different things. I'm good at that."
"The Cervelo train was in the front and I sat four or five guys behind them. Petacchi went a bit early, Cav and I jumped on him, and then I came round Cav."
Cavendish himself admitted that he went to early in the sprint, having fixated on Petacchi. The two hadn't previously gone head to head in a sprint, and Cavendish was eager to establish psychological superiority.
"I misjudged it, but fair play to him, he won it. I went too early. It was a headwind and I faded," said Cavendish of the result.
Beating Mark Cavendish once is one thing, but the British sprinter has a sponge-like ability to soak up information about his opponents, and it's doubtful he'll make this mistake again. And like all his rivals, Tyler Farrar has to come up with a solution to the Mark Cavendish problem.
"He's winning a lot and is the best sprinter in the world right now," Farrar admits.
"But it's not going to change the way I train, and I'll continue to do what I need to do to be in shape for the big races. I can play off him and his team."
"If Columbia are leading out, then you want to be on Cavendish's wheel. You can't focus on him, and say the only goal is to beat Cavendish, because if you think like that, you can both end up being beaten by somebody else."
What Farrar really needs is a leadout train. He can jump at a high speed and maintain that speed to the finish, much like Petacchi, Boonen and Bennati. And although Garmin aren't known for it, they have the capacity to match Columbia or Quick Step in setting up a high speed finish. They're one of the best team time trial outfits in the world, which means they have the physical capacity at least to organise a leadout, even though Farrar admits it's still a work in progress.
"We're working on it," he says.
"I think the team has more confidence in me now. We're putting the guys together. We've got a fairly young team, and one that hasn't done leadout trains in the past. It's a lot about gaining the experience. We're making mistakes, it doesn't come right every time, but we're getting better."
The fact that Farrar lives in Ghent isn't just significant because he has ambitions in races like Ghent-Wevelgem and the Tour of Flanders. It marks him out as different from and separate to the rest of the Garmin team.
It's not just that American riders are famous firstly for stage racing, and that Garmin are primarily known for their ambitions in the Grand Tours, while Farrar is a Classics specialist and sprinter. It's also Tyler Farrar being Tyler Farrar.
The North American cycling enclave in Girona is where many of Farrar's team mates live, along with a handful of the other US professionals. But Farrar has built his own life in Ghent, and he's proud enough of this for it to be important for him to maintain that life. He's settled in Ghent with his girlfriend, who was his high school sweetheart. He broke into top-level cycling independently, built an independent existence for himself, and isn't about to sacrifice that just so that he can live in the pockets of an American community in Spain, where we can only imagine that everybody knows everybody else's business.
And he loves Belgium, and Ghent.
"I fit into the culture, I speak the language, and I've got friends here," he says.
"I like the mindset, I get along well with the people and they are crazy about bike racing. It's just fun to be a cyclist in Belgium
"The rain doesn't bother me. If you've got to race in the rain, you may as well train in it, too. If you like where you live and it makes you happy, that's the most important. I enjoy it so much here, I'll put up with the rain.
"And the racing here is hard, and serious. It's not pleasant racing in three degrees and rain. If you're not serious, you won't keep doing it.
"I do a lot of pro kermesses, which are great for training and racing. They are 170 kilometres long, and they go fast. It's four hours of motor pacing, some of the hardest racing I've done. People don't hold back - there is less team tactics, and everyone just goes out and bashes on each other for four hours."
For now, Farrar's career is briefly on hold, while the separated shoulder he suffered in Milan-San Remo heals. The injury took him out of the Tour of Flanders, Ghent-Wevelgem and Paris-Roubaix, and it's unlikely he'll make the Giro team, given that his first race back is scheduled to be the Tour of Romandy.
But Farrar is unfailingly positive, looking further ahead to new targets.
"I'd be lying if I said it wasn't frustrating, but you can't change it. But you go crazy if you dwell on it. It happened. Damn. Now I reassess and come up with some different objectives."
According to Garmin manager Vaughters, Farrar made a big impression on the team at his first training camp, in November 2007.
"I remember when he came to the team, and he was talking to the older riders, saying, 'I can beat Cavendish', and they were, like, 'whatever. Who's this punk?'" Vaughters told us.
"Older riders, they are all about respect, and they know everything, etc. But he's proved them wrong. Tyler's attitude is, 'I can win'. He's not going to beat Cavendish five times out of 10 or anything, but he's a one or two out of 10 kind of sprinter.
"He can also ride prologues, and I think he may even become better than Thor Hushovd, plus he's an incredible team time triallist. He's a multi-dimensional rider, and there's a 90 per cent chance he'll do the Tour this year, so he can get his revenge for missing out on Milan-San Remo."
There's a wide variety of characters in the Garmin team, but Jonathan Vaughters seems to specialise in optimistic, positive riders. On a scale of one to Tom Danielson, Farrar is up there, although more laid back about things than his American team-mate.
It's going to take more than a couple of months and a few missed races to shake his languid confidence.
THIS IS...TYLER FARRAR
Name: Tyler Farrar
Nationality: American
Team: Garmin
Born: June 2, 1984
Number of wins: 5
LIFE AND TIMES
2004 Health Net-Maxxis
Best result: Win, stage seven, Tour de l'Avenir
Rides for the US-based Health Net team, but rides in Europe with the US national team. Gains a string of high placings, (a fourth and two fifths), before sprinting to victory on stage seven.
2005 Health Net-Maxxis
Best result: Win, stage two, Tour de l'Avenir
Another stage win at the Tour de l'Avenir, and a win in USPRO criterium championships. Cofidis renew their interest in Farrar, and he signs to ride with them in 2006
2006 Cofidis
Best result: Fifth overall, Tour du Poitou-Charentes
Farrar's first year as a professional is a tough one, but he rides well in the August Tour du Poitou-Charentes, coming in the top 15 every day, with two sixth places the highlights. Is also fifth in the GP de Rennes. But the middle of the season is ruined as Farrar breaks his collarbone in a crash in the Circuit de la Sarthe.
2007 Cofidis
Best result: Stage win, GP CTT Correios de Portugal
Farrar achieves his first full win as a senior at the GP CTT Correios in Portugal, taking stage two, after coming second the previous day. Also breaks through with a good ProTour result, finishing fourth in the Eneco Tour Prologue.
2008 Slipstream/Garmin
Best result: Fifth, Paris-Tours
Wins the bunch sprint, four seconds behind four escapees, at Paris-Tours. Also takes a stage win in the Tour of Poitou-Charentes, and enjoys a good start to the Tour of California, with a series of high finishes and a day in the yellow jersey, before illness wipes him out.
2009 Garmin
Best result: Win, stage three, Tirreno-Adriatico
Takes out Cav, and lots of other big-name sprinters, in the third stage of Tirreno, for his biggest ever win. Is taken out in turn by a crash early in Milan-San Remo - a separated shoulder will keep him out of action until the Tour of Romandy.
Thank you for reading 20 articles this month* Join now for unlimited access
Enjoy your first month for just £1 / $1 / €1
*Read 5 free articles per month without a subscription
Join now for unlimited access
Try first month for just £1 / $1 / €1