UCI president Brian Cookson responds to athletics doping scandal
The UCI president Brian Cookson expresses concern over WADA report into doping in athletics and the non-compliance of anti-doping authorities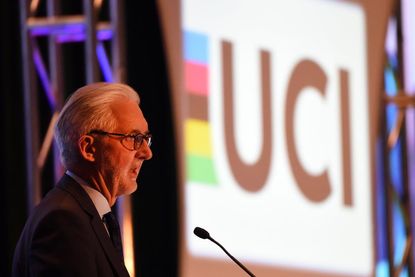 (Image credit: Watson)
UCI president Brian Cookson has said that he will be discussing the implications of the recent World Anti-Doping Agency (WADA) report into doping in Russian athletics with the Russian cycling federation in the coming days.
Speaking to Cycling Weekly, Cookson also expressed concern over the recent revelation that the Russian Anti-Doping Agency (RUSADA), along with five others, is non-compliant with the WADA Code.
WADA also today placed the anti-doping authorities of three key cycling nations - Belgium, France and Spain - onto a watch list along with those of Greece, Brazil and Mexico.
"I'm in contact with Russian cycling federation colleagues and I'll be discussing the detailed implications of the findings of the report into the IAAF [International Association of Athletics Federations] and what it says about RUSADA and the decision to declare RUSADA non-compliant," he said.
"We need to take this very seriously and we need to decide what the appropriate action is."
>>> UCI unfazed by Russian athletics doping report >>>
The report, compiled by a WADA commission, alleged widespread doping in Russian athletics and found evidence of cover-ups, corruption and the destruction of anti-doping samples in a Moscow laboratory.
The report did not specifically investigate cycling in Russia and Cookson expressed his confidence in the Russian cycling federation.
"I believe that the Russian cycling federation will want to do the right thing, nobody wants to be labelled a cheat and nobody wants to sweep things under the carpet that will subsequently come out and damage our sport," he said.
"I may be naïve and I may be proved wrong, but I believe that the people involved in the Russian cycling federation have good intentions in that respect."
Cookson also explained that the UCI would discuss the position of Nikita Kamaev, the executive director of RUSADA who currently sits on the UCI's anti-doping commission, in the coming days.
Kamaev has come in for criticism following the publication of the report. He is one of three members of the UCI anti-doping commission, an advisory body which does not have direct involvement with the handling of anti-doping cases.
"Obviously this is an issue that has caused us some concern, it's a matter that I'll be discussing with the Russian cycling federation over the next few days. We'll make an announcement about what to do in due course," Cookson added.
"Mr Kamaev was appointed because of his position as a head of a national anti-doping agency. If that agency has been found to be non-compliant, then that is obviously a serious matter and we'll be discussing that and making a decision over the next few days. I'm sure you understand we don't want to do things hastily."
Cookson also stressed cycling's track record in the fight against doping, in particular in the period since September 2013 when he was elected president.
"What I really want to emphasise is what we've done in the last two years," he said. "We've done, already, all of the things on our own behalf all of the things that are now being said should be done for all sports.
"We've had the CIRC [Cycling Independent Reform Commission] report, we've thrown ourselves open to independent investigation in a way that no other sport has done.
"If we can help anybody else we'd be more than happy to do so, but I'm absolutely not complacent about it. This is not a problem that you solve on one day and it goes away forever."
Thank you for reading 20 articles this month* Join now for unlimited access
Enjoy your first month for just £1 / $1 / €1
*Read 5 free articles per month without a subscription
Join now for unlimited access
Try first month for just £1 / $1 / €1