University of Liverpool students target human-powered vehicle record
University of Liverpool's Velocipede Team are attempting to break the human-powered vehicle world record with their ARION 1 machine.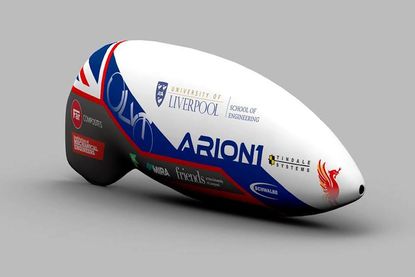 Students from the University of Liverpool are attempting to build the world's fastest human-powered vehicle, with the team searching for a suitable pilot to break the world record.
Thirty volunteers have put their name forward and will undergo testing to find the one who will power the vehicle to speeds of over 83.13mph, a record set by Dutch students in 2013.
Patrick Harper, lead ergonomics engineer of the Velocipede Team, told the Liverpool Echo: "We're looking for our engine, someone who can power our machine.
"Ideally it would be someone with a small body and powerful legs, but finding someone like that is very difficult."
The team are looking to break the record by a full 7% in their ARION 1 machine, which would take the record towards the 89mph mark.
Should the testing go to plan, the ARION 1 may be entered into the World Human Power Speed Challenge (WHPSC) in Battle Mountain, Nevada, next September – the same event that the record was set last year.
With a 1:17 gear ratio, the team are hope a male pilot can generate 850 watts of power, or 800 watts by a female for whom the record stands at 75.69mph.
Source: Liverpool Echo
Thank you for reading 20 articles this month* Join now for unlimited access
Enjoy your first month for just £1 / $1 / €1
*Read 5 free articles per month without a subscription
Join now for unlimited access
Try first month for just £1 / $1 / €1