Veloviewer: The WorldTour teams' new secret weapon
Strava spin-off Veloviewer started out as a software side project and ended up being adopted by the pro peloton. Paul Knott traces its journey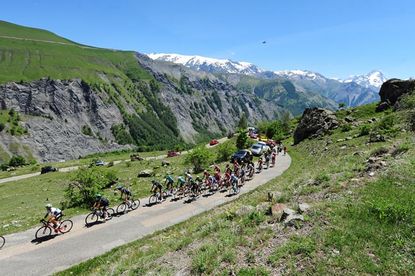 (Image credit: Yuzuru Sunada)
When Ben Lowe's wife fell pregnant with their second child in 2012, the understandable early nights for his spouse meant Lowe had plenty of time to revive his passion and get into web development once again.
"One of my friends introduced me to Strava and I saw it had an API, so I was like — ah, there's some data, let's see what I can use it for," he says.
Taking this data and using his computer programming skills alongside his passion for cycling, Lowe created an algorithm that would show him his current ranking on Strava segments, without having to go into each of them individually, which could then be used as a guide to which ones to target.
This nerdy task turned out to be the catalyst for one of the most vital new tools used by pro cycling's top teams.
Lowe initially opened this up to friends and a number of cycling forums, leading to the rapid growth of what was originally a side project — building the site in the evenings while having a full-time job writing software for an education administration system.
>>> Nine things you wish you'd known before you joined Strava
However, the success left Lowe with a dilemma: charge for a programme that was taking up time and effort in maintenance or to shut it down and disappoint its users.
He decided to do the former in 2015 (a subscription is currently £10 a year), before taking the brave leap 12 months later to run the website as a full-time job. With more time for development the website broke new ground with its most recognisable feature to date.
3D viewer
"I had a segment details page with the normal 2D profile that you see everywhere, but I wanted to do something that was my own. I remembered as a kid playing some sort of rally arcade game and when you picked the course it had a 3D route. So I thought, I've got the data and the colours of the gradient, I'll just plot it out over a 3D model instead and see what it looks like.
"It took half a day to set up and I thought, 'That looks like it's working alright, what if I do it with a different segment number, so let's put Alpe d'Huez in,' and I was like, 'No way, that's amazing!'
"Strava retweeted it and then someone replied half an hour later saying, 'I think it's the wrong way round.'"
After he'd fixed that little hiccup, Lowe started to tweet accurate 3D profiles of the biggest climbs before major races, growing Veloviewer's reputation.
However, he was unaware just how wide an audience the profiles were reaching until overhearing on a chain-gang ride via a mutual friend of Ben Swift that Team Sky were using them in their race briefings. This would ultimately lead to Lowe working directly with the WorldTour team.
"I started off helping Team Sky with recons in 2016. Because Google Street View is built into Veloviewer it was very easy for the DS to write notes without driving the courses. They can just look at the elevation data and work out what their pacing strategy."
That year Lowe developed a live app, which is used on a tablet stationed within the team car and has effectively made the race road book obsolete. The app flashes up elevations, KOMs or waymarkers that may have been inputted by the team themselves as the race rolls along.
Now working full time with four WorldTour teams (Team Sky, BMC, Mitchelton-Scott, Groupama-FDJ), and with an additional 13 having trialled the system at the Giro d'Italia, Veloviewer is becoming a must-have tool.
>>> The best 'Morning Ride' of all time? Silvan Dillier shares his Paris-Roubaix ride to Strava
LottoNL-Jumbo credited Veloviewer as a key part of Primoz Roglic's Tour de Romandie victory, Lowe says.
"It's amazing that some teams will go into these races and not know how steep the final climb is. I'm like: 'What? You talk about marginal gains but you don't know how steep the final climb is,'" he adds.
Grid luck
GPS is effectively a grid system of tiles that has been laid over the entire world, when a cyclist uploads a ride to Veloviewer, whatever tile they have entered on that ride changes colour with the aim of creating the biggest square or cluster of tiles possible.
"Some people have based their riding on ticking off new areas. People are waiting for lakes to freeze so they can ride out and tick off a tile in the middle of a lake."
The popularity of this area of the site is clear, with the biggest square of tiles currently 85x85, which Lowe estimates is roughly 15,625 square kilometres — half the size of Belgium.
"Everyone says it just allows them to see places they've never seen before. I just don't have time to do it myself."
Maybe one day when his kids are old enough, Lowe can go exploring himself.
What the pros say: Servais Knaven Team Sky DS
"We don't even use the road books a lot any more, we have the GPS file and can add notes ourselves, so you don't need any maps or papers because it is all on your iPad. You can see exactly how long a climb is, the profile on the screen for the next 10, five or two kilometres.
"Then we can fill our notes in on our laptop, mark exactly where it goes narrow, which means we can be really accurate on the information we give to the riders.
"Of course we want to be the only team that has it but it is also what you do with it and how you use it. We also use it in our meetings in the morning to show gradients of the climbs with street views and maps so it's really useful before and during the race."
Thank you for reading 20 articles this month* Join now for unlimited access
Enjoy your first month for just £1 / $1 / €1
*Read 5 free articles per month without a subscription
Join now for unlimited access
Try first month for just £1 / $1 / €1