Victoria Williamson undergoes further surgery after crash as Rio return ruled out
The track sprinter's father says there is no chance of a return for the Rio Olympics as she begins her road to recovery after a crash at the Rotterdam Six Day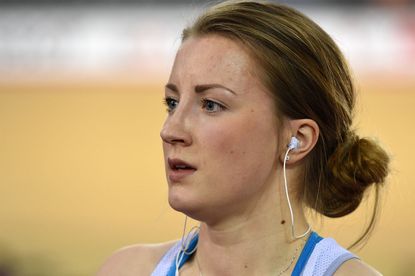 British track sprinter Victoria Williamson's is showing signs of progress in her recovery according to her father, after the crash at the Rotterdam Six-Day last Saturday that left her with a broken pelvis and vertebrae.
Williamson had surgery on Sunday following the accident, and is scheduled to have another operation today (Tuesday) to stabilise her pelvis with screws. If all goes well, her father hopes the 22-year-old will be repatriated home on Friday to hospital in Manchester.
>>> Mark Cavendish confident of Tour de France, Olympics and Road Worlds success in 2016
"She's better today than she was yesterday," Mark Williamson told Cycling Weekly on Monday evening. "She's still in a lot of pain.
"If all the ops go to plan, that is the plan to bring her home on Friday — finger's crossed everything will be all right."
However, he admitted the chances of her competing at the Rio Olympics this summer are no longer possible, and was uncertain of the long-term future of her career.
"Obviously Rio is gone, that dream is gone out the window completely. How she recovers, if there's a career there in a year's time when she's recovered," he said. "Her coach has said if we get her back in one piece that's all they're really worried about at the minute. Bike riding is totally and utterly irrelevant."
The Norfolk-born rider was competing in a heat of the sprint event in the Netherlands on the weekend, when she collided with Dutch rider Elis Ligtee. She was knocked unconscious and can't remember anything of the accident.
"They think that the handlebars got locked," said Mark. "They were going flat out going round the last bend and they just kept going straight basically. It's just one of those things.
"Initially we were told that there was C1, C2 damage in her spine — I'm not an idiot, I know if you get damage up there, you're talking total paralysis. That was a massive worry until my wife went out there and said she's moving her legs."
Mark, however, wanted to thank both the Dutch medical team for their care and the organisers of the event for their support. He was also thankful for all the messages of support Victoria has received. "The friends and family have been phenomenal," he said.
Thank you for reading 10 articles this month* Join now for unlimited access
Enjoy your first month for just £1 / $1 / €1
*Read 5 free articles per month without a subscription
Join now for unlimited access
Try first month for just £1 / $1 / €1