Visionary architect talks London's difficult street network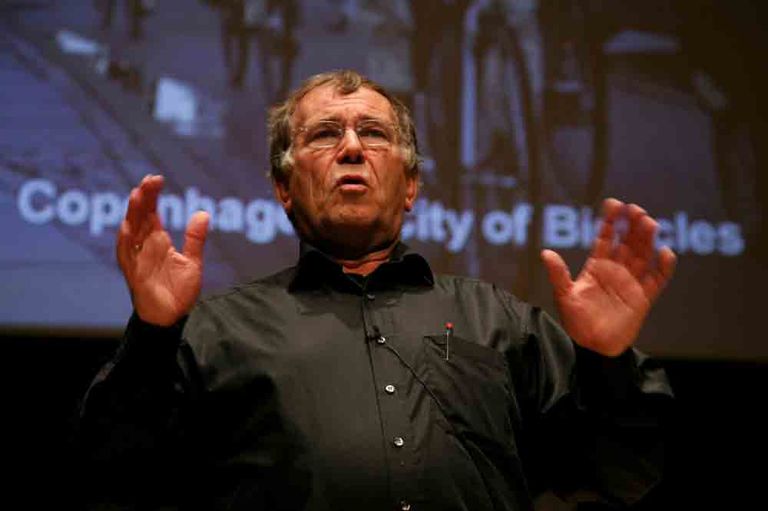 Jan Gehl has been described as "the most influential architect you've never heard of".
Gehl, who married a psychologist, may represent the antidote to status-fixated architecture; he believes a city should be wholly focused on accommodating its people rather than iconic projects. He is fairly termed a visionary and was a catalyst for Copenhagen's transformation into what's commonly thought of as the world's most liveable city.
With Gehl Architects, the Dane was the consultant behind the transformation of New York's formerly traffic-choked Times Square into a vibrant public space, with its new protected bike lanes; the creation of Melbourne's coffee quarters, thriving spaces created from disused alleyways; and now the rebuilding of post-earthquake Christchurch into a people-friendly city. Cycling plays a big part in Gehl's vision of how cities should be.
Meeting the maker
I meet Gehl in the lobby of the Hoxton hotel the morning after a packed Hackney Empire screening of The Human Scale, a film by Andreas M. Dalsgaard, inspired by Gehl's work. The London hotel sits on a busy road close to the Square Mile with very little provision for cycling.
Gehl says that Copenhagen, unlike London, built a network of routes, rather than a few superhighways where cyclists contend with dangerous junctions and fast-moving traffic.
"Think about the bike culture I come from. Every other Copenhagener cycles every day and there's a lot of bicycling children. My wife is 74, she bikes every day," he says. "Grandfathers to small schoolchildren, people see bicycling as a solution, not as a problem."
However, he warned that dangerous road conditions create cycling "where the goal is to survive another day" with red-light jumping "a compensation for the hardships". This, he argues, gives cycling a bad name, and makes it hard to create a culture where cycling is seen as normal.
"The more superhighways, the more 40kph bicyclists demand the right of way," he says. He doesn't believe a cycle lane in the sky is the solution. "I laughed my head off," he says, referring to Norman Foster's Skycycle proposal — a system of cycleways above railways designed to remove cyclists from city life rather than improving their participation.
In 2004 Gehl Architects' report on London 'Towards a Fine City for People' was intended as a catalyst for change, to invite people to participate in their city.
Jan Gehl: "Cycling is a solution"
Public life, Gehl believes, is key to a city's liveability, and cycling is a key part of that. His report describes a familiar picture: car-dominated streets where, among great architecture and tourist attractions, there is no room for people to simply sit down and enjoy life, where crossing and cycling on the roads is risky.
He criticised cycle lanes that go nowhere, pedestrian crossings that take too long to cross. People shouldn't have to apply to cross the road by pressing a button, he argues; it should be a human right. Remove crossing buttons.
Sadly, in 10 years since that report, change has been too slow and too little. Cyclists still fight for space on hostile roads. The lack of change, Gehl believes, is not an inevitable consequence of streets that are too narrow.
Delivering safety
"London has a difficult street network. However, there is a lot to be said about rationalising the way streets are used and deliveries are made," he says. London is "ideally suited to cycling" with its compact city centre and lack of hills, plus the fact that many live within cycleable distance of their work.
At the film screening, we heard how 57 waste contractors serve Bond Street alone, while half-empty buses roll through every UK town because of ancient and outdated concessions.
When a huge British Gypsum lorry thunders past the window where we sit, Gehl questions why HGVs should have access to our city centres. In Copenhagen, no large or half-empty delivery vehicles are permitted, he says. Instead, goods are loaded on to smaller vehicles on the outskirts of towns. Deliveries are made after rush hour, when the streets are less crowded.
Gehl says, "It's a bit inconvenient because [companies] will yell and scream because they want to load the big Coca Cola truck out there and come back and drive around and have the right of way, but that's not practical, and many of the deliveries can happen in cities after 11 o'clock."
This, argues Gehl, creates more space on city streets for people. "The logical thing would be, if you can't make a bicycle lane in all the streets, then it might be a proposition to preserve some streets for pedestrians and bicyclists and maybe buses, and other streets for other types of freight."
Following the pedestrianisation of New York's Times Square and Broadway, traffic dropped 27 per cent in the surrounding streets, with new bike lanes and the simplification of the most complex junctions (see box). As Gehl has demonstrated, give people an alternative to the private car, and they will take it.
So, what went wrong?
The problem, he says, is a lack of measuring. The UK's focus on smoothing motorised traffic flows has left everyone else at the margins. "We need to measure the movement of people if we want people in our cities — and design cities they can use."
How can we go forward?
"It's about the way we talk about change," he says. "In New York, for example, people wanted smoother traffic — at least they thought they did — so that's what [Mayor] Bloomberg gave them.
"In New York, there were enormous political issues. Whenever people said: 'Why are you doing this, closing Broadway?' the answer was, 'the traffic will be smoother'. They told me, 'For God's sake don't mention the words public space and public life, ever, because we are doing this to bring down accidents and to [reduce] running times for the cars in Manhattan!'
"They cannot say, in New York, we are doing it for the betterment of mankind. So it was very interesting, it was very political as I'm sure it has been here [in the UK]."
The UK may still have a long way to go. Perhaps he's right and we do need to talk differently about how we use our streets. Meanwhile, UK cyclists must mix with enormous vehicles in hostile environments every day.
His parting words to me: "I hope you're wearing a helmet!"
Design for life
Gehl's landmark projects
New York's Times Square and Broadway
Gehl Architects' urban realm and bicycle strategy informed the transformation of traffic-choked Times Square, opening it to public life by removing traffic. Along with Broadway Boulevard's squares and plazas, seating, foliage and public art were installed. In New York, bike lanes doubled to 725km between 2007 and 2009, while traffic accidents on Broadway dropped 50 per cent.
Copenhagen's Strøget
Gehl was behind the creation of Strøget, Europe's longest pedestrianised shopping street,
in 1962, when what was described as a 'Christmas closure' to motor vehicles became permanent. Contrary to popular expectation, customer numbers increased, and now 250,000 visit Strøget on a summer's day, 120,000 in winter. The street features high-end shops including Louis Vuitton, Gucci and Emporio Armani.
Melbourne's back streets
In the 1990s, Melbourne's city centre was all but deserted, open expanses dominated by cars. Today's 'laneway culture' was born when previously disused back streets identified by Gehl were transformed into the epicentre of Melbourne's public life, with cafes, street art and al fresco eating.