Watch: Comedian's film about cycling in London is an internet hit
Comedian and singer Jay Foreman turns the attention of his 'Unfinished London' video series to look at why more people don't cycling in Britain's capital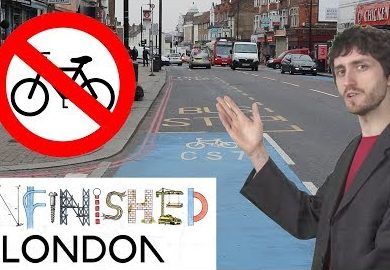 A documentary film about cycling in London has become an internet hit.
Jay Foreman's film Why Isn't Cycling Normal in London? was posted on YouTube on Wednesday, and has already been watched over 150,000 times.
The 10-minute video is part of the comedian and singer's 'Unfinished London' series, which looks at how London has changed over the ages into something that isn't quite fit for purpose.
Along with the jokes there is a serious side to Foreman's film, as it charts the history of cycling in the British capital and what happened to the early attempts to create cycling infrastructure nearly a century ago before the motor car took over.
Foreman travels to Amsterdam to take a look at how they tackled keeping cars and cycles apart as Britain lumped them all onto the same bit of tarmac.
"Now that doesn't mean that the Dutch are bike-mad cycling enthusiasts, that's like saying that everyone in Britain is obsessed with vacuum cleaners because everyone's got one. In the Netherlands, there's no such thing as a cyclist," says Foreman.
>>> Cycling now the most popular form of rush hour transport on London streets, report shows
"These people are doctors, lawyers, students, system analysts, chartered quantity surveyors and porn stars. So why didn't this happen in London?"
Bringing things up to date, Foreman looks at the recent 'cycling revolution' and more recent developments in attempting to provide safe routes for cyclists in London.
It's well worth a watch.
Thank you for reading 20 articles this month* Join now for unlimited access
Enjoy your first month for just £1 / $1 / €1
*Read 5 free articles per month without a subscription
Join now for unlimited access
Try first month for just £1 / $1 / €1