WESSEX ORGANISER DOWN BUT NOT OUT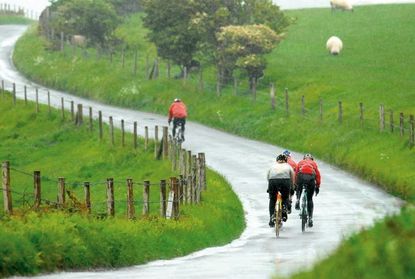 The organiser of the Tour of Wessex, Nicholas Bourne, said he was bitterly disappointed after postponing the Premier Calendar race for a year, but that he was determined to look at the positives.
The cyclo-sportive event goes ahead as planned, and the race is still on course for 2009, with full co-operation from Somerset County Council and British Cycling.
Bourne explained the reason for the cancellation of this year?s inaugural race, which was scheduled to take place shortly ahead of the cyclo-sportive on each of the three days (May 24-26).
Somerset County Council is one of the event?s chief backers but the highways division of the council decided there was not enough time to ensure the 2008 event could be run securely.
?The authorities felt that for an event of this size they needed substantially more time to plan, because the priority is the safety of the participants and minimising disruption to other road users,? he said.
?In the end the authorities decided they didn?t have sufficient time to plan for such a significant event on that weekend.?
RED TAPE
However, the race has not bitten the dust because it was due to be held on a Bank Holiday weekend.
?It?s not a case that the event can?t be run on a Bank Holiday,? he said. ?Everyone has known the dates for a long time.?
Nor is it the case that Bourne?s company, Pendragon Sports, has been late with making its plans.
?We have been well ahead of the game. We?ve had a five-and-a-half, six-month lead time in submitting the route to the relevant authorities.?
In the end, good old fashioned British red tape, and a lack of unequivocal legislation concerning the running of cycle races on the highway has forced a postponement.
Bourne, though, does not want to point blame at anyone. Instead he wants to take the setback in his stride and plan for 2009.
?The ironic thing is that we have great relations with Somerset County Council. Until recently it hadn?t been necessary to involve the highways agency of the council. Then it was and they have deemed there is not enough time,? he said.
DOWN BUT NOT OUT
?The authorities are willing to make it work but they need more time. I am bitterly disappointed but I have put too much work into this to give up. It remains a great idea to have a race in front of a cyclo-sportive,? he added.
Compromises will be made, if it means the race gets the green light next year. One potential sticking point is Porlock Hill. ?There?s only one road up there and it gets busy, particularly on a Bank Holiday weekend. We may have to take one climb out and replace it with another.
?We are not saying: ?It goes ahead like this or not at all? but likewise we do not want to lose the character. Somerset County Council is the sponsor because it wants to show off the county of Somerset. We don?t want to sterilise the route to the extent that you could be anywhere.?
In the meantime, Bourne is supporting British Cycling?s work to lobby the Department of Culture, Media and Sport to revise the law so there is clear, consistent legislation governing bike racing. ?We?d also urge them to implement a realistic, nationwide pricing structure for policing. It is simply not possible to pay £800 a day for one motorbike.?
PICTURE Cyclo-sportive riders need not fear for the future of 'their' Tour of Wessex
RELATED LINK
Tour of Wessex Premier Calendar race cancelled
Thank you for reading 5 articles this month* Join now for unlimited access
Enjoy your first month for just £1 / $1 / €1
*Read 5 free articles per month without a subscription
Join now for unlimited access
Try first month for just £1 / $1 / €1
Sports journalist Lionel Birnie has written professionally for Sunday Times, Procycling and of course Cycling Weekly. He is also an author, publisher, and co-founder of The Cycling Podcast. His first experience covering the Tour de France came in 1999, and he has presented The Cycling Podcast with Richard Moore and Daniel Friebe since 2013. He founded Peloton Publishing in 2010 and has ghostwritten and published the autobiography of Sean Kelly, as well as a number of other sports icons.