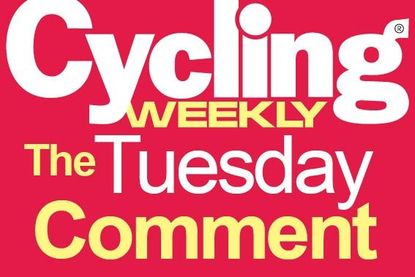 Get The Leadout Newsletter
The latest race content, interviews, features, reviews and expert buying guides, direct to your inbox!
Thank you for signing up to The Pick. You will receive a verification email shortly.
There was a problem. Please refresh the page and try again.
Swipe to scroll horizontally
AN APOLOGY TO VICKY PENDLETON
In our World Track Championships preview in the March 20 issue of Cycling Weekly, we rated the chance of a British gold medal in every event with a score out of five.
Unfortunately, as sometimes happens in print, a gremlin got busy and two of the stars we'd intended to give Victoria Pendleton in the sprint got wiped off. It was correct on this website. But in the magazine - despite the fact the words talked up her chances - it looked like we'd given her one measly star. We'd intended three (which was still a little on the mean side, admittedly, but we were not under-estimating the threat posed by Natallia Tsylinskaya, who eventually crashed out).
At the pre-championship press conference she was asked how her form was. "Horrific according to Cycling Weekly," she said.
As it turned out, Pendleton breezed through the championships without losing a race. Some of the clashes looked pretty one-sided too as she made her opponents look pedestrian.
After she'd clinched gold, a reporter for a well-known cycling news website, asked: "Does this prove a point to the British magazine that wrote you off?"
While we'd love to flatter ourselves and think that we inadvertently played a part in adding to Miss Pendleton's motivation, it was a simple, honest cock-up.
But it put into perspective the fact that when professional sports people cock up, even in an almost imperceptible way, they miss out on gold medals and world titles. When a cycling magazine cocks up, we just end up with egg on our faces.
Anyway, Pendleton turned in a five-star performance and we hope for more of the same in Beijing. In fact, we'll predict it now.
Swipe to scroll horizontally
We arrived at the velodrome on Wednesday to hear the worst possible news. A British rider had failed a haematocrit test and was out of the World Championships.
If I am honest, my first reaction was not favourable. All the worst-case scenarios crossed my mind before I was ready to give the benefit of the doubt. It felt, for 24 hours or so, as if the moral high ground that British Cycling has occupied when it comes to its anti-doping record had crumbled from under their feet.
After all, if it had been an Eastern European or Spaniard who had failed a haematocrit on the morning of the first day's competition the reaction from many would have been "Good, got them."
Then if that nation had utterly dominated the championships, there would have been raised eyebrows and whispered suspicions.
But after speaking to Hayles and to the Great Britain team doctor Roger Palfreeman, a very different picture emerges - one that is explained in full in Thursday's Cycling Weekly.
Hayles had a haematocrit in excess of 50 per cent but he and Palfreeman say that the actual number of red blood cells was not raised. Instead, plasma volume had decreased, meaning the same number of red cells are represented as a higher percentage of the overall volume in the test. Basically, there was a higher concentration of red blood cells, not a higher number.
There are two distinct models relating to haematocrit levels. In a doped rider the number of red cells is boosted artificially, either by EPO or transfusion. But in a rider who has not been doping, the plasma volume is the variable.
Most cycling fans know that haematocrit levels drop during the course of a stage race or a heavy block of training. That's why cyclists ending a three-week tour with higher haematocrit levels than they started with sets alarm bells ringing.
But the workload on the track is very different. Although the pursuit falls into the category of 'endurance events' on the track, it is not the same as road training.
And haematocrit can rise during periods of low volume work, rest or tapering. It can also fluctuate by up to seven per cent according to a range of other factors, including hydration levels.
Hayles says he has done nothing to artificially increase his red blood cell count. He had not been doping and he had not been using an oxygen tent, he said.
Circumstantially, it didn't look good though. A 35-year-old rider with one last chance to seal his place on the plane to the Olympics. A former road rider with Cofidis. Good friend of David Millar. And suddenly, on the day of his race, he fails a haematocrit test. Was this a case of: "This is it. Take a chance. Boost the old red blood cells and hope to get away with it."
Anyone wanting to find him guilty by circumstance and association could do so right there.
The reason I am minded to give Hayles the definite benefit of the doubt is because of his reaction after the news came out. He did not hide. He gave an interview the same afternoon to the BBC. He answered his phone, despite being shocked and upset, and he answered straight questions with straight answers.
Dave Brailsford asked him twice face to face and once again on the phone. "Look, if you've been doing anything I need to know. If you have, just admit it and it'll all be over quickly. If you try to lie your way out of it and you get caught, people will hate you for ever."
Brailsford was there when Hayles rang his wife, Vicky, to tell her the news. He saw the tears and shock on Hayles' face.
Two days later, I also saw the tears as Hayles spoke to Cycling Weekly about his experience. "I feel guilty but I've done absolutely nothing wrong. I want to say sorry but what for? I've not been cheating."
I also remember last autumn when Hayles joined Dan Duguid, the Sigma Sport rider and Cycling Weekly staff rider, to take part in the Duo Normand two-up time trial in northern France as part of a feature for our sister magazine, Cycle Sport.
During that trip he said that his worst nightmare was something like this happening but that there was not a regime of frequent in-house haematocrit testing at British Cycling because they are not cheating.
"If I sat in a hotel room spinning my blood and checking my levels, everyone would think 'What the hell does he need to be doing that for?' If I asked the doctors to check me they'd wonder what I'd been up to," said Hayles.
Perhaps now, though, that needs to be looked at and our riders need to be tested frequently so that if this happens again BC can go to the UCI and a dossier of historical blood profile information can land on their desks with a thud.
Since failing the haematocrit test, Hayles has been blood tested every day to build such a dossier of evidence to prove he had not cheated.
It is understandable that some people said Hayles' anomalous test result could have hinted at organised doping at British Cycling. Unfortunately, wall-to-wall domination in their chosen arena only strengthens the minds of the suspicious.
But consider the consequences. It wouldn't just be akin to state-sponsored doping like the Soviet and East Germans used to do,
It would be much, much worse. It would be a fraud perpetrated against the British public and Lottery players who, indirectly, help fund British Cycling's elite programmes.
Hayles said he would not bring the big ship down with him by acting in isolation.
But there can be absolutely no suggestion that British Cycling has institutionally doping its riders because the consequences are so monumentally destructive. It would be like donating a nuclear bomb while sitting on the rocket.
You can read Hayles and Palfreeman's full account in Thursday's magazine.
Swipe to scroll horizontally
The Three Days of De Panne started today. The garlic bread and assorted olives before next week's three-race banquet.
The Tour of Flanders, Ghent-Wevelgem and Paris-Roubaix are nearly here.
So far this season the racing has been very open and interesting. We've seen the likes of Philippe Gilbert and Sylvain Chavanel come to the fore in recent weeks. Fabian Cancellara has been flying. Alessandro Ballan is lying in wait. Tom Boonen is strangely off form.
What of Roger Hammond? Well, this is the week he lives for and with a couple of riders out of action for High Road, including Marcus Burghardt, last year's winner in Wevelgem, he will be one of the leaders.
Dare we dream of a Hammond win in one of the three races?
After Manchester, anything is possible.
We rate the favourites for Flanders at www.cyclingweekly.com on Friday
PREVIOUS TUESDAY COMMENTS
March 25 ? Just how good can Emma Pooley be?
March 18 ? Forget sitting in a bath of beans, cycling is the new charity fundraiser
March 11 ? Can Sportive riders defy UCI ban?
March 4 ? Why Het Volk is the real deal
February 26 ? Pendleton Poses Nude and the Demise of the Archer
February 19 ? Let Levi Ride? Leave it out
February 12
February 5
January 29
January 22
January 15
Thank you for reading 20 articles this month* Join now for unlimited access
Enjoy your first month for just £1 / $1 / €1
*Read 5 free articles per month without a subscription
Join now for unlimited access
Try first month for just £1 / $1 / €1
Get The Leadout Newsletter
The latest race content, interviews, features, reviews and expert buying guides, direct to your inbox!
Sports journalist Lionel Birnie has written professionally for Sunday Times, Procycling and of course Cycling Weekly. He is also an author, publisher, and co-founder of The Cycling Podcast. His first experience covering the Tour de France came in 1999, and he has presented The Cycling Podcast with Richard Moore and Daniel Friebe since 2013. He founded Peloton Publishing in 2010 and has ghostwritten and published the autobiography of Sean Kelly, as well as a number of other sports icons.