Why L'Eroica is one of the best bike rides in the world (photos)
We defy any cyclist to look at these photographs and not add L'Eroica to their list of must-do rides - All photos by Yuzuru Sunada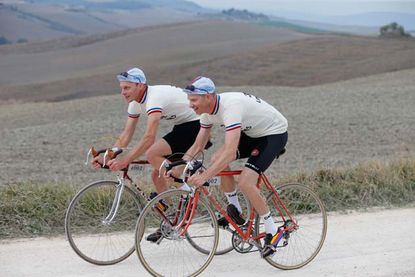 (Image credit: Yuzuru Sunada)
The 21st edition of L'Eroica took place in Tuscany, Italy, on Sunday, gathering together a spectacular collection of vintage bikes on an even more spectacular route.
Since its inception in 1997 by Giancarlo Brocci, the annual event has rapidly become one of the most popular mass cycling events in the world. It's easy to see why, as the riders snake their way through the rolling hills and along the area's famous white roads, strade bianche.
Brocci started L'Eroica as a celebration of cycling's rich history, and everyone taking part must do so on a bike made in 1987 or earlier – or a replica machine that adheres to strict 'vintage' rules, such as downtube shifters and toeclips. And no internal cable routing, either.
>>> Riding the white roads of Strade Bianche: How I came to love L'Eroica
As well as the bikes, riders also dress in authentic vintage clothing. For anyone who hasn't turned up suitably attired, then there are stalls from which to buy a whole range of authentic and replica kit.
Several route distances are offered, ranging from 46 to 209 kilometres. All routes start and finish in Gaiole in Chianti.
Due the popularity of the original L'Eroica, there are now 10 Eroica events around the world, including South Africa, California, Uruguay, Japan, Spain, Netherlands and Great Britain.
Thank you for reading 20 articles this month* Join now for unlimited access
Enjoy your first month for just £1 / $1 / €1
*Read 5 free articles per month without a subscription
Join now for unlimited access
Try first month for just £1 / $1 / €1