Wilkinson wins CiCLE Classic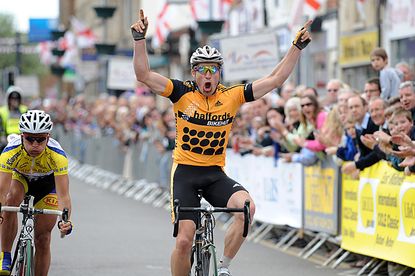 East Midlands International CiCLE Classic photo gallery by Andy Jones>>

Ian Wilkinson held off international opposition to win the CiCLE Classic in Rutland.
The Halfords Bikehut rider led out the sprint against fellow escapee Michael Berling (Glug & Marstrand) coming into the final tight right-hander in Melton Mowbray and never looked in danger of being passed by the Dane.
Both men have got close to winning the CiCLE in previous years - Berling was fourth in 2008 - but there was no stopping Wilkinson this time.
?I have come round the corner before now in second or third wheel and I haven?t got a jump quick enough,? said the delighted Wilkinson. ?I had memories of Malc [Elliott] beating me there a few years ago and I thought ?I ain?t having that any more?.?
Wilkinson and Berling powered across to the remnants of a 10-man break that had been away for the majority of the 99-mile race. The pair attacked in the closing miles to the leave the trio of Yanto Barker (G Thomas-Colnago), Darren Lapthorne (Rapha Condor) and Martyn Irvine (Ireland) to fight for the minor placings.
Comeback man Barker took the sprint for third to show he still has the class to ride at this level after three years out of the bunch.
Big crowds and barbecues were the order of the day as glorious sunshine brought out the public in number for the spectacle of this unique event on the British calendar. The 190-strong bunch served up a cracking race, none more so than winner Wilkinson.
The hard-working builder from Barnoldswick is now a full-time rider, enabling him to spend two days checking out the course prior to the race, although a couple of punctures in practice meant some unforeseen expenditure.
?I spent £80 on a pair of tubs and I was gambling on paying for them,? he said.
£80 well spent.
East Midlands International CiCLE Classic: Results
1. Ian Wilkinson (Halfords Bikehut)
2. Michael Berling (Glug & Marstrand)
3. Yanto Barko (Colnago)
4. Darren Lapthorne (Rapha Condor)
5. Martyn Irvine (Ireland)
6. Maros Kovac (Dukla Merida)
7. Matt Stephens (Sigma Sport)
8. Russell Downing (CandiTV-Marshalls Pasta
9. James Cambridge (BC East Midlands)
10. Tobyn Horton (Deschuytter-Abutriek)
King of the Mountains: Kristian House (Rapha Condor)
The podium: Berling, Wilkinson, Barker and House
Wilko tells it like it is
Magnus Backstedt and Russell Downing give chase
RELATED LINKS
East Midlands International CiCLE Classic photo gallery by Andy Jones
Rutland ready for CiCLE Classic
East Midlands International CiCLE Classic: The Big Preview
CiCLE CLassic 2008: Cairan Powers to East Midlands victory
Thank you for reading 20 articles this month* Join now for unlimited access
Enjoy your first month for just £1 / $1 / €1
*Read 5 free articles per month without a subscription
Join now for unlimited access
Try first month for just £1 / $1 / €1