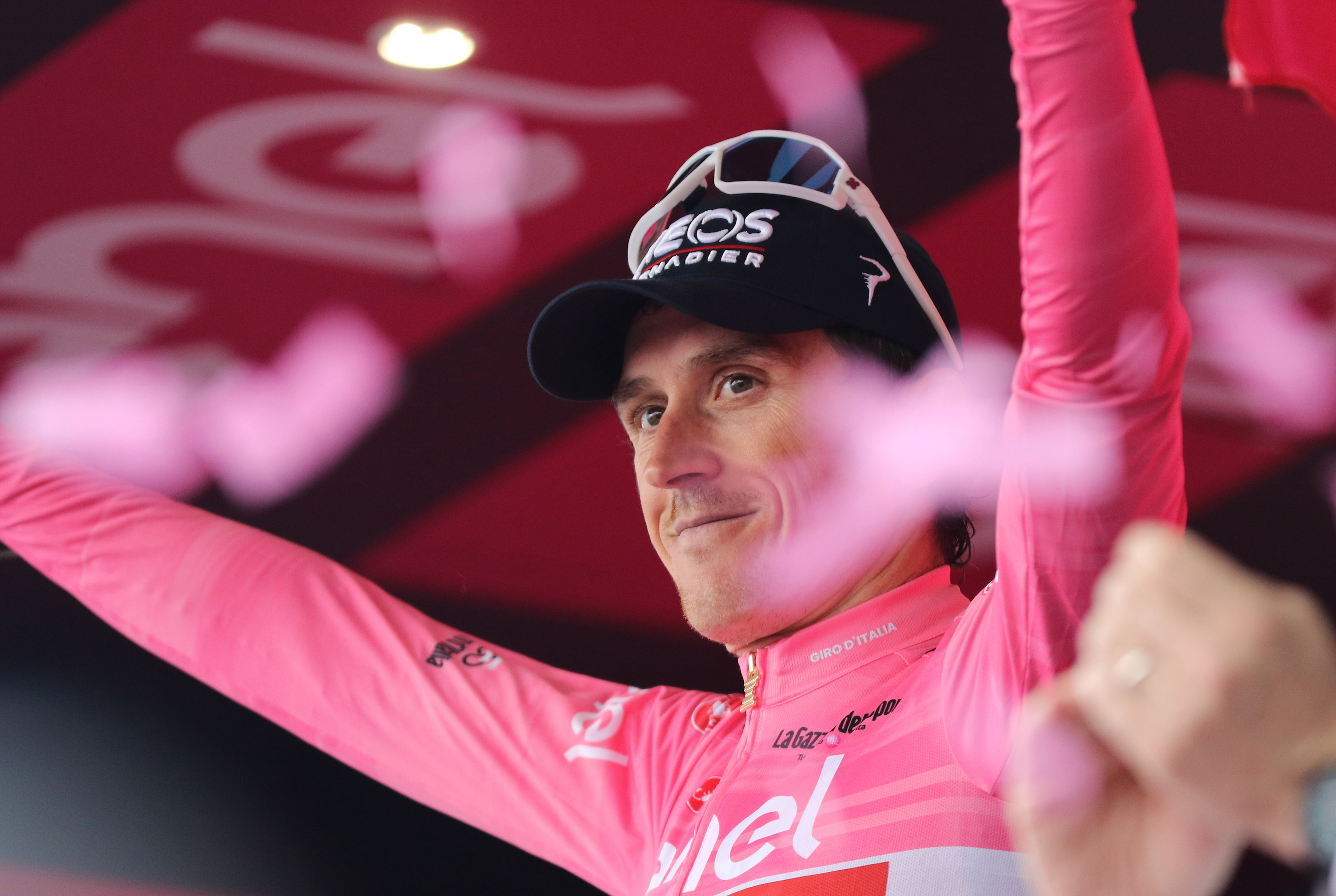 Hello and welcome to another day here on Cycling Weekly live, where later I will be taking you through stage 17 of the Giro d'Italia, but first, we will have a look at what else is going on in the world of cycling.
I'm Adam Becket, and you're more than welcome to contact me on Twitter, if you think I've missed something.
Today's stage is almost all downhill - the 197km between Pergine Valsugana and Caorle see just 523m of climbing, so it's a route that even I think I could manage.
Geraint Thomas is back in pink, but should not be troubled today, if everything goes to plan. As we have seen at this Giro, however, anything can happen at any point.
Stage 17 might be a sleepy one, but you can find out more about the dangers coming up in detail in our Giro route analysis.
Are you planning on tuning into the Giro today? Find out how you can catch all the action in our how to watch guide.
10:45 - No riders out of Giro d'Italia today
10:51 - Peloton shifts away from cycling
11:03 - Cycling UK launches new off-road cycling route in North Wales
11:20 - Remco Evenepoel allowed to train again after Covid
11:48 - Brompton releases special Archive Edition
11:56 - Giro d'Italia stage 17 underway
13:58 - Diego Sevilla wins intermediate sprint. Milan extends points lead
14:10 - Map of the finish
14:28 - Consonni's jazzy helmet
15:10 - Mischa Bredewold wins stage two of the Lotto Thüringen Ladies Tour
15:27 - Jonas Vingegaard to return to action at the Critérium du Dauphiné
16:25 - Alberto Dainese wins stage 17
Refresh
No riders drop out of the Giro d'Italia overnight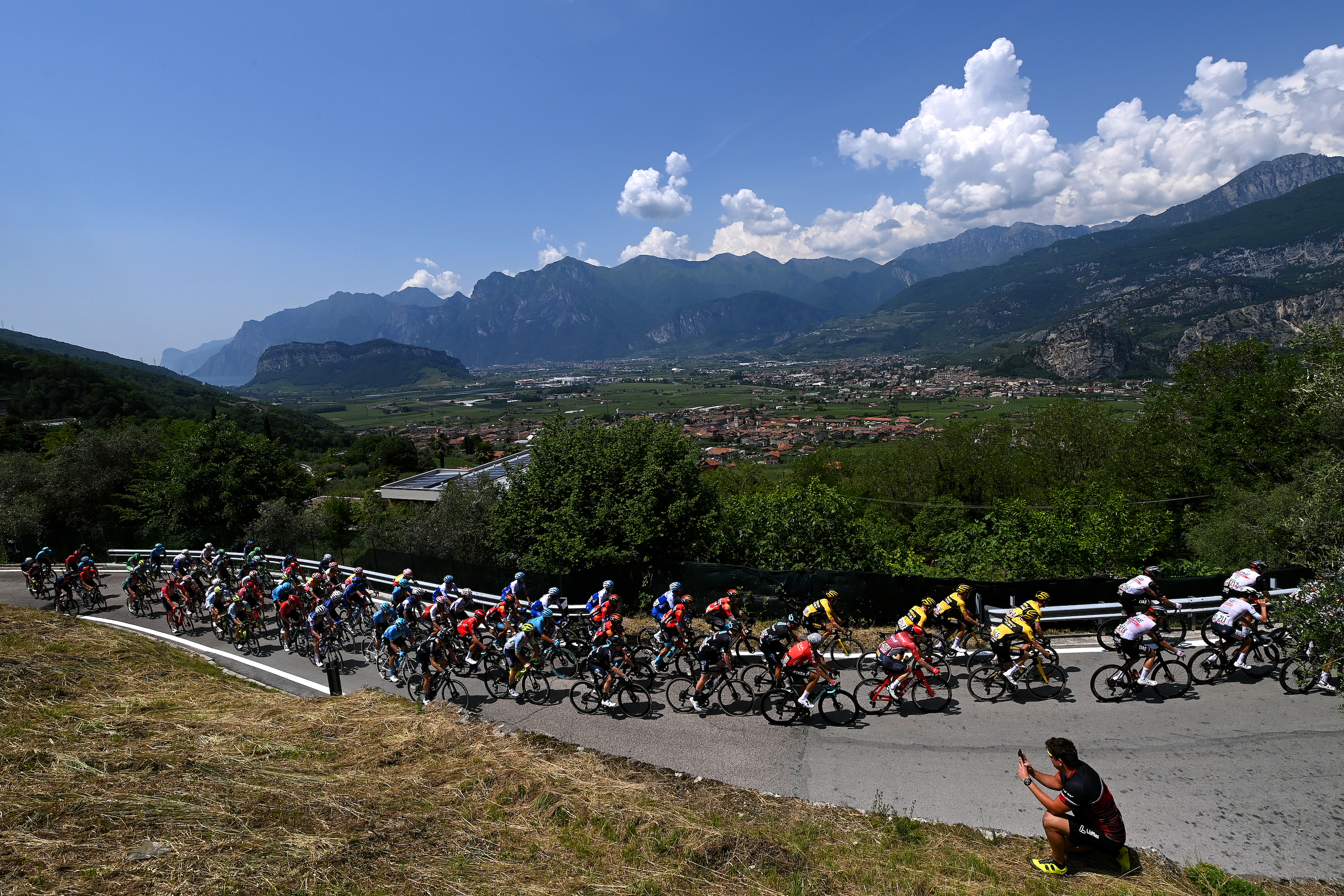 Barring any late dropouts, we have a rare thing at this year's Giro: no overnight abandonments. Yes, you have read that right, the same riders who finished on Monte Bondone yesterday will start today, it's looking like. That's just the fourth time this race that this has happened.
The state of play: Geraint Thomas (Ineos Grenadiers) is in pink as the race leader; Ben Healy (EF Education-EasyPost) is in the blue mountains jersey; Jonathan Milan (Bahrain-Victorious) remains in the points classification lead; and João Almeida (UAE Team Emirates) is the best young rider.
Peloton shifts away from cycling focus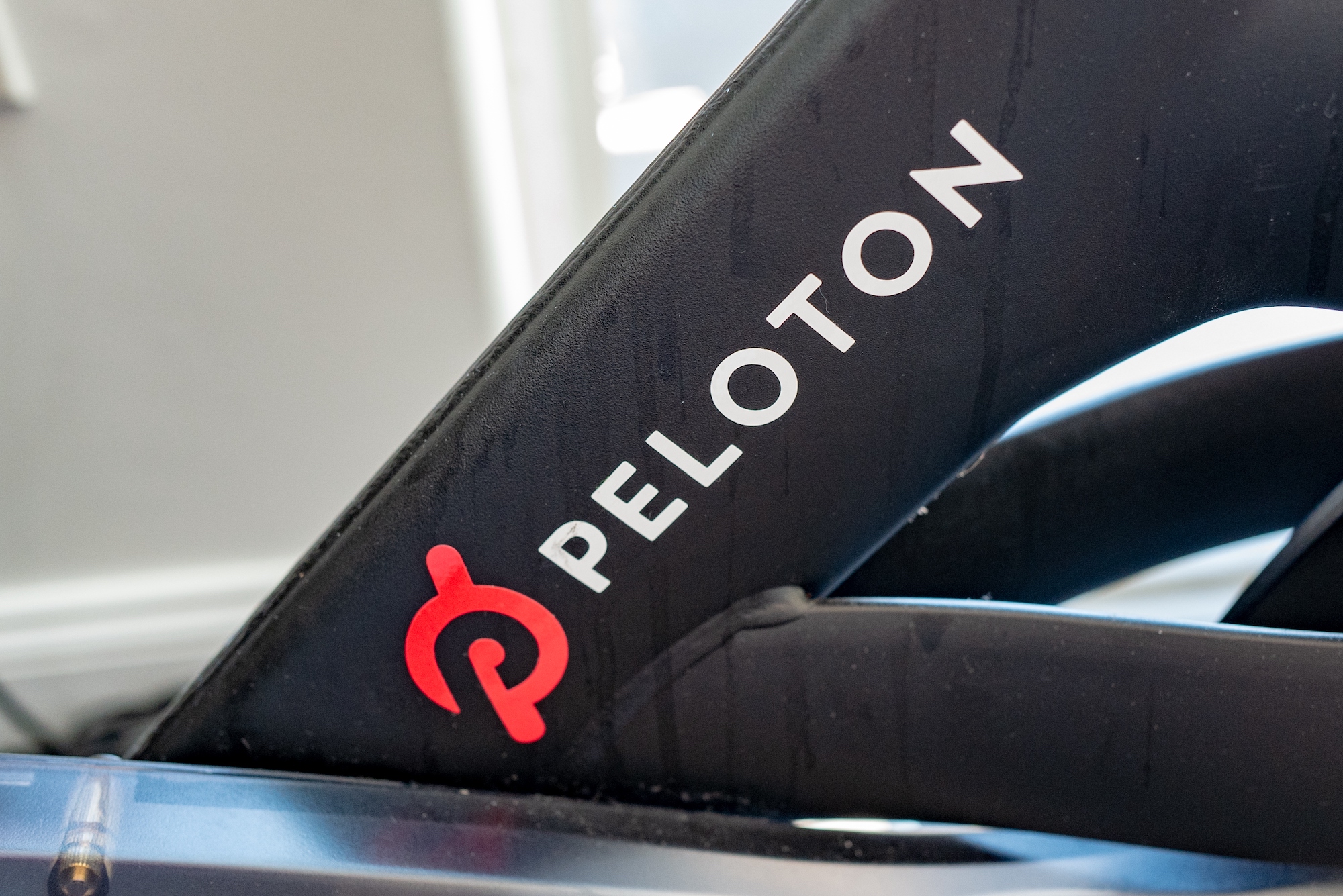 US company Peloton, best known for its at-home bike trainers, is repositioning itself away from cycling towards fitness in general.
A press release from the brand this week says that more than half of the activities through Peloton are not cycling related.
Therefore: "Today's strategic evolution is about mirroring the usage and experience of its Members who engage with the company's 16 fitness modalities from Yoga and Meditation to Walking and Strength – the most popular form of fitness for Peloton's digital subscribers. To broaden access to its diverse fitness content for all, the Peloton App will offer, for the first time, the most expansive collection of free classes since it first launched in June 2018."
The company is also launching Peloton Gym, where "workouts are written-out, demoed in a supporting video, and designed to be done at the user's own pace".
New 130-mile off-road cycling route for north Wales launched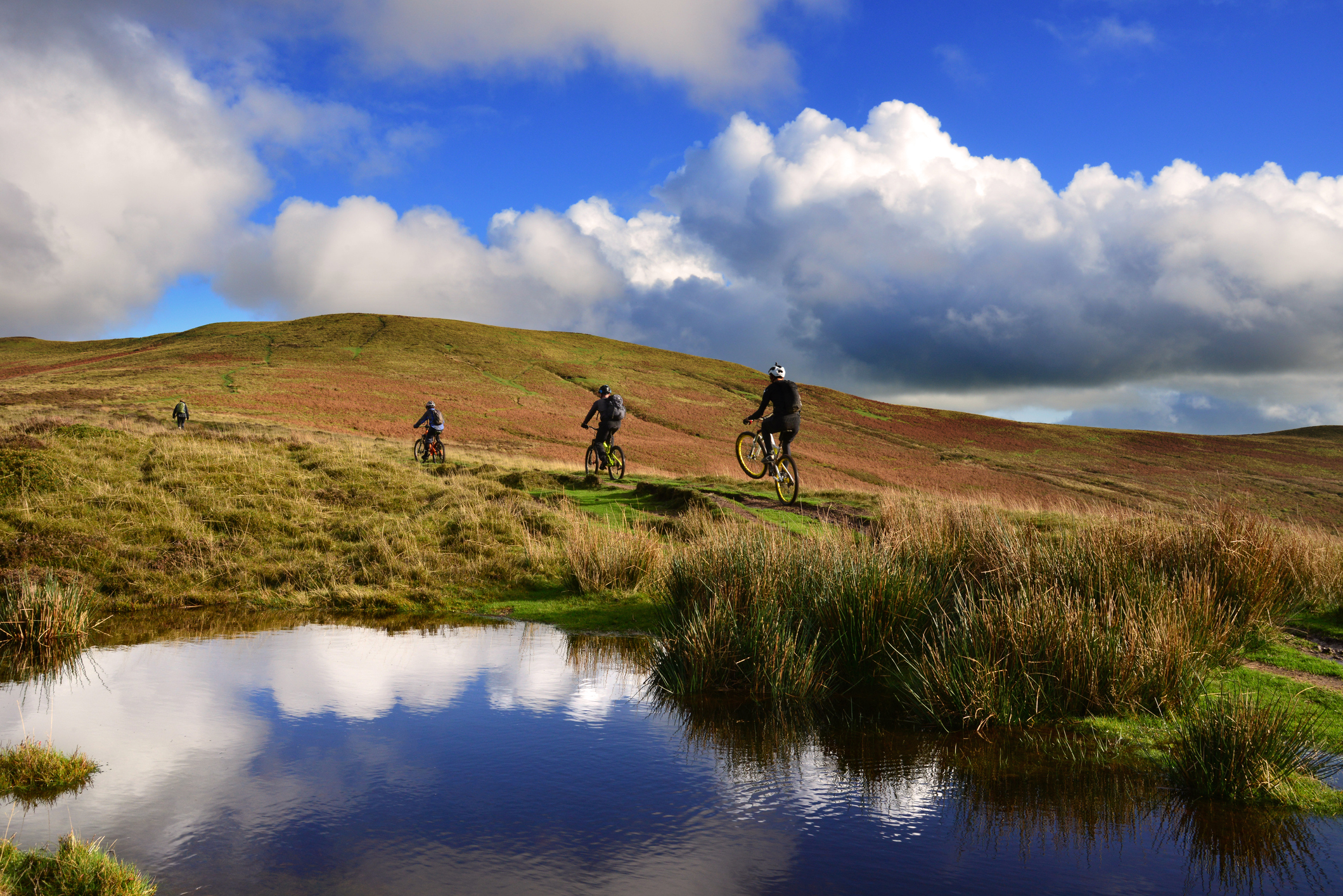 Cycling UK has announced its intention to launch a new long distance off-road cycle route in north Wales, at the end of the summer 2023. The route will be called Traws Eryri, Welsh for Trans Snowdonia.
It will run for 130 miles (210 km) from Machynlleth to Conwy. The charity estimates it will take competent adventurous riders four to five days to complete the off-road route, which has 4595m of ascent.
Sophie Gordon, Cycling UK's campaigns officer, said: "The Traws Eryri is unashamedly an adventure route, which Cycling UK hopes will soon be on the must-ride lists of local, national and international visitors."
The route's creation was funded by Natural Resources Wales, and put together by the cycling charity over three years.
Remco Evenepoel given green light to restart training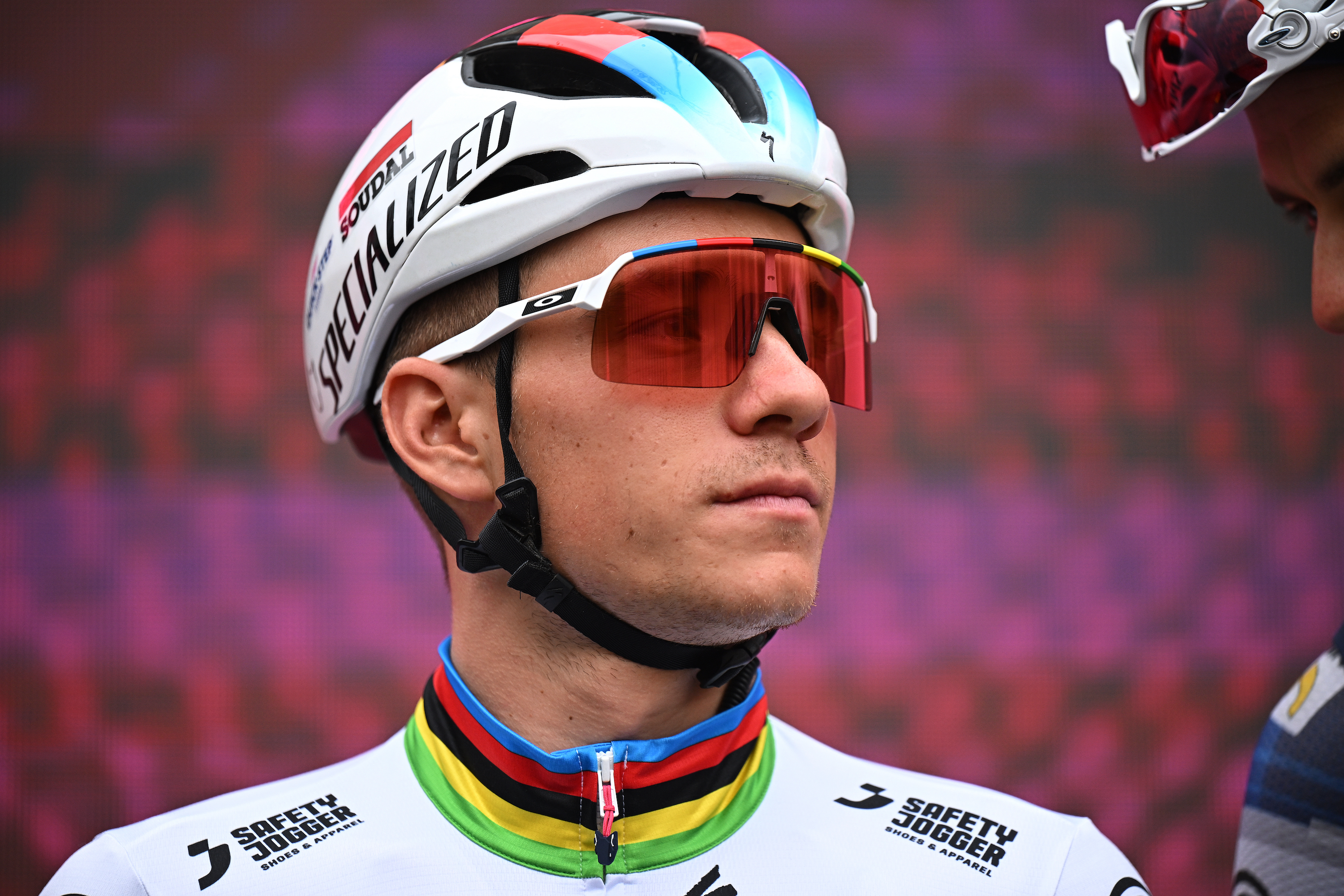 10 days on from the news that he had Covid and would have to leave the Giro d'Italia, Remco Evenepoel has been given the green light to return to training.
In an emotional Instagram post, the Soudal Quick-Step rider confirmed the news, describing the experiences as one of the "hardest setbacks in my still very short career".
"Leaving the race with a COVID-19 infection was a very brutal end of what could have been a beautiful story," the Belgian wrote. "6 months of full preparation for only this race. Sacrifices, long days in the rain, long periods away from home. Everything was going according plan but that is how sport goes.
"Ups & downs are part of our job and I can accept that without any problem at all. What is hard to accept is all the fake and negative comments I got after having to leave the race. I am not the type of person that is going to hide or is afraid of losing. So this is for those thinking that.
"The last days were emotionally very hard because of these comments. But I will take those moments with me on the bike, preparing for my next goals and races."
Hope to see you at a bike race soon, Remco.
Brompton celebrates millionth bike with special Archive Edition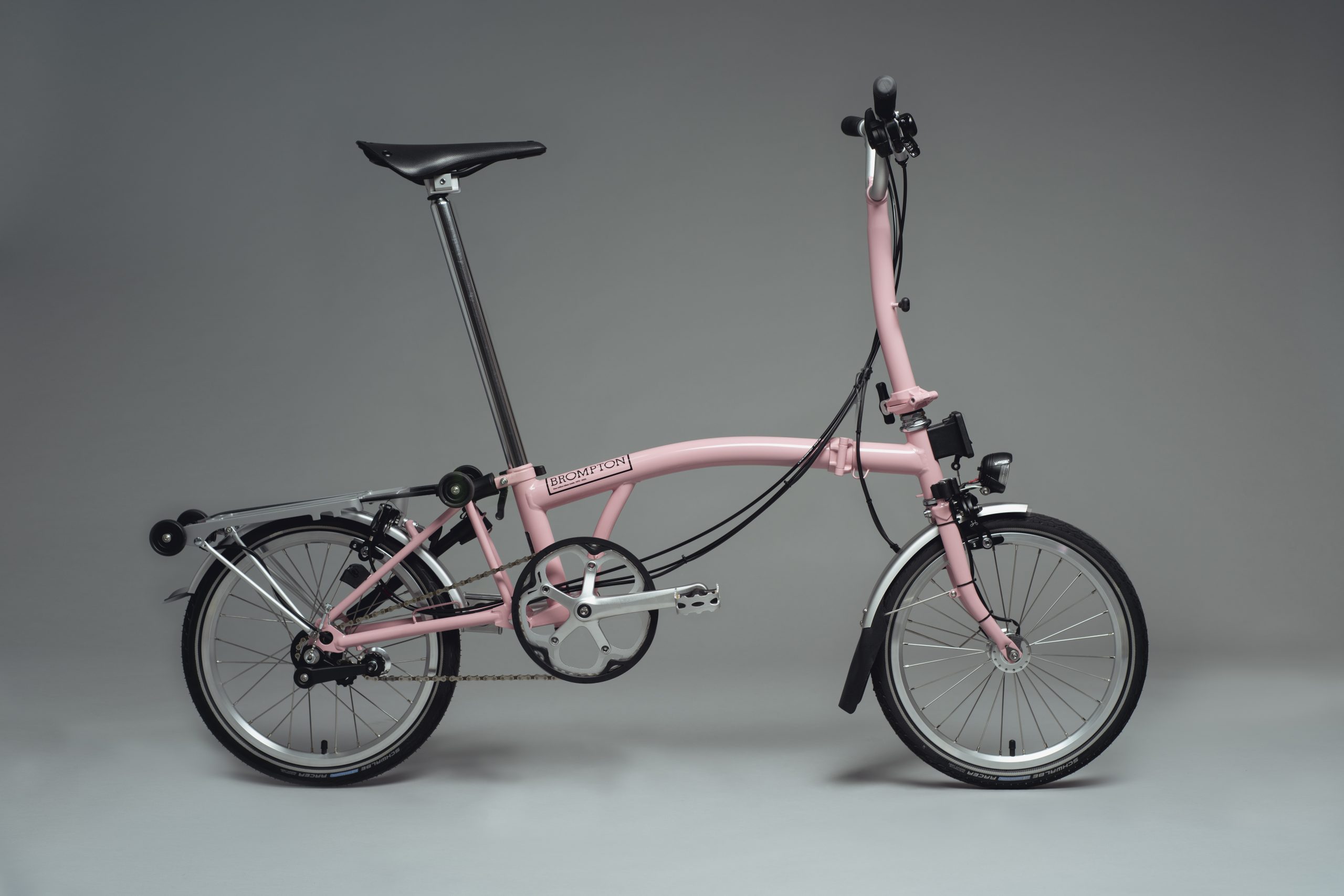 Brompton has launched a special Archive Edition to celebrate its millionth bike. The folding bike company has released the special model in three retro colours: Apple Green, Baby Pink and Arctic Blue.
The Archive Edition has a handmade steel frame, three hub gears for all-weather riding, dynamo lights powered by the rider's movement, and and a silver rear rack for carrying cargo. The model also features a Brooks C17 saddle.
It's available from today directly from Brompton, Brompton Junction stores, and selected Brompton Accredited Retailers around the world
Peloton away for Giro d'Italia stage 17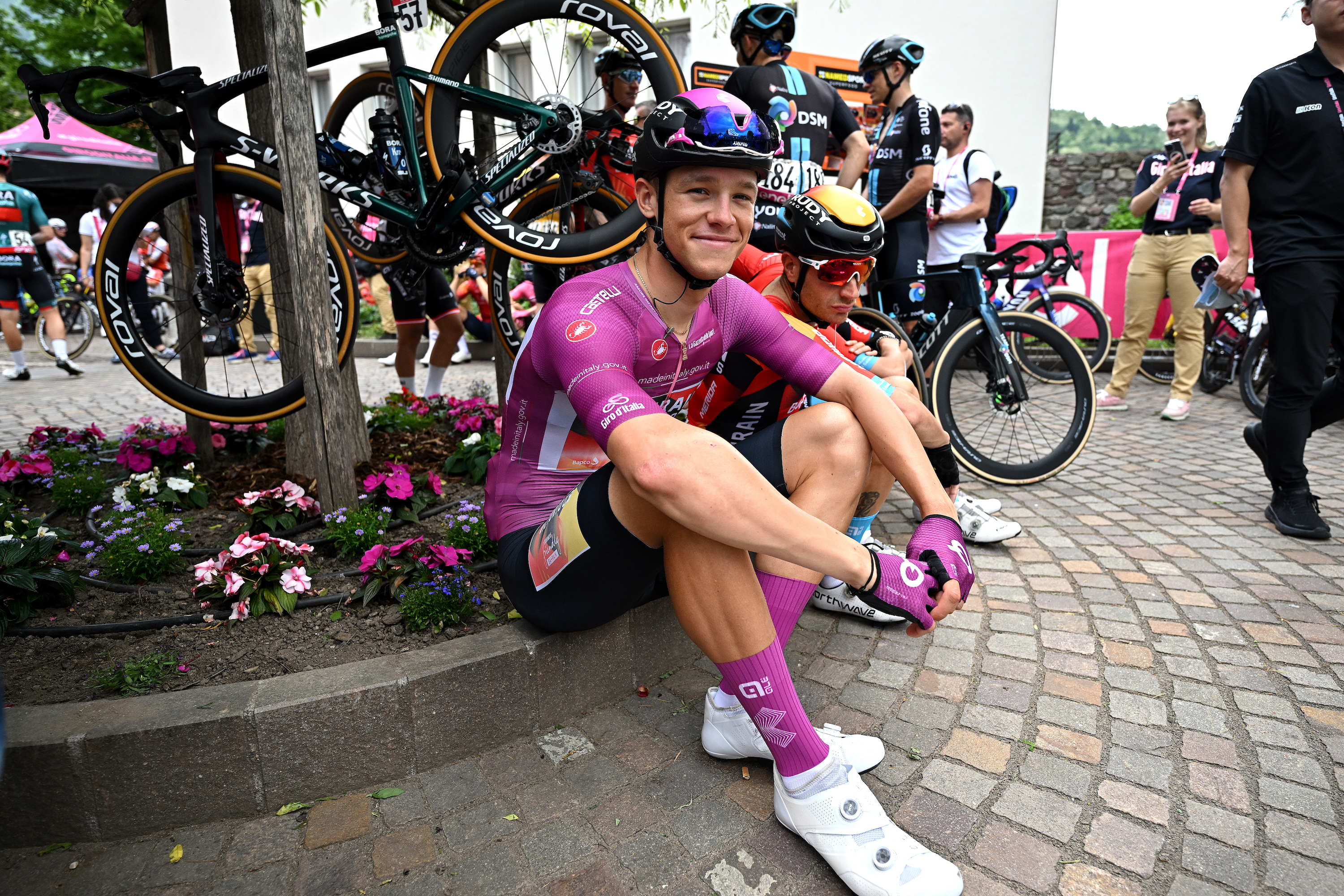 The peloton is in the neutralised zone ahead of stage 17. Mark Cavendish (Astana-Qazaqstan), one of the favourites today, has already stopped to have his saddle position altered. A classic.
Your other favourites for today: Jonathan Milan (Bahrain-Victorious), Pascal Ackermann (UAE Team Emirates), Fernando Gaviria (Movistar) and Michael Matthews (Jayco AlUla).
197km to go: Charlie Quarterman (Corratec-Selle Italia) is the first to try and attack. How long will it take for the break to form on today's very flat stage?
194km to go: Is that the break formed already? Four riders are up ahead: Charlie Quarterman (Corratec-Selle Italia), Thomas Champion (Cofidis), Senne Leysen (Alpecin-Deceuninck) and Diego Pablo Sevilla (EOLO-Kometa).
The sprint teams are happy.
192km to go: Now Jayco-AlUla decide to chase, which is interesting. It's Lukas Pöstleberger on the front.
190km to go: Michael Matthews (Jayco-AlUla) is on the front now, a lot earlier than he's usually seen... Interesting from the Australian.
188km to go: Now a rider from Green Project-Bardiani CSF-Faizanè tries to make it up the road, having been late for the break. There doesn't appear to be anyone from the peloton chasing him down, so this one could make it...
186km to go: A hill! The break are clearly on a hill! That's not allowed in today's downhill race, surely.
185km: Yesterday I spoke about l'esprit de l'escalier in the context of the GC battle; will there be any riders regretting not getting into the break on today's stage? It seems odd that it is just four.
Michael Matthews (Jayco AlUla) attacks again, and is shadowed by Jonathan Milan (Bahrain-Victorious). The gap stands at 1-50, however.
182km to go: According to Adam Blythe on the TV, some riders stopped to go to the toilet and were caught out but the continuing attacks in the peloton.
The gap from the four-man break to the bunch is over two minutes now.
173km to go: Sadly for Green Project-Bardiani CSF-Faizanè, Davide Gabburo did not make it into the break. So it's just four men out front, with 2-42 on the peloton.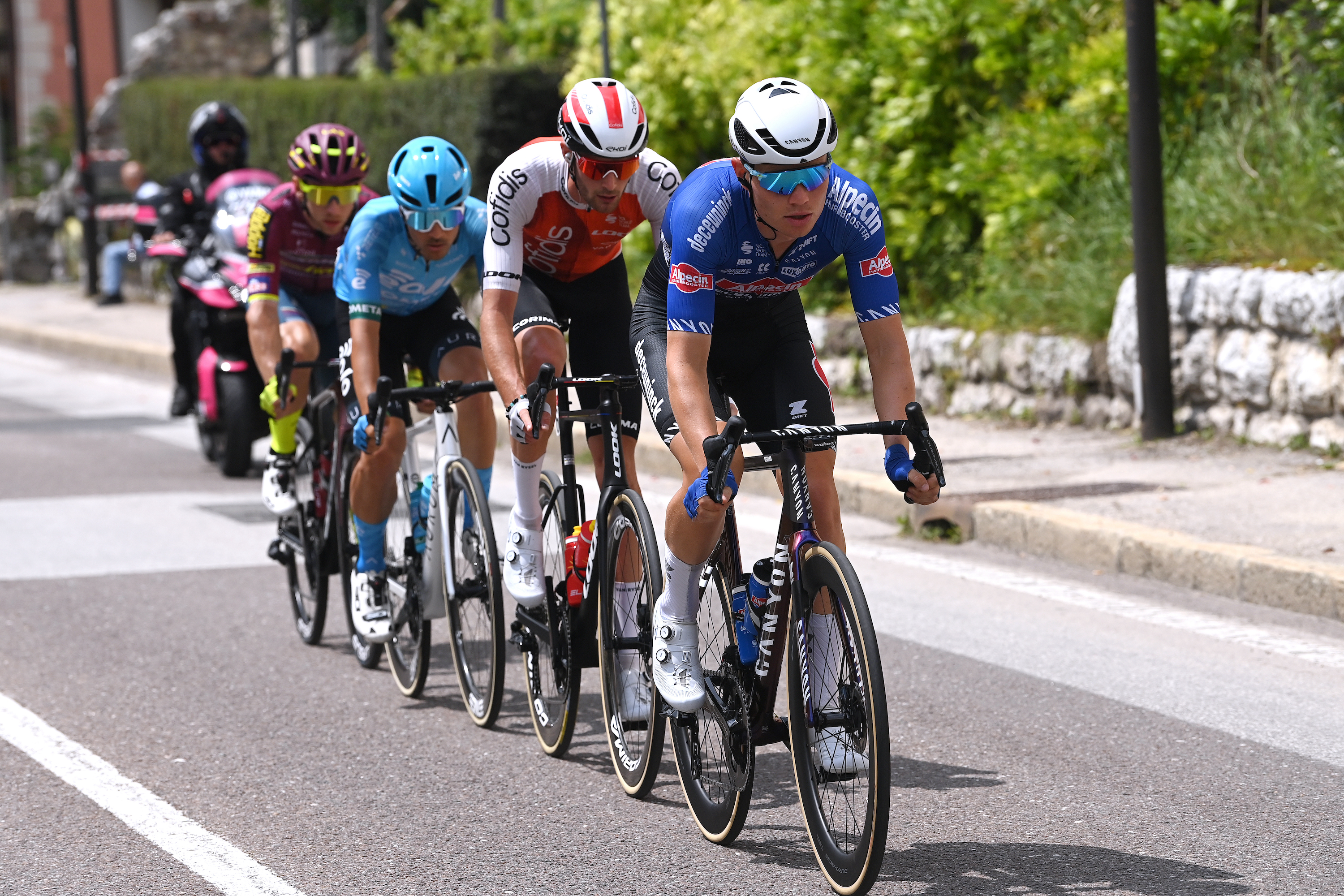 Here's your breakaway for the day, from front to back: Senne Leysen (Alpecin-Deceuninck), Thomas Champion (Cofidis), Diego Pablo Sevilla (EOLO-Kometa) and Charlie Quarterman (Corratec-Selle Italia).
165km to go: You would never guess what's happening at the Giro d'Italia... rain. Let's hope everyone stays upright.
153km to go: The breakaway has not been given a lot of time. Their advantage is just 1-51 with about a quarter of the stage gone. Might it all come back together?
149km to go: Thomas Champion (Cofidis) is already looking bored, and he's in the break. Just 1-30 is the gap. What's the point if the break gets no ground at all? It might open the door for further attacks.
146km to go: I'm not saying that there isn't much happening, but Andrea Pasqualon (Bahrain-Victorious) just had time to go and say hello to his fans. Three and a bit more hours of this to come.
139km to go: The gap is at 1-42. DSM, Astana-Qazaqstan, Movistar and UAE Team Emirates are all pulling on the front of the peloton. Ineos Grenadiers and race leader Geraint Thomas aren't too far behind.
133km to go: One of the members of the breakaway, Charlie Quarterman, is writing a weekly diary for Cycling Weekly from the Giro. Subscribe now to read them.
130km to go: Marco Frigo (Israel-Premier Tech) stopped on the side of the road to see his fan club, if you want to know how full-on the racing is currently.
Thomas Champion (Cofidis) is currently the rider who has spent the most time up the road in a break under 10 riders, interestingly. That's a special prize at the Giro.
125km to go: There's and intermediate sprint in around 10km. The race has average 44kph over its first hour and a half.
This is Vern Pitt taking over from Adam for a bit while he grabs a sandwich. Charlie Quarterman must be feeling better than he was last week. As Adam mentioned he's writing a diary from the giro for Cycling Weekly and I was struck by how miserable his last week has been.
Here's a taste of one entry about stage 14 from tomorrow's mag, which you can buy here.
"Less unhealthy this morning but I didn't appreciate the 25km descent in the pouring rain at 90kmph and 2C. Especially given that after not understanding the Italian on the radio, I didn't get a rain jacket before the end of the descent. I got so cold I thought I'd throw up."
115km to go: Apparently Mark Cavendish, who announced earlier this week that he will retire at the end of 2023, has been doing a lot of fiddling with his bike.
His longstanding friend and former lead-out man Adam Blythe, who now works for GCN doing commentary, tells us this is a good sign of his focus.
Champion takes intermediate sprint points
114km to go: Champion takes the spoils at the intermediate sprint but he's run close by Sevilla who led it out. Quarterman, not known for his sprint, comes through for third.
Behind the peloton mops up the points with Jonathan Milan (Bahrain Victorious) taking and easy "win".
110km to go: After that brief bit of excitement the break has gap of 1-32. They're almost on the pan-flat run in to the finish.
CORRECTION: Sevilla actually won the sprint, it's taken quite a while for the commissaires to review the photo it seems.
Milan's four points for fifth extend his lead in the points classification to 59. Unless he falls off he seems certain to take the ciclamino jersey home.
106km to go: Charly Wegelius, sports director at EF Education-EasyPost, a man with an arid sense of humour, is being interviewed by Adam Blythe through the window of his car and complains he may struggle to eat his pasta salad lunch while driving.
That's what passes for "action" today.
A technical finish in store
While today is a nailed-on sprint finish it's far from straightforward. There are four turns, three of which are sharp 90 degree ones in the last two kilometres alone. Who you feel this favours if your choice but certainly a smart approach, a well drilled team an more than a dollop of courage will be needed to win.
Hopefully there won't be any crashes but it seems likely that at least one contender may find themselves caught out of position as the peloton strings itself out through those corners.
Below is the map from the Giro's Garibaldi to show you what the riders are facing.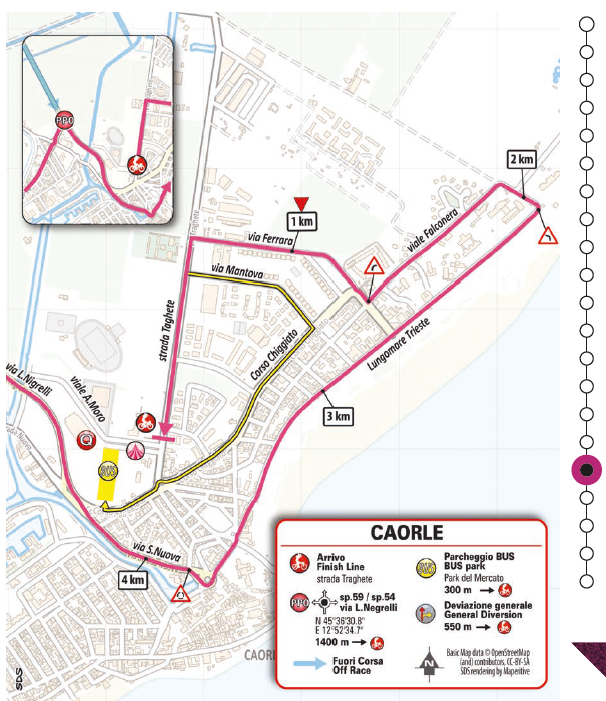 99km to go: The break's advantage has gone out very lightly to 1-44. That's probably not very significant as there is as good as zero chance of them contesting the finish.
93km to go: The peloton is passing through the feed zone so don't' expect any excitement for the next 10-15 minutes or so. Much like the rest of the day to this point to be fair.
Consonni's jazzy helmet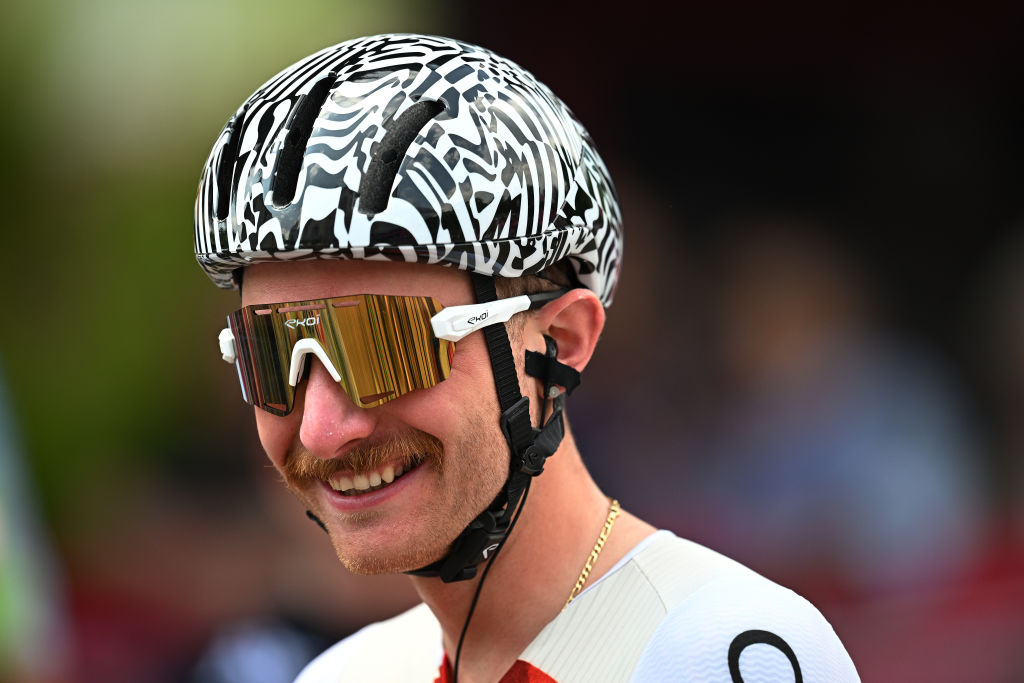 Cofidis leader Simone Consonni, who is having his lunch, is sporting a very jazzy new helmet in recent days.
The paint scheme suggests is a prototype from the team's helmet supplier Ekoi. The vent pattern also doesn't seem to match any of the road racing helmets listed on the firm's website.
It looks very much like a aero model as the back end of it is slightly extended, similar to the Specialized Evade.
In any case it seems a sensible choice for high-speed day like today.
85km to go: The break's advantage continues to tick up. It's now at 2-22.
Hello, Adam Becket back again. Has anything changed? Nope? OK.
75km to go: The gap between the break and the peloton is now 2-15. What a fun day out they are all having. It's pretty relaxed in the bunch, with teams sticking together largely. Ben Healy (EF Education-EasyPost) is looking good in blue.
70km to go: Yukiya Arashiro (Bahrain-Victorious) is back on the front again, pulling for Jonathan Milan. The gap is 2-21, but that should be easily recoverable given the profile of the remaining kilometres.
68km to go: Koen Bouwman (Jumbo-Visma) is on his way back to his team leader Primož Roglič after chatting with the race director's car. Wonder what that was all about - placing bets for the sprint maybe.
64km to go: Andrea Tafi won the Giro-E sprint today, I know that's the one you all care about.
Incidentally, I met Tafi at the Tour de France last year, he was looking after Alberto Bettiol's dog. Naturally.
Mischa Bredewold wins stage two of the Lotto Thüringen Ladies Tour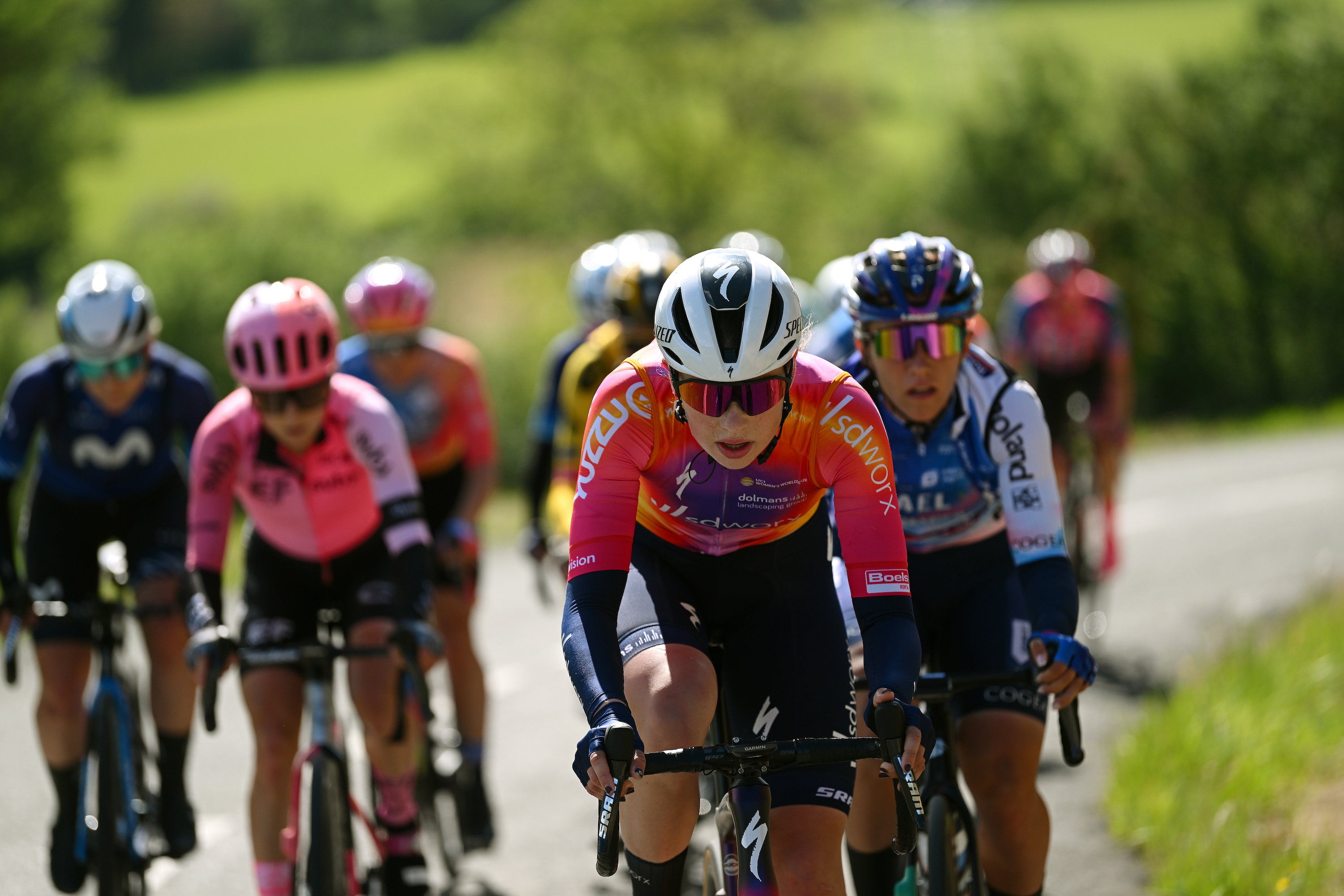 SD Worx has now won 13 races in a row. Not content with winning two spots on the podium, as the team has so many times this year, it has now filled all three spots on the podium on stage two of the Lotto Thüringen Ladies Tour,
Mischa Bredewold attacked with 11km to go and soloed to the finish, crossing the line 13 seconds ahead of her teammates Barbara Guarischi and Lorena Wiebes, so now leads the GC. On Tuesday, SD Worx won the opening TTT of the race, but have now doubled up in Germany.
There's dominant, then dominant.
53km to go: The gap between the break and the peloton at the Giro d'Italia has started coming down a lot now. It's 1-36 as things stand.
48km to go: Less than 50km to go, 1-44 is the gap. Who is your money on? Cavendish, Gaviria, Milan, Ackermann, or someone else?
Jonas Vingegaard to return to action at the Critérium du Dauphiné
Jonas Vingegaard (Jumbo-Visma), the defending Tour de France champion, is to return to action at the Critérium du Dauphiné next month.
The Dane has been away from racing since winning Itzulia Basque Country last month, but will be at the mountainous French event in June, the race's organisers confirmed on Wednesday afternoon. He won a stage on his way to second overall there last year.
Also confirmed are David Gaudu (Groupama-FDJ), Mikel Landa (Bahrain-Victorious), Enric Mas (Movistar), Adam Yates (UAE Team Emirates), Egan Bernal (Ineos Grenadiers) and Richard Carapaz (EF Education-EasyPost).
42km to go: 1-30 is the gap between the four out front and the peloton. It will be interesting to see when they get taken in...
Charlie Quarterman wins second intermediate sprint
The four of the break took the intermediate sprint ahead of the peloton, so Charlie Quarterman (Corratec-Selle Italia) took the opportunity to win the bonus seconds, not that it will have much difference.
29km to go: Just 40 seconds between the peloton and the breakaway now. The end is nigh for them.
26km to go: The pace in the peloton is fierce as the race enters the closing stages. Astana-Qazaqstan and Bahrain-Victorious are near to the front, but its DSM on the very point, who are apparently riding for Alberto Dainese.
23 seconds is the gap.
22km to go: Senne Leysen (Alpecin-Deceuninck) has attacked his break colleagues, leaving Thomas Champion (Cofidis), Diego Pablo Sevilla (EOLO-Kometa) and Charlie Quarterman (Corratec-Selle Italia) behind. Champion has already been mopped up by the peloton.
19km to go: Leysen has 37 seconds on the bunch now, with Quarterman and Sevilla caught by the big group.
17km to go: Leysen's gap has rocketed now, up to 57 seconds. It won't be quite panic stations in the bunch, but this is interesting...
13km to go: The gap is coming down now, so for those Senne Leysen fans around, you might be disappointed sooner rather than later. We'll see.
10km to go: 20 seconds is the gap between the peloton and the lone escapee now. It looks like it will be a sprint finish after all. There will be a lot of tension in the bunch right now.
7km to go: The gap is still at 11 seconds, but Leysen looks pretty spent...
6km to go: The host broadcasters have taken the time gap off our screens now, such is the narrowing of the gap. GC riders will be racing to that 3km to go mark.
5km to go: Leysen is caught. Ineos Grenadiers and the maglia rosa, Geraint Thomas, are on the front.
4.5km to go: There's a real mess of teams on the front, with Ineos Grenadiers, Jayco AlUla, Movistar, EOLO-Kometa and Trek-Segafredo all near the front.
4km to go: Jonathan Milan, Mark Cavendish et al are all hidden...
3km to go: The peloton are through the magical 3km to go mark, on the beachfront. Any crash or mechanical-caused split in the bunch now would mean same time for the GC riders.
2km to go: There's a real mix of riders near the front, Cavendish is quite far back at this point.
1km to go: The pace is incredibly high on the front, with the peloton strung out. Who will it be?
Photo finish on stage 17
Alberto Dainese (DSM), Jonathan Milan (Bahrain-Victorious) and Michael Matthews (Jayco AlUla) all crossed the line very close together.
Alberto Dainese wins
Alberto Dainese (DSM) wins! That was close.
Blimey, that was a fast, tight finish. Michael Matthews went first, Alberto Dainese followed, and Jonathan Milan came from so, so far back yet again. Imagine what the latter could do if he was in the right position...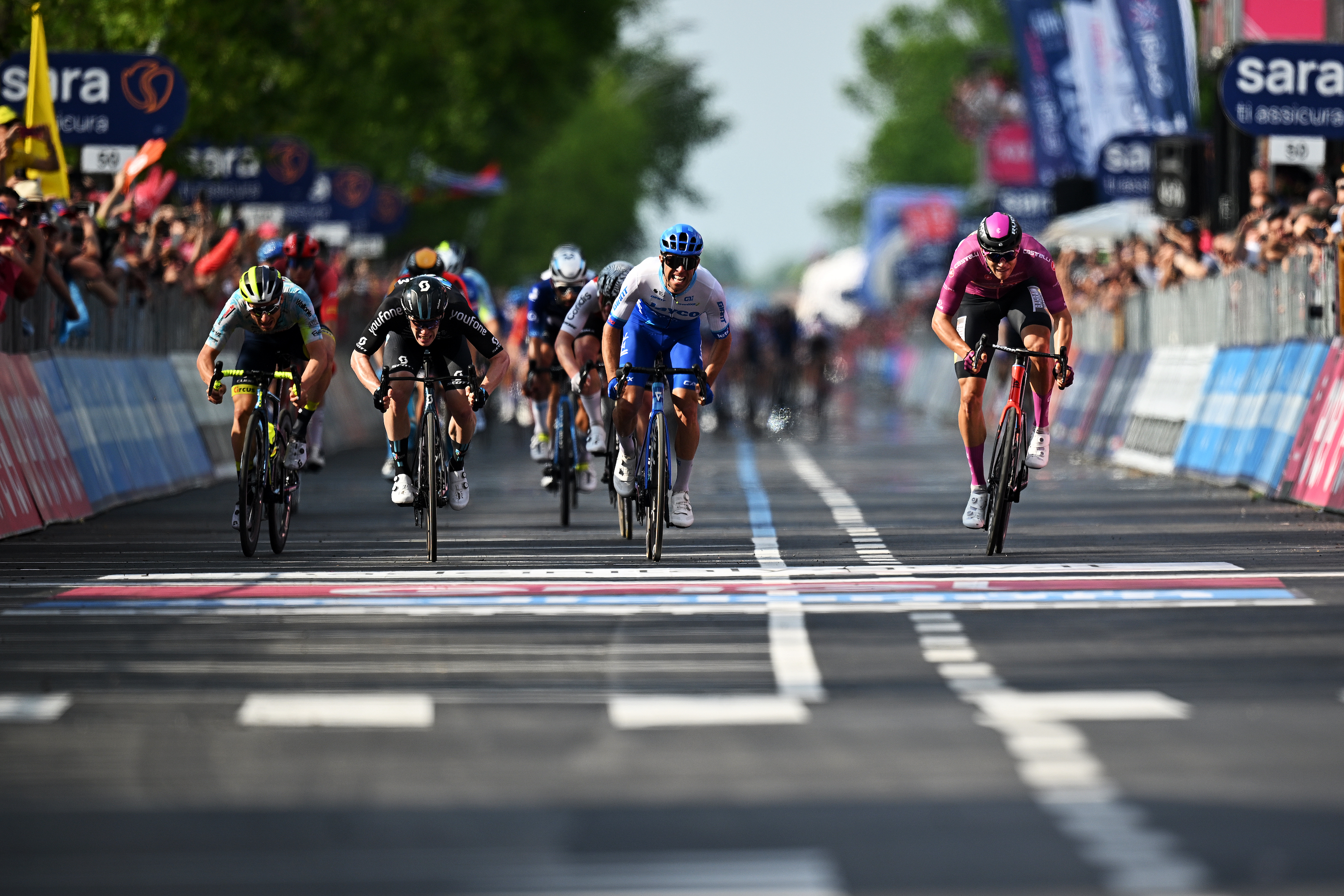 Here's a photo of the podium spread across the road, how close was that!
Mark Cavendish clearly unhappy with a Green Project-Bardiani CSF-Faizanè rider there, wonder if that's what took him out of contention.
Alberto Dainese, stage winner: "This is insane. The first sprints didn't go as planned. We did a good job, but we never got a good result. Today we rode an insane final with the boys. Marius [Mayrhofer] did a super job, and Niklas [Märkl] as well to finish it off. When he swung off, I was a bit overtaken by the guys from the left so I had to squeeze and catch Matthews.
"Then in the last metres I was really digging so deep, I was on the limit. I saw Johnny coming and I couldn't really throw my bike, but I got the win. Especially after the last five days, I was quite sick with stoamch issues and my breathing was not good. To win after such a struggle is insane. I'm super happy, I cannot thank the team enough, to keep me in the race and keep me motivated."
There is no change in any of the classifications today, by the way - in case you were wondering.
Thank you for reading 20 articles this month* Join now for unlimited access
Enjoy your first month for just £1 / $1 / €1
*Read 5 free articles per month without a subscription
Join now for unlimited access
Try first month for just £1 / $1 / €1