Welcome to our coverage of stage 11 of the 2023 Tour de France. After a super-hot day yesterday, the peloton will be relieved that today is forecast to be far more bearable, with temperatures in the mid-twenties. They'll be less pleased to hear that rain is also a distinct possibility.
The 179.8km stage takes the riders north from Clermont-Ferrand in the dead-centre of the country to Moulins. They will tackle three cat-four climbs – the Côte de Chaptuzat-Haut at 33km; the Côte de Mercurol at 49.5km and the Côte de la Croix-Blanche at 118.5km. This leaves 60km of parcours that is only very mildly lumpy, giving the sprinters and their teams ample time to get it together..
Potential breakaways will be eyeing this stage too. It genuinely could go either way.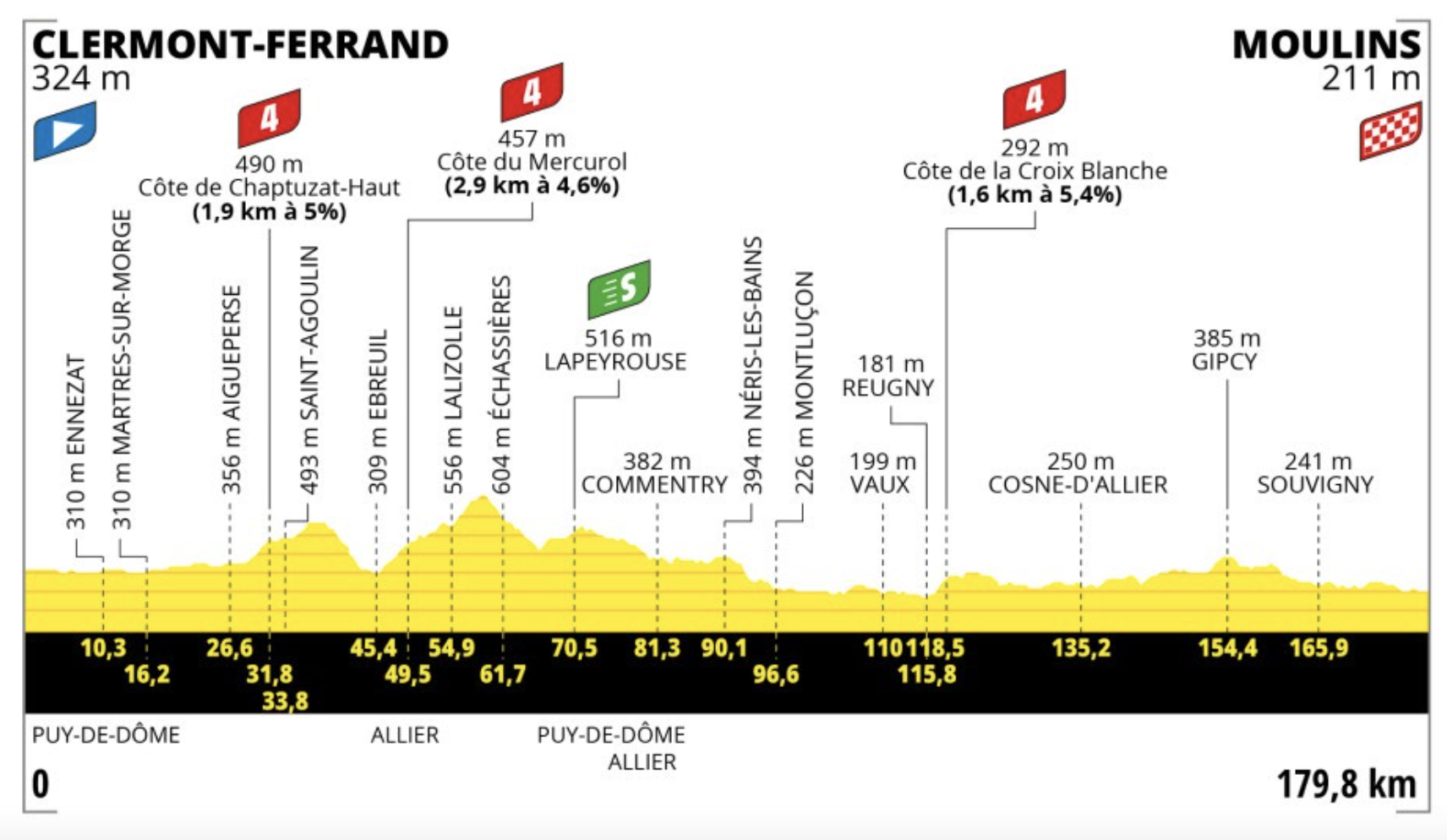 Refresh
Clermont-Ferrand, where today's stage starts, has considerable Tour de France pedigree, having featured as a stage town on the race 11 times before – most recently in 2020 when it hosted the start of stage 14. That was won by Søren Kragh Andersen in Lyon.
It also boasts former Tour de France King of the Mountains and multiple stage winner Raphaël Geminiani as one of its sons, while Roman Bardet grew up not far down the road in Brioude.
At the other end of today's stage, the attractive town of Moulins has up to now been the only metropolitan prefecture in France not to have hosted the race. That changes today.
A certain French rider may enjoy a few extra cheers today as the race goes through, and not just because he wears the tricolore of the nation's road champion: Valentin Madouas celebrates his 27th birthday. Could he gift himself a stage win? Unfortunately today's stage isn't really Madouas territory, he likes it lumpier.
Today's stage is set to be the last opportunity for the sprinters for some time, with things getting far hillier tomorrow, and then mountainous as the race hits the Alps.
The next time the sprinters could realistically have their day is next Thursday in Bourg-en-Bresse. There's going to be a lot of tapping it out in grupettos between now and then.
Let's have a look at today's climbs.
The Côte de Chaptuzat-Haut comes first, summiting at 33.8km. It's 1.9km long at 5%.
Next up is the Côte du Mercurol, which the riders complete at 49.5km. This one's 2.9km at 4.6%.
Finally is the Côte de la Croix-Blanche at 118.5km; it's 1.6km long at 5.4%.
It's unlikely any of the sprinters (except maybe for Fabio Jakobsen, who has been in difficulty in recent stages) will have too many issues getting over these.
Peter Sagan reassures Clermont-Ferrand residents that, just because he won't be riding the Tour de France any more, it doesn't mean he'll never be coming back.
🇸🇰Residents of @ClermontFd, do not worry, as @petosagan will come back in your town someday! 🇸🇰Habitants de @ClermontFd, ne vous inquiétez pas, @petosagan reviendra chez vous !#TDF2023 pic.twitter.com/4EYdKKDuZpJuly 12, 2023
See more
Mark Cavendish's Astana Qazaqstan leadout man Cees Bol says he is set to contest the sprint for himself today, should the stage finish in a bunch dash.
It comes after Cavendish crashed out of the race on Saturday's stage eight to Limoges.
Dutchman Bol has never won a Grand Tour stage before, though he came close on two occasions in 2020, when he was second and third on stages in the Tour de France.
JAKOBSEN: 'TODAY WE WILL TRY AGAIN'
Fabio Jakobsen says it's likely his crash on stage four is still causing him problems, "but I don't want to keep using that as an excuse".
"Right now I think the level is what it is," said the Soudal-Quick Step sprinter, who has struggled in recent stages. "Last sprint I did I didn't have legs any more, 500m to go. Today we will try it again and see if there is something left in the tank to do a sprint."
"I don't want to keep using [the stage 4 crash] as an excuse"🇪🇺 European champion, Fabio Jakobsen spoke ahead of an expected bunch sprint in Moulins 🇳🇱#TDF2023 #ITVCycling pic.twitter.com/cb8gr3qDknJuly 12, 2023
See more
179.8km to go: The peloton rolling gently away from Clermont-Ferrand now, heading for the 'départ reel' 8km away.
179.8km to go: 'There's a lot of road furniture, and it could be really fast in the beginning', comes the warning from the Intermarché-Circus-Wanty team car to its riders. Four k's to the start proper now.
Wout Van Aert (Jumbo-Visma) given the accolade of mellieur equipier – best team-mate – of week one by the Tour de France organisation this morning.
We reckon he'd exchange that for a stage win. He could well do exactly that today.
179.8km to go: They've reached the start but it's been pushed back as the race waits for Yvgeniy Fedorov to get back on after a (very early) puncture.
178.4km to go: He's back on and the race is go! Albeit at a very leisurely pace.
178km to go: Andrey Amador of EF Education-EasyPost just hanging off the front. It looks as though he's waiting - hoping - for someone to join him.
173km to go: Amador has got those companions he wanted. He's been joined by Daniel Oss (TotalEnergies) and Matis Louvel (Arkéa-Samsic). The bunch is, apparently, more than happy to let them go.
172.8km to go: A thumbs-up from Valentin Madouas back in the peloton. Bon Anniversaire!
170km to go: That trio already has 1.15 on the peloton, which is lined out across the road and in tickover mode.
"If it's only three riders it's not a problem", comes the message from the Soudal-Quick Step team car.
165.9km to go: The gap up to the leading trio now up to 1.48. How much rope will the bunch allow them?
161km to go: The break is now out to 2.16 but the bunch behind is definitely showing an interest and the time gap has stopped widening half so fast.
Soudal-Quick Step, in the service of Fabio Jakobsen, is all over the front of the bunch.
160km to go: It's so, so flat around here. Proper big horizon country. Which the riders will no doubt appreciate, especially after an extremely hard day yesterday.
158.1km to go: Well, the bunch seems to have rapidly lost interest again, with the gap to the break going out to 3.08. Seems reasonable – there's still a long, long way to go.
"We just have to be patient, our luck will be there," Jonas Vingegaard tells GCN as he looks ahead to the Alps.
152km to go: Not long until that first classified climb, the Côte de Chaptuzat-Haut. How will it affect proceedings?
149km to go: The leading trio hit the slopes of that first climb, with a slowly reducing gap which is now 2.35.
"We wanted Andrey Amador to be in a group of 15 today," admits EF Education DS Andreas Klier, "We had some question marks, but now there's now way back."
148km to go: Matis Louvel takes the single point on offer over the Côte de Chaptuzat-Haut, and does so completely unopposed by his two fellow breakaways.
The gap has dropped considerably during the course of the ascent – it's now 2.18.
142km to go: That gap now down to less than two minutes – 1.40. The breakaway is being sent a message in no uncertain terms by the bunch. "Today ends in a sprint".
None of today's breakaway has any individual results of note this year. Amador was part of a ride to second place in the UAE Tour team time trial in February (and is in fact the only rider of the three to have scored a Grand Tour victory – Giro d'Italia 2012).
Matis Louvel has the best individual result of the three with seventh place in April's Brussels Cycling Classic.
While extremely unlikely at this point, a win today for any of them would be a season – indeed a career – highlight.
131km to go: The breakaway trio is currently on the Côte de Mercurol - a 2.9km climb pitched at 4.4%. The peloton is just 1-15 behind.
124km to go: The gap to the breakaway has now stretched out to 1-30, but it's likelihood of lasting to the line are slim. Soudal Quick-Step are keeping them on a tight leash, as they hope to set up a sprint finish for Fabio Jakobsen.
120km to go: The race commentators are getting more excited about shots of viaducts than any of the action on the road. Not every stage can be a fireworks display, folks.
113km to go: The chase to the peloton is being led by Lotto Dstny, Alpecin-Deceuninck, Jayco AlUla and Soudal-Quick Step - the four biggest sprint teams.
110km to go: Louvel sweeps up maximum points through the intermediate sprint in Lapeyrouse. We'll find out in two minutes if the green jersey hopefuls try for some spoils.
108.5km to go: Jasper Philipsen pips Bryan Coquard for some minor sprint points. The photo finish confirms it. The Belgian extends his whopping lead in the green jersey classification.
105km to go: Let's remind ourselves of the situation on the road. A breakaway trio of Andrey Amador (EF Education-EasyPost), Daniel Oss (TotalEnergies) and Mathis Louvel (Arkéa-Samsic) have a 1-23 advantage up the road.
The mood is calm and the peloton is undoubtedly banking on a sprint finish.
99.9km to go: We're into the final 100km. There's one categorised climb between here and the finish - the fourth category Côte de la Croix Blanche - which comes in around 40km time.
Don't hold your breath for excitement, though. It's 1.6km at 5.4% - child's play for the Tour de France peloton.
92km to go: That gap to the break is now under a minute for the first time since a few kilometres after it was formed. It's at 50sec and dropping.
On these straight roads the peloton can see their quarry ahead of them and the break can see them behind. They're looking demoralised.
85km to go: Well, my assertion at the start of the day that it could go either way bit the dust a long time a go. There's only one way today's stage is ending, and that's in a bunch sprint.
The break are now at 55sec. What you might call the goldilocks zone, at least for the sprinters' teams.
81km to go: The potential rain that was forecast for today looks as though it's going to make an appearance in a little while. Whether that means a wet and dicey finish in Moulins we'll have to wait and see. Let's hope not.
78km to go: Montluçon is a riot of colour with big crowds as the bunch passes through. There are puddles on the road, but right now it isn't raining.
PEDERSEN: 'I STILL BELIEVE I CAN WIN'
Lidl-Trek rider Mads Pedersen already has one stage under his belt, having won in Limoges on stage eight. Now he wants to try for another today, he says.
"It's a tough sprint and I miss the speed in these [flat] sprints," he said. "But I still believe I can win."
"We believe it's still possible, but everything has to be 100% correct. We know Jasper and so on, these guys are pretty fast in these flat sprints. It's not going to be easy but we still believe in it."
68km to go: The gap to the bunch is down to 26sec as the race approaches the final climb of the day. The bunch is going to have to deal with more attacks at this rate, with the escapees so close, and especially approaching a climb – albeit a very small one.
61km to go: The GC hitters are amassing around the front of the bunch on the bottom of the last climb. They're unlikely to be attacking here, but they're playing it safe. They can't get caught out here.
60km to go: Over almost as soon as it started, Daniel Oss leads the breakaway trio through the top of the Côte de la Croix-Blanche, 30sec ahead of the bunch.
Here comes the bunch. UAE, Jumbo and Ineos Grenadiers all riding on or near the front.
59km to go: They're into the cross winds now and the GC teams are clearly taking now chances. They're riding with purpose, faces showing real concentration. Will the break survive this?
53km to go: Despite the commitment behind in the bunch, the break is still out there at 25sec. No significant splits so far, which is what the GC riders were worried about. The crosswinds are easing, but could return.
51km to go: Louvel back in the bunch – it's just Amador and Oss out front now, but the gap has suddenly dropped by more than a third, to 18sec.
49km to go: Andrey Amador has now left Oss to it. He's coasting back to the bunch now.
Winning stages ends up being a virtuous circle for a sprinter like Jasper Philipsen, explains fellow sprinter Caleb Ewan (Lotto-Dstny), as more and more sprinters end up chasing his wheel and thus giving him an unimpeded ride to the line.
39km to go: Daniel Oss still has 22 seconds out front. The peloton is clearly keen to let him hang out there, but judging by the apparent effort on the faces of those pulling at the front, it's a wonder the TotalEnergies rider wasn't swallowed up long ago.
32km to go: The bunch still working hard but Daniel Oss is now enjoying a 46 second gap. He won't have any false hopes though – his lead will be wiped out very quickly as soon as the sprinters' teams start setting up their charges for the bunch gallop.
Let's give Oss his due though – he is looking strong and very smooth, especially for a rider who has been out front working hard all day.
28km to go: It's raining on the bunch. It doesn't look hard, but it looks insistent. Somehow it doesn't appear to be raining on Oss though, so perhaps they'll ride through it shortly.
27km to go: Scratch that. Oss is getting soaked!
26km to go: It's proper chucking it down now, to use an expression. They'll be hoping this lets up before the finish at Moulins, that's for sure. Still 35sec for Oss.
20km to go: Daniel Oss has been awarded the combativity prize today. Well deserved.
He can add that to the five top-10 stage finishes he has had over his Tour de France career, which began in 2010.
17km to go: Oss's gap is now down to nine seconds, as the bunch begins to assert itself. It's quite early for this, as the finish is still a little way off. But there are roundabouts and corners to contend with going into Moulins and tension is clearly mounting in the peloton.
10km to go: Oss's epic endeavours have been brought to a close, with the Italian back in the bunch. The sprinters' teams are now at near full-tilt as they prepare for the finale.
9km to go: Rain is falling at the finish. The riders won't want to hear that.
6km to go: Across the front we have Soudal-Quick Step, Bahrain Victorious, Jumbo-Visma, Lotto-Dstny and Alpecin-Deceuninck all massing in battle formation.
4km to go: Jayco-AlUla are near the front too, and Intermarché for Biniam Girmay.
3km to go: The roads are, mercifully, looking relatively dry.
They're under the 3km banner. That signals relief for many, but for the sprinters this is just getting started.
1.5km to go: The bunch is near lined out.
It's a chaotic sprint. Here comes Philipsen... he makes it four!
This really is Philipsen's Tour. He looked unbeatable there, putting a full bike length between has back wheel and the front wheel of second placed rider Dylan Groenewegen (Jayco-AlUla). Phil Bauhaus (Bahrain Victorious) was third.
For a stage in which very little happened for the vast majority, that finish was worth the wait.
Right, I'm off to write a stage report now. Thanks for joining us today.
Thank you for reading 20 articles this month* Join now for unlimited access
Enjoy your first month for just £1 / $1 / €1
*Read 5 free articles per month without a subscription
Join now for unlimited access
Try first month for just £1 / $1 / €1