Refresh
Good morning cycling fans and welcome to live coverage from day two of the Flanders 2021 Road World Championships.
Today we have both the men's under-23 time trial in the morning, followed by the elite women's TT this afternoon, so it's a packed day of action.
We'll be bringing you live updates from both races, so keep checking back in.
The first event of the day is the men's under-23 TT with the first rider scheduled to start in the next few minutes.
The U23s will be racing on a 30.3km-long course from Knokke-Heist to Bruges, on a mostly flat course but with a ramp in the closing kilometres.
Yesterday we saw the elite men compete over a completely flat 43km course, with Filippo Ganna coming out on top.
Men Under 23 ITT | Course Preview 🗺 🕒 Start Time: 10:40 CEST 🏁 Distance: 30.3 km📈 Elevation: 54 m#Flanders2021 pic.twitter.com/0HEf1BpPXGSeptember 20, 2021
See more
We're well under way out in Belgium with the under-23 TT.
Lucas Plapp from Australia is out on the course and looking great.
Plapp has signed with Ineos Grenadiers and is already putting his Pinarello Bolide through its paces.
We also have Magnus Sheffield out on the course, the US rider who has also signed with Ineos, the team just announced this morning.
Magnus Sheffield is fastest at the first time check, with Lucas Plapp very close behind.
These two Ineos riders look like they're the strongest out on the course so far.
Logan Currie from New Zealand is currently fastest with a 35-29
Magnus Sheffield from the USA is now fastest! Knocking just one second off the time of Logan Currie.
Sheffield takes the hot-spot with a 35-28
Lucas Plapp from Australia goes fastest with a rapid time - 34-39.
He's 48 seconds faster than Sheffield, who now slips down into second.
It's a phenomenal ride from Plapp, who really opened up in the second part of the course.
Plapp is still the fastest man, but Van Dijke from the Netherlands is now the second quickest with a time 14 seconds slower.
Sheffield remains third.
Ethan Vernon goes provisional third (riding that striking Hope TT bike specially designed for the Olympics).
The Brit set a time of 35-13, 33 seconds behind the current leader Lucas Plapp.
Woah Florian Vermeersch from Belgian put in a storming ride, he very narrowly missed out on the time of Lucas Plapp and goes into second, just one second slower.
Here are the provisional standings:
1. Lucas Plapp (Australia), in 34-39
2. Florian Vermeersch (Belgium), at 1s
3. Soeren Waerenskjold (Norway), at 3s

Magnus Sheffield set a strong early benchmark but he's been knocked down into ninth place now.
The US rider has just signed with Ineos Grenadiers for 2022 - read the full story here.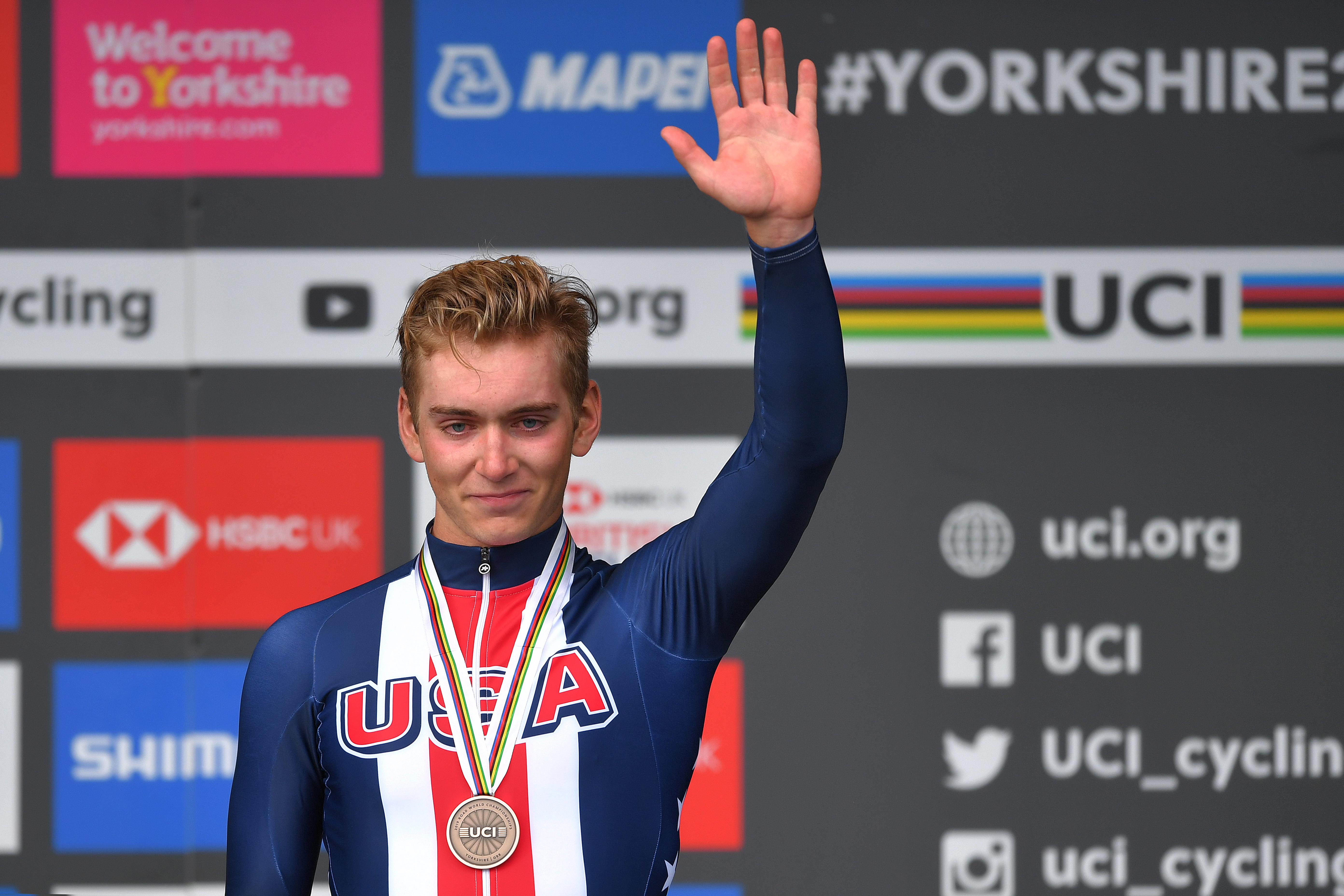 And we have a winner!
The final rider has crossed the line and it's Denmark's Johan Price Pejtersen, who smashed Plapps time by 10 seconds.
Price Pejtrsen wins with a time of 34-29.
Here are the final results from the men's under-23 time trial:
1. Johan Price Petjersen (Denmark), in 34-29
2. Lucas Plapp (Australia), at 10s
3. Florian Vermeersch (Belgium), at 11s
Right we're underway with the elite women's TT!
We have the first few riders on the course, including Pfieffer Georgi from Great Britain and Reijanne Markus from the Netherlands.
This course is the same 30.3km route that the under-23 men took on this morning, starting in Knokke-Heist and finishing in Bruges, with no real climbing to speak of.
Reijanne Markus from the Netherlands has set the early benchmark, riding a 38-04.
But we have Ellen van Dijk out on the course who is another serious hitter against the clock from the Netherlands.
Ellen van Dijk is flying, she's the fastest rider by almost a minute at the first timing check.
Competition is really heating up now, Ellen van Dijk (Netherlands) leads with a rapid time of 36-05 (50.3km/h average).
Lisa Klein (Germany) is second quickest, with Riejanne Markus (Netherlands) currently in the final podium spot.
But Joss Lowden of Great Britain is fling, she's currently second fastest at both time checks, but 1-09 slower than Van Dijk heading into the final part of the course.
Here is the provisional podium:
1. Ellen van Dijk (Netherlands), in 36-05
2. Lisa Klein (Germany), at 1-52
3. Riejanne Markus (Netherlands), at 1-59
All riders are now underway, as the pre-race favourites Marlen Reusser (Switzerland) and Annemiek van Vleuten (Netherlands) both hit the course.
Those two are certainly the favourites, by Van Dijk is in great form having just won the European Championships road race.
We're set for an exciting final.
Joss Lowden hits the finish.
The Brit slowed in the final part of the course and came through with the third fastest time, 38-05.
She's provisional third place, two minutes down on the time set by Van Dijk.
Here's how the provisional podium looks now:
1. Ellen van Dijk (Netherlands), in 36-05
2. Lisa Klein (Germany), at 1-52
3. Joss Lowden (Great Britain), at 2-00
We've still got three serious contenders to come - Lisa Brennauer, Marlen Reusser and Annemiek van Vleuten.
Things are looking very interesting at the first time check.
Marlen Reusser is currently the fastest rider on the first section of the course with a time of 16-25, but she's just three seconds quicker than Ellen van Dijk's time.
Annemiek van Vleuten is third fastest, but she has quite a bit of time to make up on the rest of the course, as she's 16 seconds slower than Reusser.
We have a shake-up on the podium, Van Dijk still leads but Amber Neben (USA) goes into second, while Juliette Labous (France) is third.
Lisa Brennauer from Germany finishes and jumps into third place.
Marlen Reusser hits the final few hundred metres and she's out of contention for the win!
The Swiss woman was one of the favourites but can only bank a time good enough for second place.
Only Annemiek van Vleuten can beat Ellen van Dijk now.
It looks like Van Vleuten is outside the time of Van Dijk! Into the final kilometre and she has just 40 seconds in hand.
This has been a devastating ride by Van Dijk.
Van Dijk has done it! She is the 2021 world time trial champion.
Phenomenal ride from the Dutchwoman.
Results of the elite women's time trial:

4. Amber Neben (USA), at 1-24
5. Lisa Brennauer (Germany), at 1-29
6. Juliette Labous (France), at 1-47
7. Lisa Klein (Germany), at 1-52
8. Joss Lowden (Great Britain), at 1-59
9. Riejanne Markus (Netherlands), at same time
10. Alena Amialiusik (Belarus), at 2-19
Read the full report from the elite women's TT here:
Ellen van Dijk powers to an astonishing 2021 World Championships individual time trial title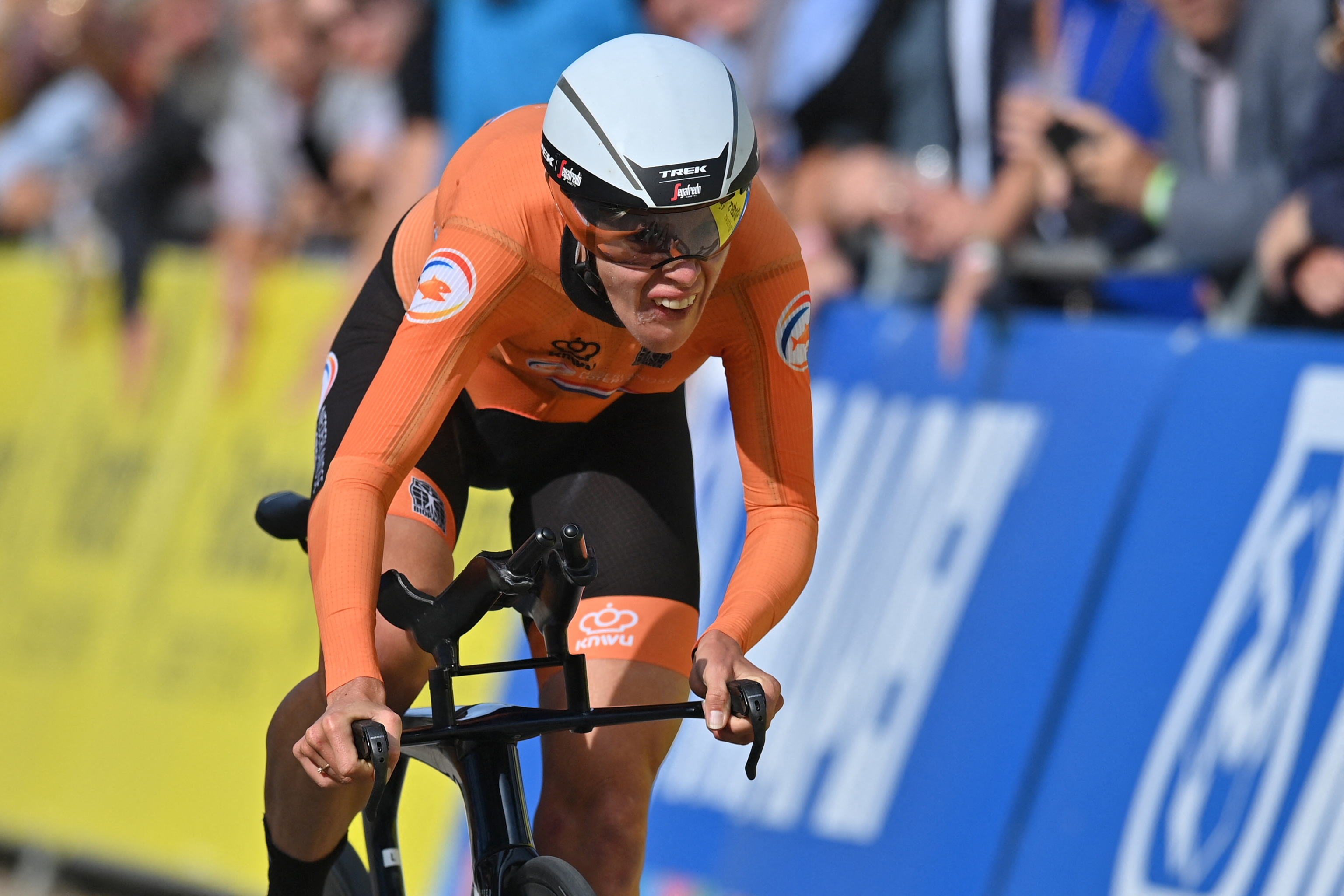 Five talking points from the 2021 World Championships elite women's time trial:
A phenomenal performance from Ellen van Dijk while Van Vleuten takes another podium - don't miss these moments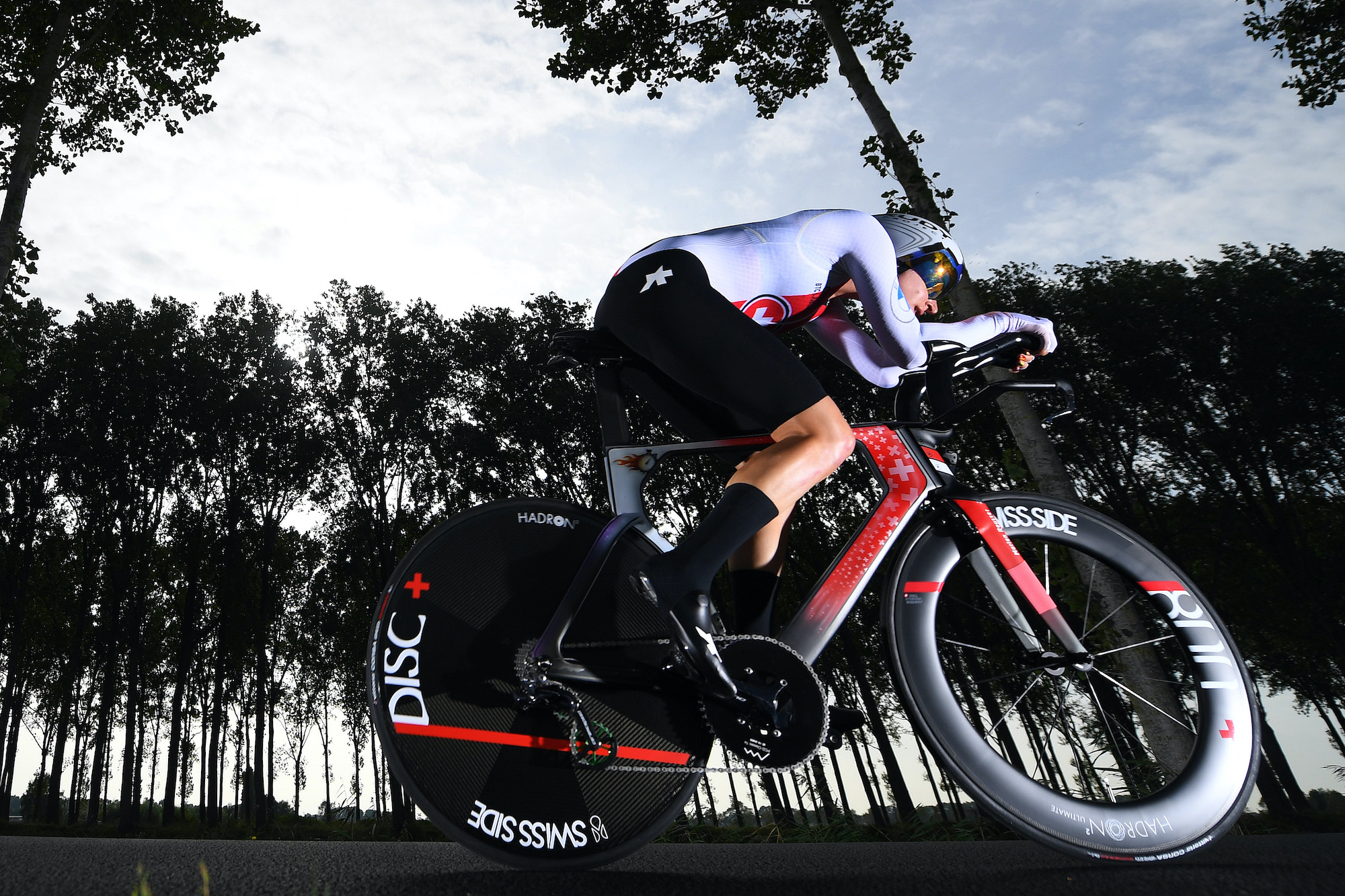 Thank you for reading 20 articles this month* Join now for unlimited access
Enjoy your first month for just £1 / $1 / €1
*Read 5 free articles per month without a subscription
Join now for unlimited access
Try first month for just £1 / $1 / €1