Imola Road World Championships 2020: Elite women's time trial start times
Full list of starters for the elite women's individual time trial at the 2020 UCI Road World Championships at Imola on Thursday, September 24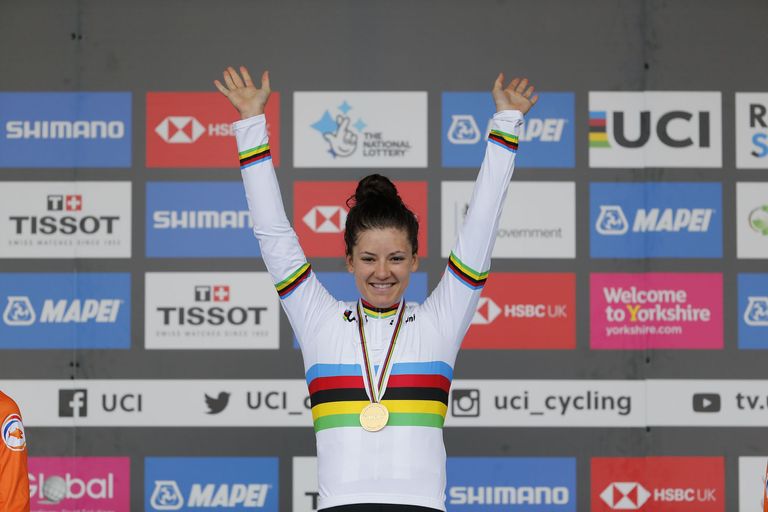 (Image credit: Yuzuru SUNADA)
The first of the elite time trials at the 2020 World Championships kicks off with the women on Thursday September 24.
The women will race over 31.7km, with a fairly straightforward and relatively flat course starting and finishing at the famous racetrack of Imola in Italy.
Reigning champion Chloe Dygert (USA) will be the last out of the start hut, but will face the usual stiff competition from two-time runner up, Anna van der Breggen (Netherlands).
Annemiek van Vleuten will not be riding as she is recovering from a broken wrist she sustained at this year's Giro Rosa, just a week before the World Championships.
The Dutch do still have a two-pronged attack at the title though, thanks to Ellen van Dijk riding, she will be looking to improve on her second place at the European champs earlier in the year, where she came second to Van der Breggen.
Marlen Reusser (Switzerland) and Liza Brennauer (Germany) will be two of many other riders to look out for.
British riders to look out for are Lizzy Banks, fresh off the back of a stage win at the Giro Rosa, and Alice Barnes.
The race will be broadcast LIVE on Eurosport 1 at 13:38, and uninterrupted coverage is available on Eurosport Player and the GCN Race Pass at 13:35.
All timings are Central European Summer Time – in Britain, start times will be one hour earlier.
Imola Road World Championships 2020 elite women's individual time trial start times
14:40.00 JOSEPH Amber (Barbados)
14:41.30 PÁLSDÓTTIR Margret (Iceland)
14:43.00 MACHACOVA Jarmila (Czech Republic)
14:44.30 KONONENKO Valeriya (Ukraine)
14:46.00 HARVEY Mikayla (New Zealand)
14:47.30 DUYCK Ann-Sophie (Belgium)
14:49.00 MARTIN Sara (Spain)
14:50.30 BANKS Elizabeth (Great Britain)
14:52.00 NORSGAARD-JORGENSEN Emma Cecile (Denmark)
14:53.30 CANUEL Karol-Ann (Canada)
14:55.00 CORDON-RAGOT Audrey (France)
14:58.30 GUAZZINI Vittoria (Italy)
14:58.00 KRÖGER Mieke (Germany)
14:59.30 ES-SADDY Siham (Morocco)
15:01.00 GEBRU Eyeru Tesfoam (Ethiopia)
15:02.30 YAPURA Fernanda (Argentina)
15:04.00 ROZLAPA Dana (Latvia)
15:05.30 YONAMINE Eri (Japan)
15:07.00 GAFINOVITZ Rotem (Israel)
15:08.30 STEPHENS Lauren (USA)
15:10.00 CAMPBELL Teniel (Trinidad & Tobago)
15:11.30 BJORNSDÓTTIR Agusta Edda (Iceland)
15:13.00 KORVASOVA Tereza (Czech Republic)
15:14.30 GEDRAITYE Akvile (Lithuania)
15:16.00 FABER Claire (Luxembourg)
15:17.30 JONKER Kerry (South Africa)
15:19.00 SHEKEL Olga (Ukraine)
15:20.30 BUJAK Eugenia (Slovenia)
15:22.00 SIERRA Arlenis (Cuba)
15:23.30 WILLIAMS Georgia (New Zealand)
15:25.00 VAN DE VEL Sara (Belgium)
15:26.30 OYARBIDE Lourdes (Spain)
15:28.00 BROWN Grace (Australia)
15:29.30 KIESENHOFER Anna (Austria)
15:31.00 BARNES Alice (Great Britain)
15:32.30 MATHIESEN Pernille (Denmark)
15:34.00 SOTO Catalina Anais (Chile)
15:35.30 NORDEN Lisa (Sweden)
15:37.00 KIRSCHMANN Leah (Canada)
15:38.30 GAREEVA Aigul (Russia)
15:40.00 VAN DIJK Ellen (Netherlands)
15:41.30 NEBEN Amber Leone (USA)
15:43.00 ZABELINSKAYA Olga (Uzbekistan)
15:44.30 PLICHTA Anna (Poland)
15:46.00 LABOUS Juliette (France)
15:47.30 BUSSI Vittoria (Italy)
15:49.00 AMIALIUSIK Alena (Belarus)
15:50.30 BRENNAUER Lisa (Germany)
15:52.00 REUSSER Marlen (Switzerland)
15:53.30 VAN DER BREGGEN Anna (Netherlands)
15:55.00 DYGERT Chloe (USA)