Refresh
Hello there CW readers, Alex Ballinger here starting the day off with live coverage from the first time trial of the 2021 Tour de France.
I know TTs are Marmite in a Grand Tour, but I'm personally a big fan of the race against the clock (both to watch and to race).
Here's the profile for today's stage, it's an almost pan-flat 27.2km and should suit the pure TTers.
Today at the Tour: It's time trial day! 27.2 flat kilometres from Changé to Laval Espace Mayenne.Will Mathieu van der Poel keep the yellow jersey? #TDF2021 pic.twitter.com/525K7JlqFRJune 30, 2021
See more
My colleague Tim Bonville-Ginn drew the short straw and has compiled the full start times from today's TT, also picking out a few of the favourites so you know when to get your eyes back on the race.
The first rider off will be Amund Grøndahl Jansen from Team BikeExchange, who will be hitting the start ramp at 12.15pm local time (that's 11.15am British time).
Mathieu van der Poel will start the TT last as he's the yellow jersey wearer. He's off at 4.50pm French time (3.50pm British time).
Check the full list here: Tour de France: Start times for crucial stage five time trial
The yellow jersey battle is probably the biggest headline from this upcoming stage, as Mathieu van der Poel goes into the TT with just an eight second lead over Julian Alaphilippe in second place.
BUT, it's going to be a huge ask for Van der Poel to hold onto the jersey and he has admitted himself he's not a time trialist and he doesn't spend much time at all on the TT bike.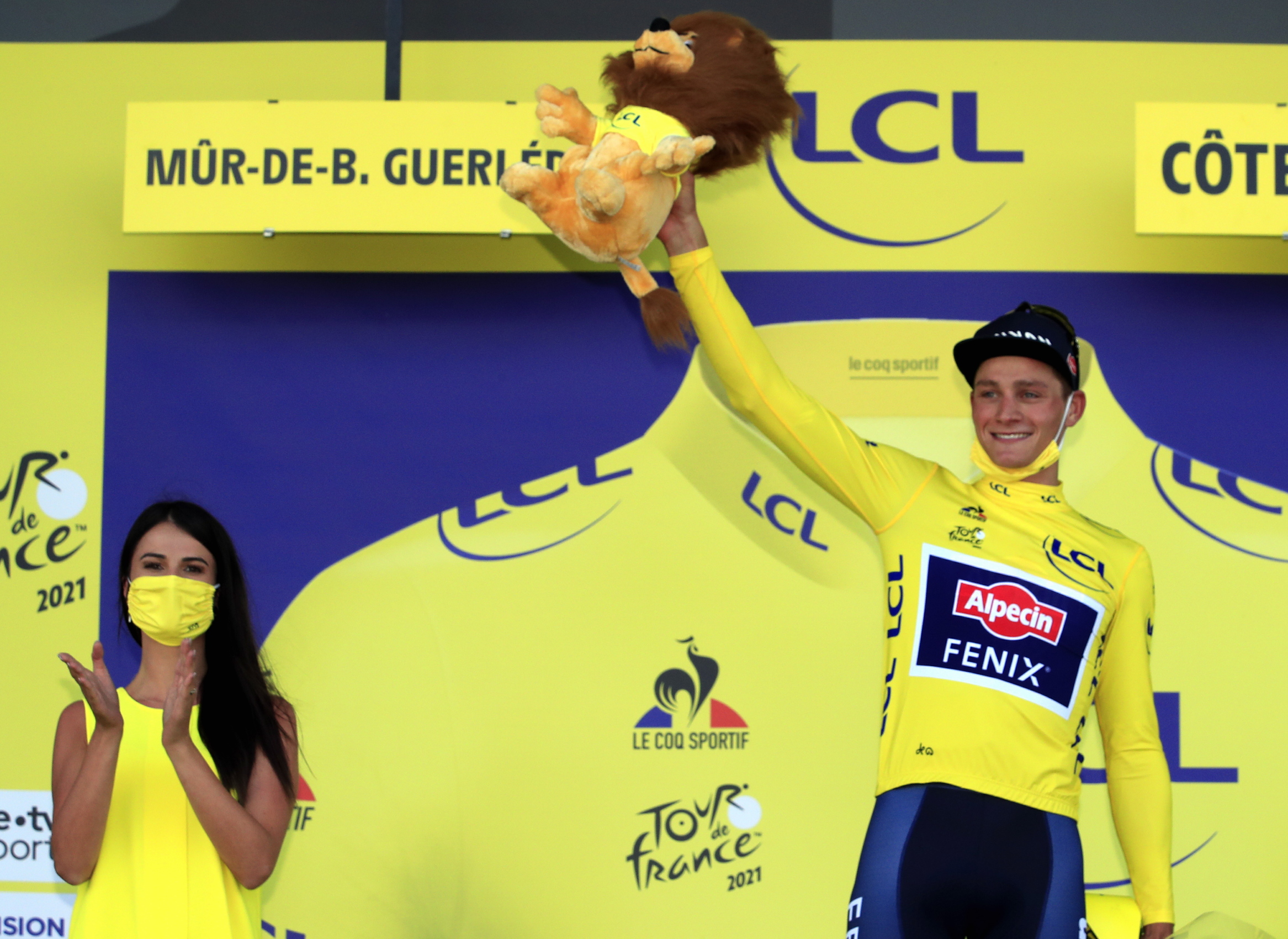 Julian Alaphilippe has been stellar in time trials in recent seasons, but he thrives more on a punchy TT course that lets his lightweight climbing ability shine through.
So instead we might be looking to a pure TTer who is still high on GC, maybe someone like Wout van Aert...
The Jumbo-Visma star currently sits fourth overall, 31 seconds off the race lead, while he's also among the favourites to take stage honours.
Can Van Aert take the lead in the Tour de France for the first time in his career?
Along with the battle for the yellow jersey, we also have the fight for the stage honours.
This course looks well-suited to the TT big dogs, the ones who can put out a huge amount of power on the flats, I'm talking Wout Van Aert (Jumbo-Visma) and Stefan Küng (Groupama-FDJ), or maybe even Stefan Bissegger (EF Education-Nippo).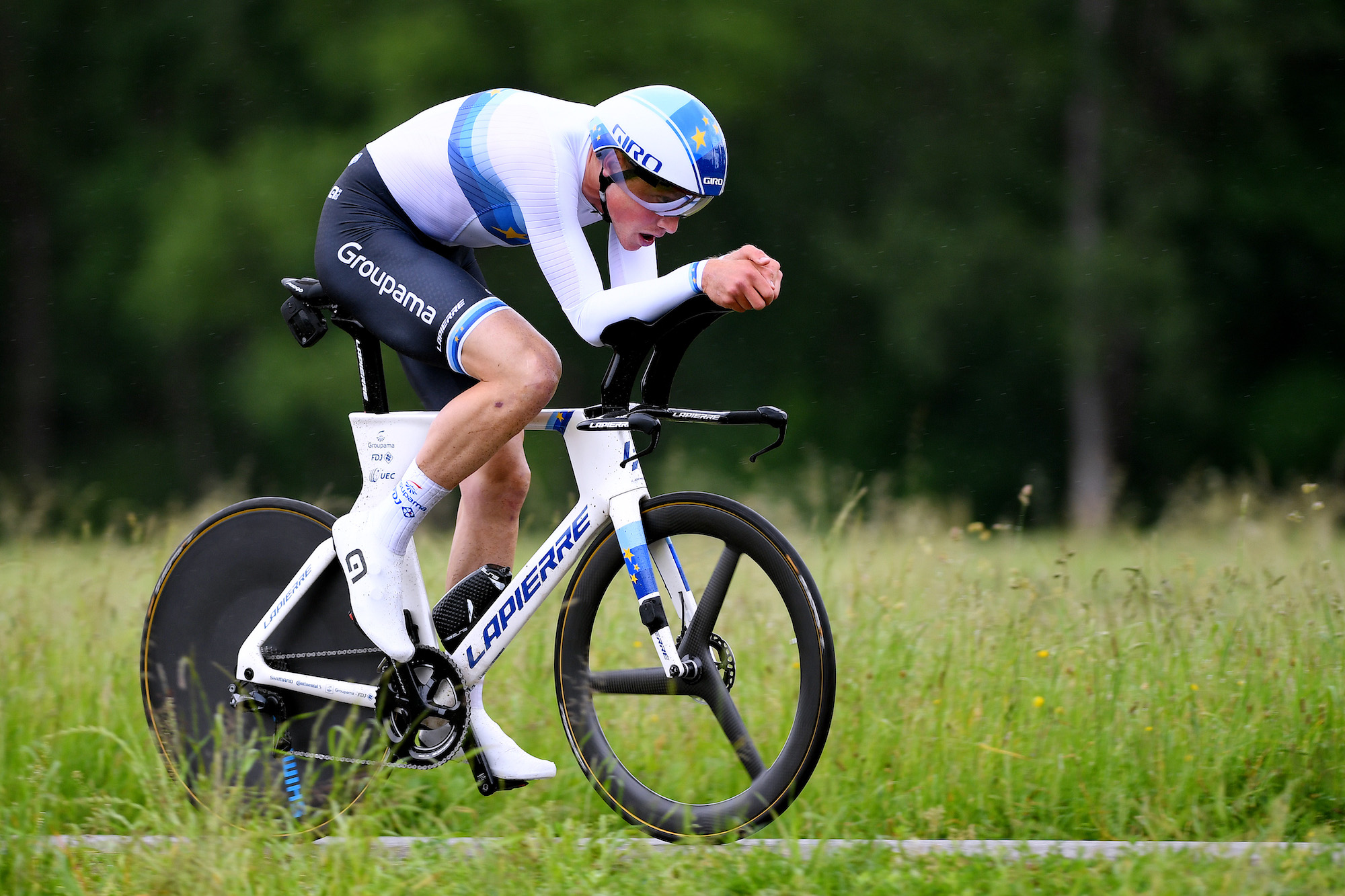 Victor Campenaerts is always worth a mention in a TT, but the Qhubeka-NextHash rider has been super inconsistent (sorry Victor) in Grand Tour time trials so it would take quite a performance for him to compete against the likes of Van Aert and Küng.
The 2021 Tour de France is definitely missing some of the biggest names as well, with no Filippo Ganna or Rohan Dennis (Ineos Grenadiers), but we should still have a great battle for the stage.
We've just got word from our reporter on the ground Jonny Long, who is currently at the start village in Changé.
Jonny said we've got the typical start town chaos this morning, with Alejandro Valverde, Enric Mas and Miguel Ángel López from Movistar all trying to weave their way through the publicity caravan and parked cars during their warm ups.
It's also very overcast over in France, with the feeling that the right might start at any moment. That could make things very tricky.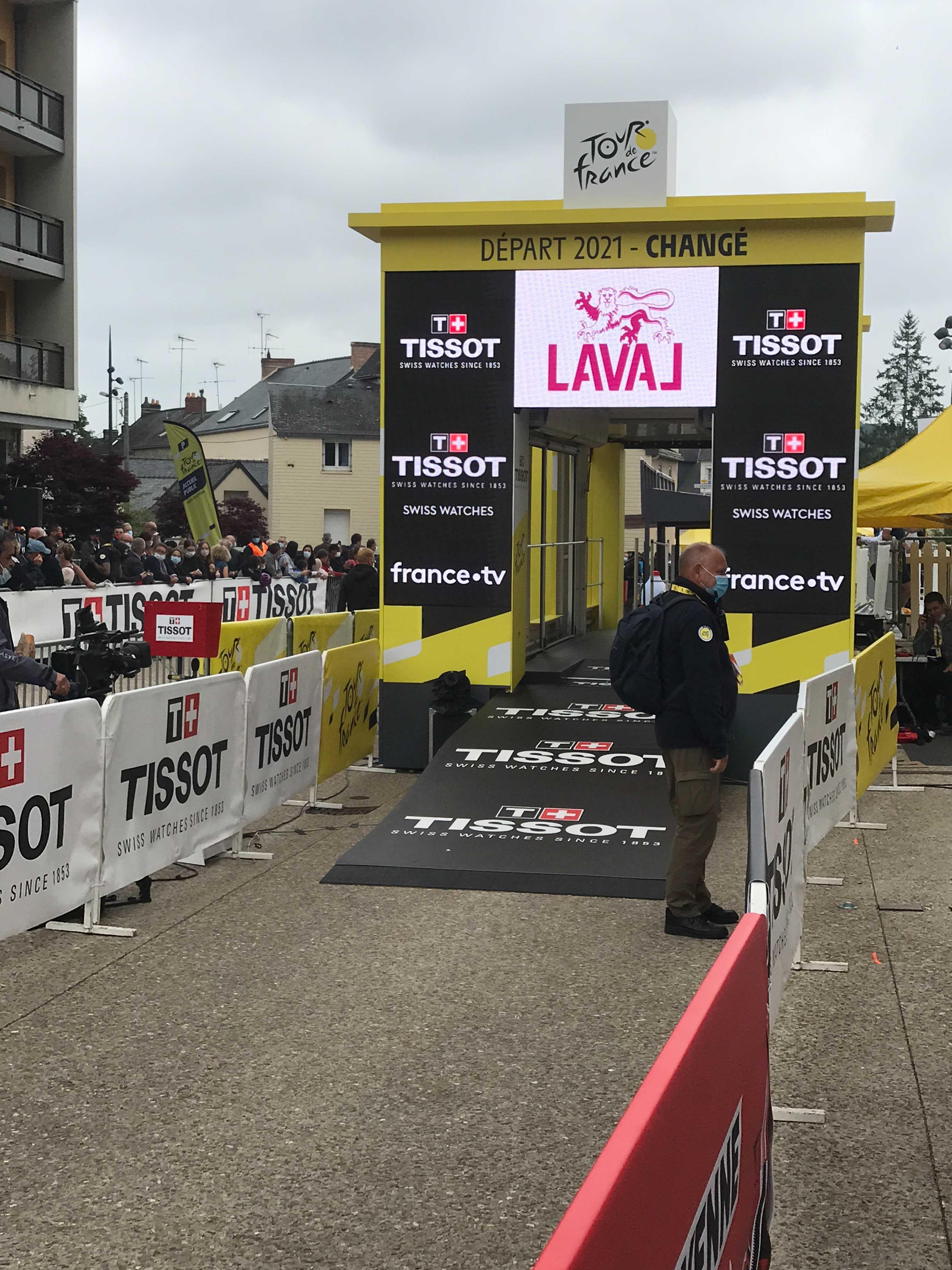 So I've twisted the arms of our CyclingWeekly.com team working today's time trial to get them on the record with their predictions for the day.
Here's how they see it:
Tim Bonville-Ginn: Stage winner, Stefan Küng. Yellow jersey, Wout van Aert
Chris Marshall-Bell: Stage winner Brandon McNulty. Yellow jersey, Wout van Aert
Me: Stage winner, Wout van Aert. Yellow jersey, Julian Alaphilippe
Jumbo-Visma have been out doing their recon of the course this morning
🇫🇷 #TDF2021 Time for some recon this morning 👀 pic.twitter.com/KpfsTH4Z6KJune 30, 2021
See more
In case you're worried that yesterday was just some beautiful dream, I can confirm that Mark Cavendish did in fact win a stage of the Tour de France and England did in fact beat Germany 2-0 in the Euros. Not a bad day of sport eh?
Our editor Simon Richardson has had an excuse to update his list of all of Mark Cavendish's Tour de France stage wins with his latest victory in Fougéres.
Check out the full list of Cavendish's 31 victories here: Where Mark Cavendish won his 31 Tour de France stages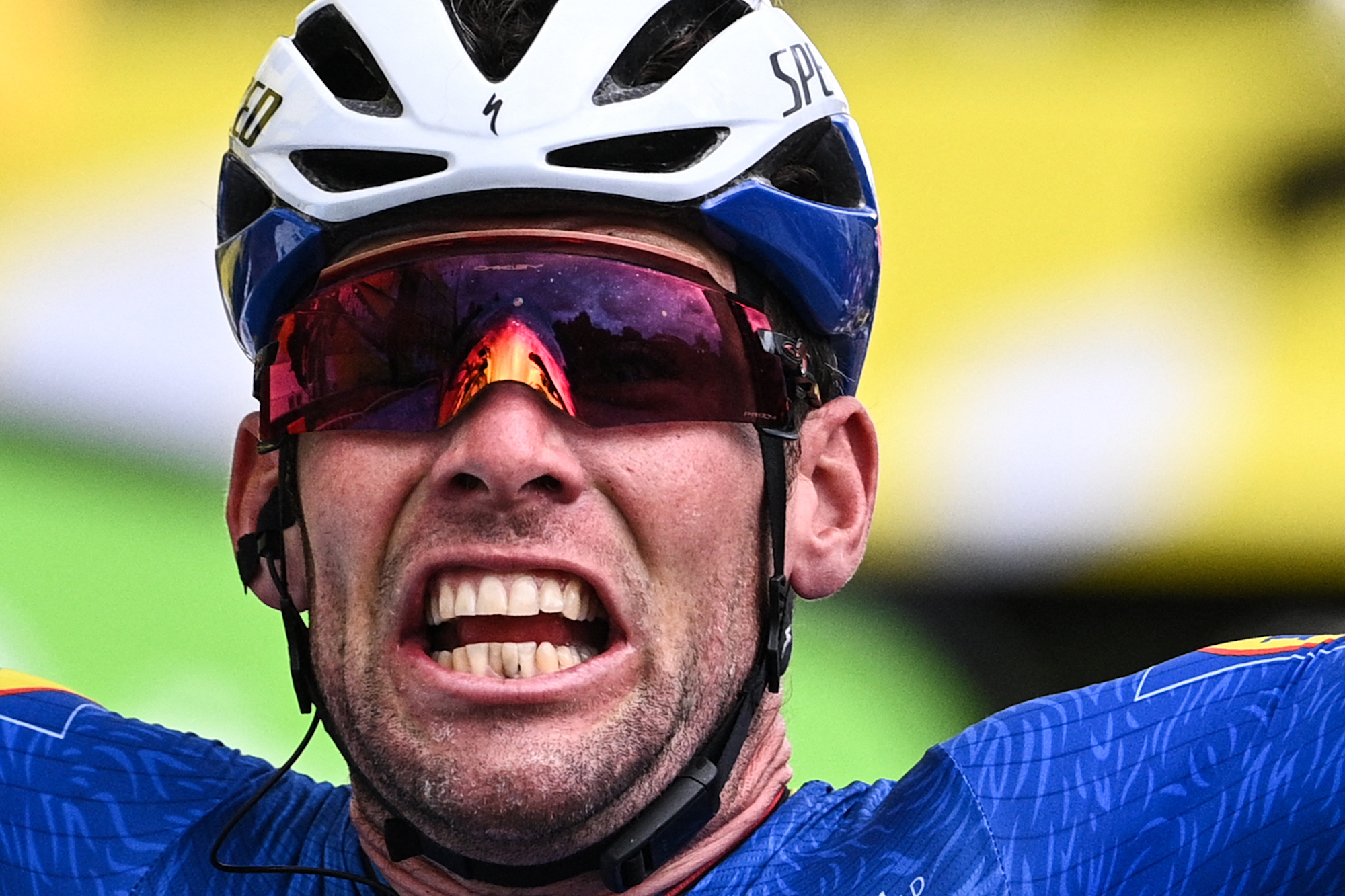 Jonny Long has now hit us with his clairvoyance for today's stage, here's how he sees it playing out:
They were pumping out 'I'm still standing by Elton John and the Jay-Z version of It's a hard knock life. Therefore, someone big is going to crash (again), for the stage I'll go with Bissegger and let's go Alaphilippe to be in yellow, just to spice things up
We're underway out in France!
First two riders are on the course, Amund Grøndahl Jansen (BikeExchange) and Russo from Arkéa-Samsic.
Britain's Dan McLay is on the start ramp now
We're well underway now! German time trial champion Tony Martin is out on the course. It's been a rough start for the Jumbo-Visma man, who's crashed multiple times so far.
Martin isn't the TTer he used to be when it comes to a world class field like the Tour de France, but he'll still give us a good benchmark time to compare.
First impressions of the course is that the official TdF profile doesn't give an accurate picture. There are a few nasty uncategorised ramps early on the course that are really slowing down the heavier riders.
Pacing that first section will be key to a strong time later in the course.
Chris Froome hits the course.
He's a VERY long way down in GC and is really not expected to do much today, but seeing Froome in the Tour de France is a success in itself, first after his career-threatening crash in 2019 and after hie nasty fall on the opening stage of the race.
Talking of crashes, the injured list is going to be decisive in this time trial, as a number of the race favourites are nursing serious injuries suffered in the opening stages.
Most notably, Primož Roglič is bruised and battered after he crashed in the final 10km of stage three, while Geraint Thomas is also nursing injuries after he dislocated his shoulder early on stage three. After a race doctor popped his shoulder back in, Thomas was able to continue.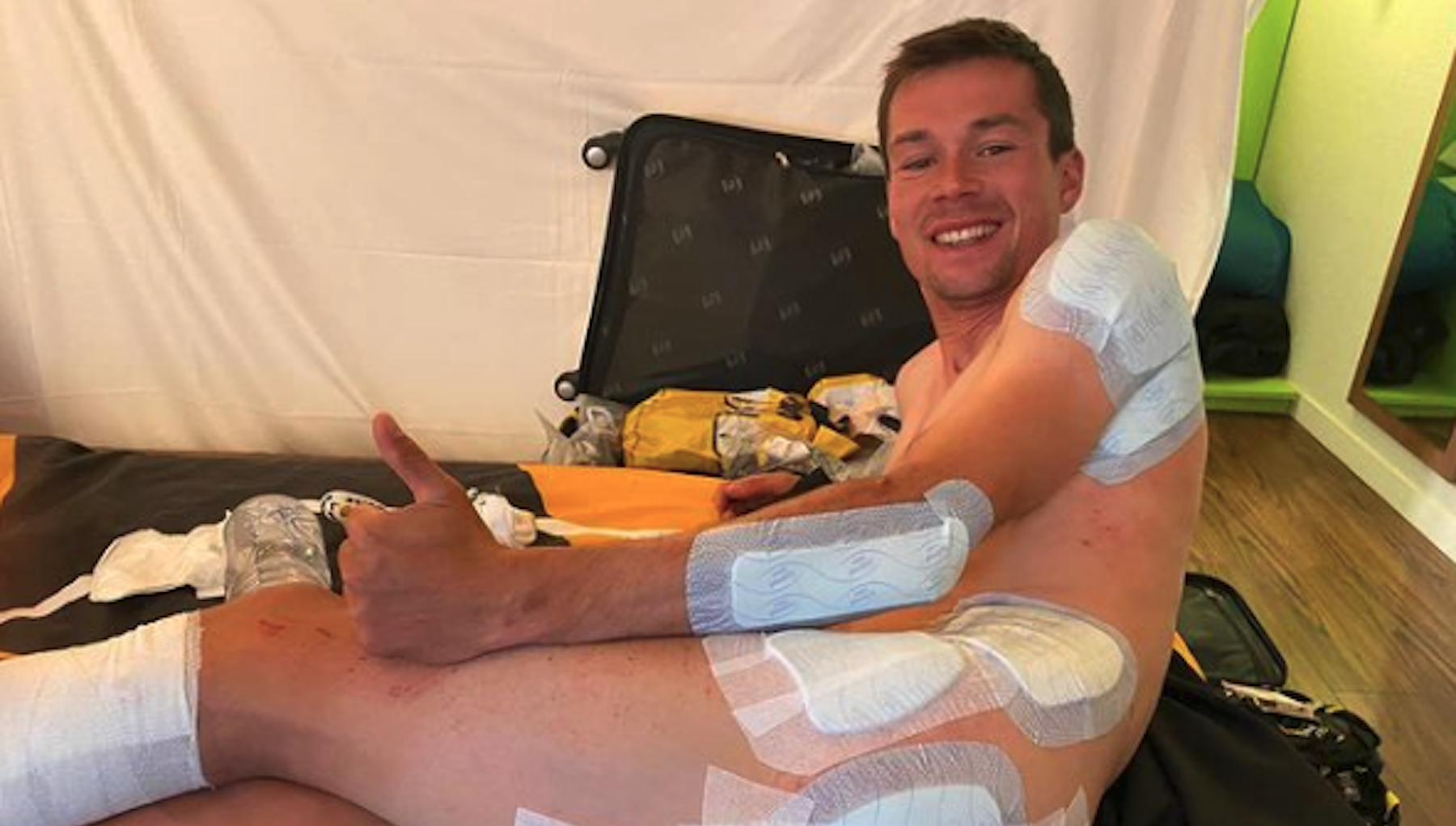 Both Roglič and Thomas were treated to an easy day on stage four, but their injuries could seriously hamper their performance on the TT bike.
Thomas particularly may struggle with his shoulder when he's in the aero tuck position, while Roglič is covered in grazes that will be affecting his sleep and may sting in a skin-tight skinsuit.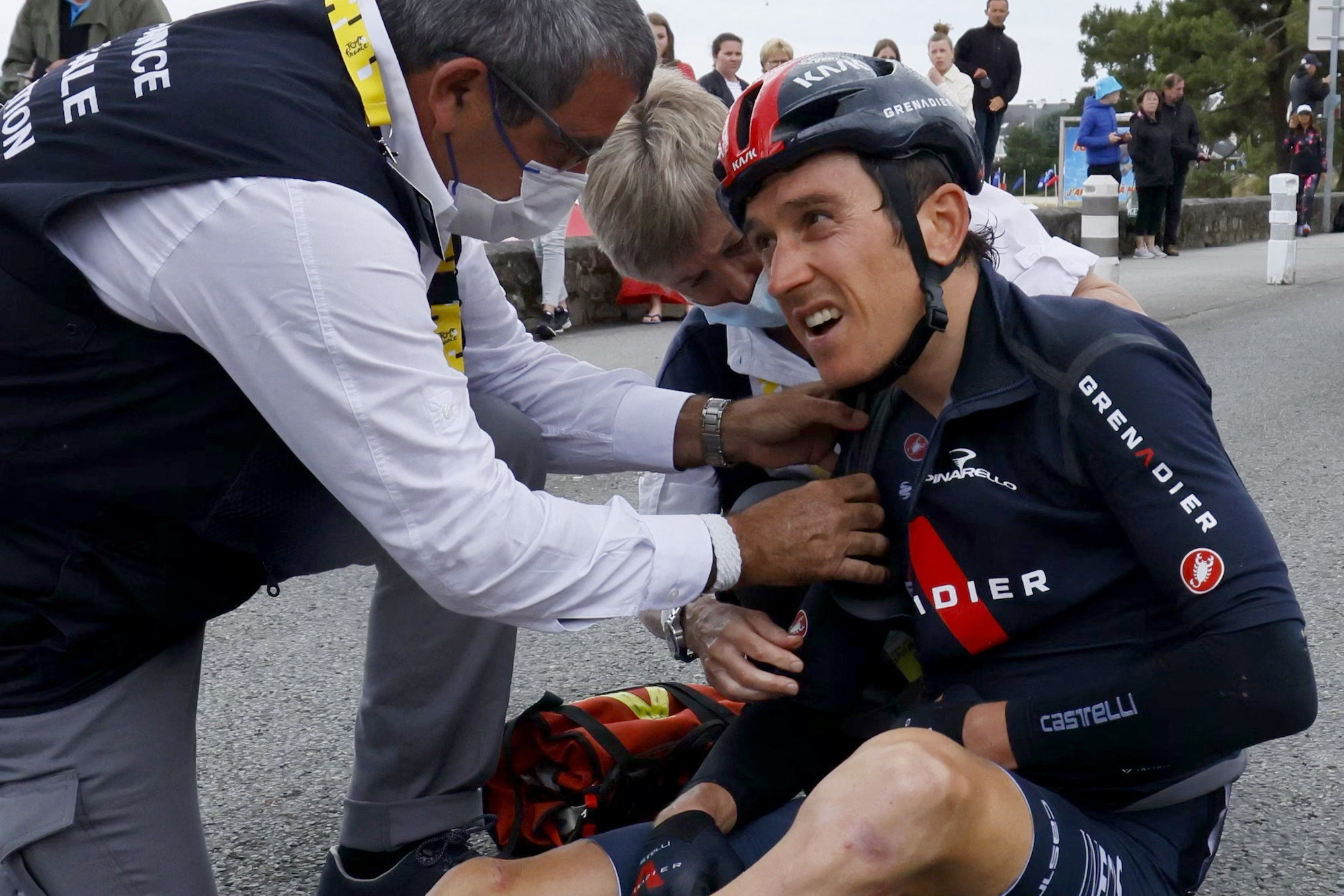 The first riders are through the intermediate timing check 8.8km into the 27km course.
T Martin is fastest (unsurprisingly) with a time of 11-58, average speed of 44km/h.
The second half of the course should be faster.
Right we're getting some finish times out on the course now!
Tony Martin has set the fastest time so far with seven riders done for the day.
Martin's time was 35-33, average speed of 45km/h.
But his team-mate Sepp Kuss is still out on the course and looking strong, as is Mikkel Bjerg from UAE Team Emirates.
Bjerg has the fastest time at the first timing check 8.8km into the course, 11-09.
Tony Martin has finished his ride with the current fastest time.
He was interview by TV journalists at the finish, here's what he said about his ride: "It's a nice parcours, nice atmosphere, great fans on the side. I was going fast but not all in. I felt my body needs some rest after the big crash on the first day. So for me it was more an easy day. I had to go fast because there's a time limit but I wasn't going all in."
Martin was also asked about his team-mate Roglič, who is nursing injuries from stage three: "Maybe I can give him some tips. He has to see how his condition is. I can imagine he'll have some pain, but I know Primož is a fighter and he'll come through it."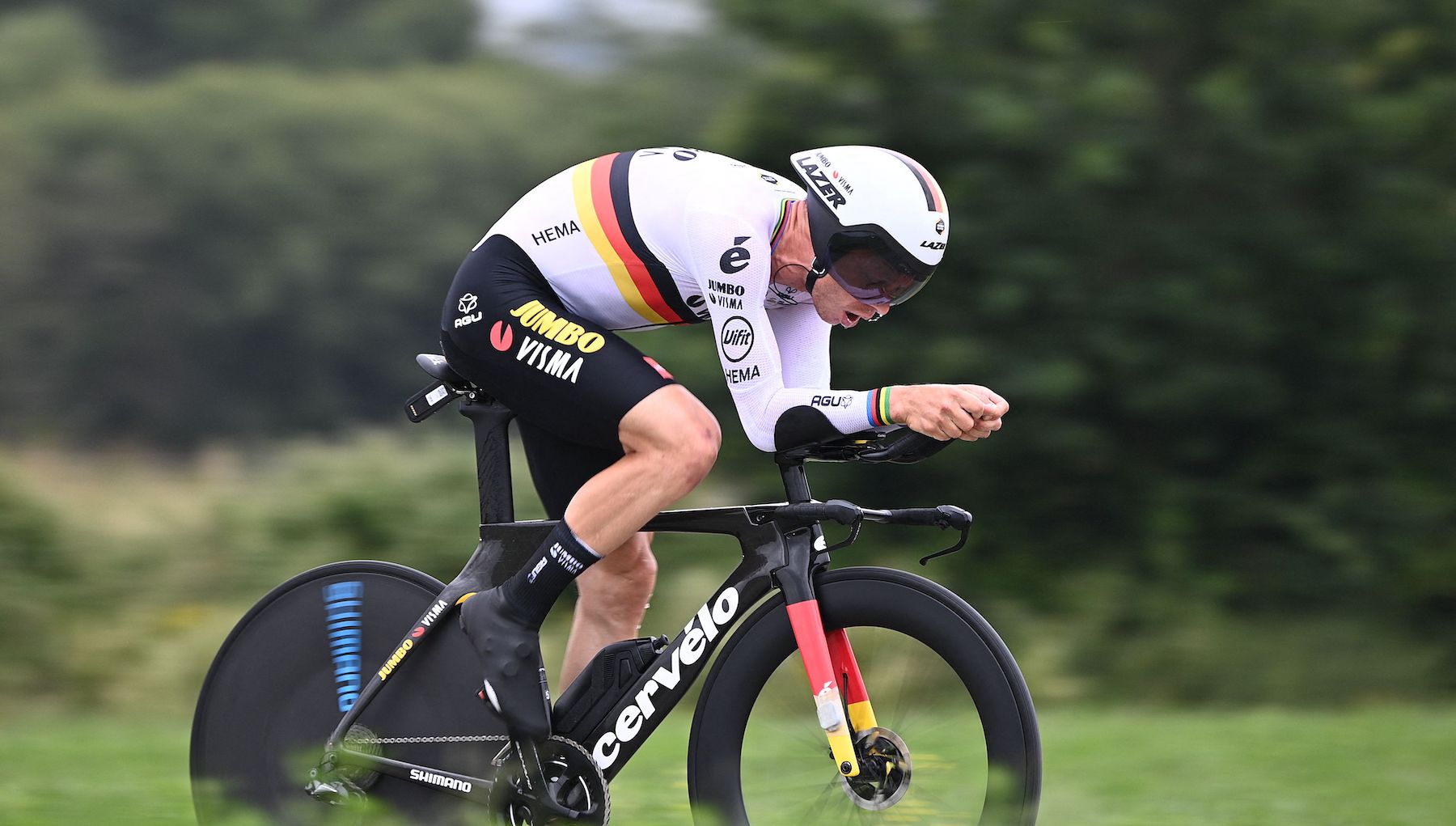 Chris Froome has finished his ride as well, but as expected he didn't set the world on fire.
He currently has the seventh fastest time with 17 riders finished - 36-20, with a speed of 44.9km/h.
New fastest times!
Jumbo-Visma are dominating the leaderboard right now with 1-2-3.
Sepp Kuss is fastest with a 33-58, followed by Mike Teunissen on 25-23, and Tony Martin with 35-33.
But Mikkel Bjerg is out on the road and crushing the course, he's looking good to top the leaderboard when he finishes in 7km.
Wow we have a storming new time from Mikkel Bjerg.
The 2019 Under-23 TT champion gave everything on his ride, knocking 53 seconds off the previous fastest time.
Bjerg now sits in the hot-seat with a time of 33-01. It looks like that time will stand for some time with no-one getting closing at the intermediate timing checks yet.
BREAKING: A huge new rivalry has broken out during the stage five time trial.
Okay fine, I might be overstating it a little bit...
But Pierre Rolland has thrown down the gauntlet and challenged Stefan Küng to catch him,
Rolland starts three minutes ahead of the Swiss rider, but can he hold off the stage favourite?!
Aujourd'hui, @stefankueng s'élance 3 minutes après moi. Est-ce que vous pensez qu'un Suisse va (encore) manger un Français ? 😅 #TDF2021June 30, 2021
See more
Rolland said: "Today Stefan Küng, sets off 3 minutes after me. Do you think that a Swiss will (again) eat a French?#TDF202"
To which Küng responded: "In any case I'm hungry"
We've had a quick update from our reporter on the ground Jonny Long.
The rain is starting to fall at the finish, nothing major but a few drops that could start to build up and make the course a little sketchy.
It's also a cool day which will be welcomed by the riders in their skinsuits. It can get insanely hot racing a TT in aero kit.
If the rain starts to fall properly that could really change the shape of the race.
Mikkel Bjerg has given his thoughts after his storming ride in the TT, as he currently sits in the hot seat with no real challengers.
The Dane from UAE Team Emirates said: "It was super hard. I decided to give everything after my crash on stage one. My coach said go full gas and I gave everything I had.
"In the last corner it's new asphalt and it started raining five minutes ago and it was a bit slippery in the last corner. I managed to stay upright.
"Tje start is really hard with the climbs but I just decided to do everything I could and see how long I could hold the pace. I'm quite happy with my perfeoamnce.
"If it keeps raining, then maybe [I can win]. I hope top-10."
Right it's time for me to take a brief lunch break so I'm refreshed and ready to blog through the rest of the day.
I'm gonna hand over to my esteemed colleague Tim Bonville-Ginn, who will be talking you through the next hour of action
Enjoy!
Thanks a lot, Alex! He will be back for the big names in the GC later, but I'll be with you for a while and we have a big favourite for the day coming up soon with Swiss star, Stefan Bissegger coming up in 10 minutes.
But, the rain is really coming down now as Jonathan Castroviejo sets off on his ride. He's an excellent time trialer, but its unlikely that anyone, aside from Thomas, Carapaz and maybe Porte really going for it on the TT.
If you want to check when your favourite riders are setting off, make sure to check out our start times piece.
Read more: Start times for crucial stage five time trial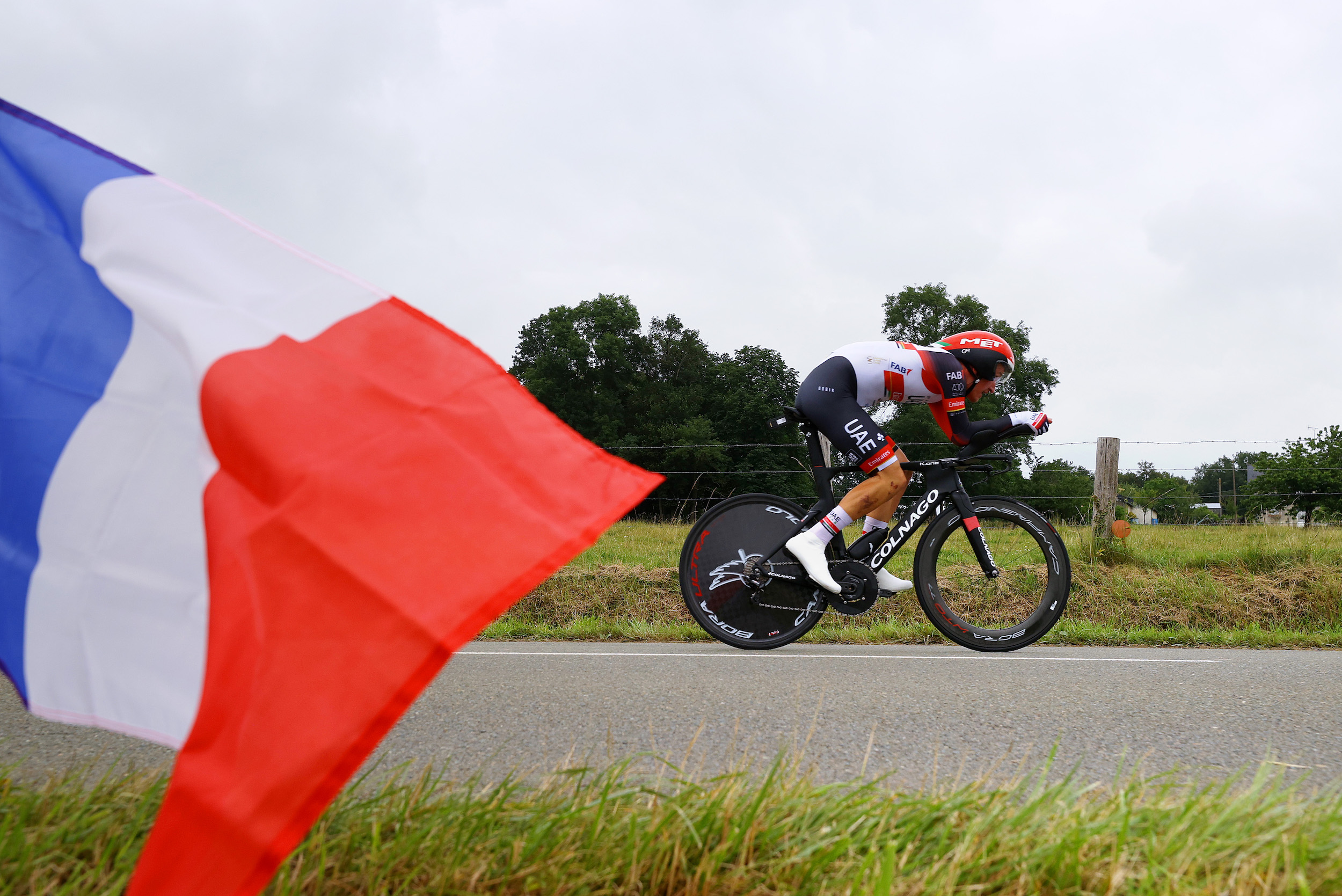 Meanwhile, on the Alt Tour with Lachlan Morton, he is a full stage ahead of the Tour de France peloton on his huge ride around the Tour route, including transfers with no support.
Read more: Lachlan Morton is already a stage ahead of the Tour de France peloton on his 'Alt Tour'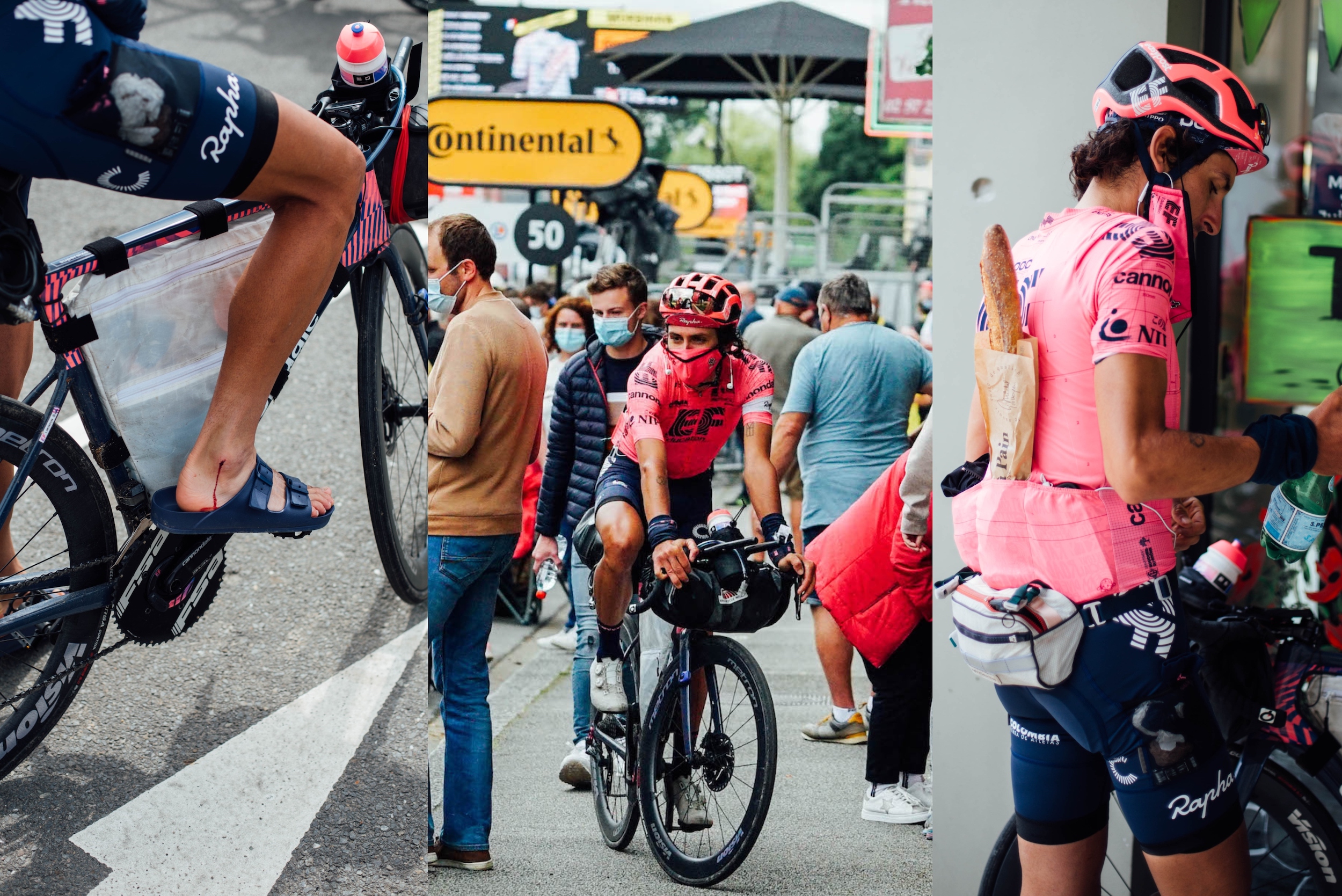 It's time for Stefan Bissegger, no visor but with the specialially aero Poc helmet and a very smart aero skin suit.
Can he beat his big rival of Stefan Küng as well as Wout van Aert?
Brand McNulty, Chris Marshall-Bell's pick for the day, has set off. I personally doubt he'll put in a fast time as I imagine he will take it easy so he has all the energy for Tadej Pogačar.
Much like Castroviejo as Omar Fraile has just flown past him. You have to feel a lot of riders from Ineos and UAE will take it easy.
Bissegger nearly binned it in a corner due to a motorbike in front of him. He somehow saved it on the wet roads and he is still riding and giving it absolutely everything.
One rider, who will be very disappointed is Canadian Michael Woods. He lost a shed load of time due to crashing on day one. So now he will be waiting for the mountains and joining both team-mates of Froome and Dan Martin looking for a stage win.
McNulty is down! I'm sorry to our writer, Chris. But that seems to be that for the American.
Bissegger, after his dodgy moment, is already 9.33 seconds down on Bjerg at the first check with Victor Campenaerts coming in almost three minutes down.
I tell you what, Omar Fraile is going for it! Just about 35 seconds down on Bjerg at the split, I didn't catch which split it was unfortunately though.
Blimey the rain is really coming down here. Bissegger about to catch his first man on the road who is TotalEnergies rider Cristián Rodríguez
Acttually, I believe that McNulty had a mechanical and a bike change. So he may not be out of it, but he looks to be taking it very easy.
Bissegger is at the second check and he is losing time. He is 19.51 seconds down. That isn't great for the young Swiss rider.
The weather could be gifting the stage to Bjerg here. A superb time on dry roads with everyone else dealing with slippy wet roads.