London taxi drivers film cyclists jumping red lights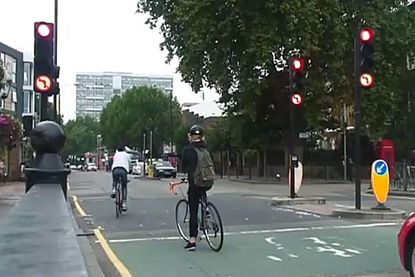 A film showing cyclists riding through red traffic lights on two busy London road junctions has been published online by the Licensed Taxi Drivers Association.
A note from the LTDA accompanying the film states: "Various cycle action groups and lobbying groups constantly assure Londoners that cyclists are law abiding. Apparently, it's only a few 'rogue' cyclists who jump red lights and flaunt the rules of the road."
"This theory is in stark contrast to the evidence that most Londoners witness every day. The LTDA decided to test the theory and discover the truth. We set up a hidden camera at busy traffic controlled junctions to record what really happens every day on our roads. What we found shocked us."
The film concludes that they witnessed 53 per cent of cyclists jumping red lights over a two-hour period. Two one-hour unedited versions of the film taken at Hackney Road and Fortress Road have also been posted online.
Thank you for reading 10 articles this month* Join now for unlimited access
Enjoy your first month for just £1 / $1 / €1
*Read 5 free articles per month without a subscription
Join now for unlimited access
Try first month for just £1 / $1 / €1