Madison-Genesis: First year ambitions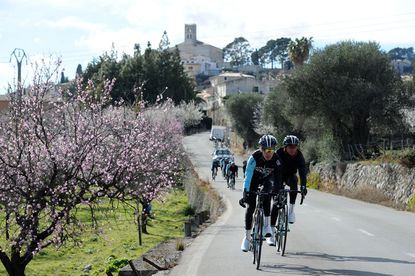 It is day three of the Madison-Genesis training camp in Majorca and a mischievous Roger Hammond is in playful mood.
"When shall I attack?" he jokes. "Shall I make a move today, or leave it until the nearer the end of the camp when everyone is tired?"
Despite turning 39 at the end of January, Hammond still looks like someone capable of dishing out an uncomfortable day in the saddle. So much so that you would be forgiven for thinking his name appears on the new British team's roster for 2013.
However, Hammond is their directeur sportif and not the big-name rider. He joined last March, two months after he retired from racing, to help oversee the team's formation for this season.
Having spent nearly a year in the job, the former British road and cyclo-cross champion dismisses the notion that management is the next best thing to competing.
"It's not comparable, it's not something that has replaced something else," he told Cycling Weekly the previous evening. "It's a separate phase to my racing career, I'm not trying to live that again through the team. That part of my life was great, but there was an end to it.
"When Madison presented the idea to me, it captured the imagination. I like things that I can get my teeth stuck into - and that's what I'm doing now."
That's a fitting description of how the season started for the fledgling set-up. Before they had held a training camp, Madison-Genesis lined up against 18 other teams - nine of them WorldTour - at Challenge Majorca, a series of four one-day races.
Nonetheless, they justified their invitation in the Trofeo Deia, the queen day of the event.
Second-year professional Brennan Townshend (who joined the team from Raleigh) made it into the race's main breakaway and lasted nearly 100 kilometres up front, before 2011 Premier Calendar winner Ian Bibby climbed brilliantly to finish 10th. He may have even beaten world time trial champion Tony Martin to eighth place if the finish line was where it was listed in the race manual, instead of appearing 200 metres earlier.
"They're both positive things, but what I saw in Brennan was more of a pleasant surprise than Ian's result," Hammond said when reflecting on the race three days later.
"I knew Ian could do that, it was just getting it out of him. With Brennan, I knew the talent was in there, but I didn't know if I could get it out of him. Especially not that early in the year."
Keeping it steel
As well as being the UK's sole distributor of Shimano components and numerous other accessories, Madison owns the Saracen, Ridgeback and Genesis bike brands.
With great resource at its disposal, it is hardly surprising that plans to create a road squad were under consideration long before the team's formation was announced last July.
"When we set up the Madison Saracen [mtb] team for 2011, we wanted to set up a road squad at the same time, but we didn't have the appropriate bike to race on," Madison CEO Dominic Langan, told CW.
"For a brand that is well-known for producing steel frames, it was not appropriate for Genesis to make a carbon bike just so we could set-up a road team in a hurry. It's not what the company is about."
However, the collaborative efforts of Dom Thomas, Genesis' bike designer and frame-building specialist Reynolds has led to the team using the Volare, a bike that attracted much attention from other teams competing in Majorca.
"Yes, it will be slightly heavier than a carbon bike, but it will also have its benefits [steel frames are durable and known for smooth riding]. We wanted to show that you can have a high-level bike that isn't carbon," added Langan.
As is the case with their mountain bike team, Madison's road squad had product and rider development at its core. When the team's formation began in earnest last February, the initial plan for it was to comprise entirely of riders aged 23 and under.
"When I first heard that Roger and the sponsors were setting up a development team, I remember thinking how good a learning experience it would be for the young riders on it," said Dean Downing. "But for someone who is in the twilight of their career as I am, it didn't exactly interest me."
Yet when the team's roster was announced in November, the then 37-year-old Downing appeared on the list, along with four others aged 23 and above. Had the team sold out before they had even raced, scrapping a commendable strategy aimed at progression for quick wins?
"Yes, it started off as a team for under-23s," said Hammond, "but I remember going to teams when I turned professional at 24, and they would say I was too old, because they couldn't be bothered to look and see I studied for a degree for three years between 19 and 22. Why should some of our riders be denied the chance to develop with us because of their age?"
The second part of Hammond's recruitment strategy was to overlook race results in favour of performance.
"Apart from those riders who are up there on a consistent basis, results can mean anything. I don't believe in a number," he stated. "I went to races, because that is where you get a true picture of riders."
Digging deeper
"You will not see Brennan's name in the results from Majorca. DNF one day, out of time on another and you'd think 'what did he do?' But if you dig deeper, you would realise that he is a 19-year-old who got into a long breakaway on a difficult day and gave it out to WorldTour riders."
Once he had seen the riders he wanted, Hammond then re-enacted something he experienced at the start of his racing career to secure their signatures.
"I remember when I first went to Belgium, my first two managers came to my house when they wanted to sign me," he said. "When Hilaire [Van der Schueren] wanted to sign me for Collstrop, he visited me and we talked about the project and why he wanted me to be a part of it. I appreciated that gesture, I was chuffed they went to all that effort," he said.
Hammond's enthusiastic and highly professional strategy had the desired effect. Alex Peters, winner of the National Junior Road Race Series in 2012, was sold by Hammond's avidity and personal touch.
"I had a few offers on the table and Roger rang me and asked if I wanted to meet up," Peters explained. "We discussed what was on offer, what type of rider I am and where I want to go. After that meeting, I thought: 'I've just met with Roger Hammond, he's been there and knows what he's talking about'. He seemed very enthusiastic and I took to that."
Peters was not the only rider bowled over by Hammond's knowledge and vision. Aside from Andy Tennant, who missed the Majorca trip because of his track commitments for Great Britain, every rider on the team attributed their decision to join the team to Hammond's involvement.
"He has a way of explaining things in meetings," said national hill-climb champion Jack Pullar. "He goes into such detail and often mentions things that you wouldn't think about."
This was notable on the morning of the Trofeo Deia. Hammond decided to drive the team to the bottom of the Puig Major climb, the race's main climb, en route to the start.
"The plan was for them to be familiar with the approach so they could get Bibs [Bibby] in place towards the front of the peloton at the bottom of the climb.
"Not only did they do exactly as I asked, they then lasted for three kilometres up it with him," said Hammond, proudly.
Aside from a week in charge of IG-Sigma Sport at last year's Tour of Britain, management is unfamiliar territory for Hammond. Does he not think this is a disadvantage for both him and the team?
"The moment you think you know everything about cycling is the day you should stop.
"What the riders will lose in terms of my lack of managerial experience, they'll gain in having someone who can mould into what they need. I feel like I've got a lot of information to give, it's up to them when I give it."
The team will run for a minimum of three years, with the vagaries of attracting big-name partners lessened by virtue of having Madison's own brands as sponsors.
Ambition
2013's programme will consist largely of British races, with a handful of foreign races including the Tour of Taiwan at the end of March.
Hammond is hopeful that this race calendar will be enough to open doors for riders to move on to bigger and better things - in particular Bibby.
He said: "For me, the success of the team is based on how many of our team make it up to the next level. It was great that I had guys coming and chatting to me at Challenge Majorca, asking about who the prospects are in the team.
"For Ian, getting him on to a WorldTour team is my goal. I was desperate to have him on the team. I've seen him over the last few years, and he's a complete rider and in him, I truly believe we've got someone who can win the Tour of Britain."
In a similar vein to Hammond contemplating where he should attack his riders, you feel that this goal is ambitious, but not entirely unrealistic.
New beginnings
When Roger Hammond retired after last January's National Cyclo-Cross Championships, initially he planned to stay away from the sport. Two months later, he had signed up to help oversee Madison-Genesis's formation.
Madison CEO Dominic Langan said: "When we started setting the team up, I knew enough to know I didn't know enough.
"I got Anthony [McCrossan, cycling commentator] on board as the team's consultant at the start of last year and finding a manager was one of the first things we looked at. Once Roger was on board, we put together a timeline working up to January 19 2013, which was during the London Bike Show, where we wanted to hold the team launch.
"We had to get the bikes ready, sign the riders, design a whole new clothing range from the ground up, attract sponsors, deal with the marketing and commercial side of affairs and work out the logistics of running a team.
"It took a lot of work - a lot more than I had anticipated - and we know that in year one there will be things that we need to address."
Baylis meets Bradley
"Completely surreal" was how neo-pro Sebastian Baylis described a brief conversation with Bradley Wiggins during the Trofeo Alcudia race. The 19 year old also spoke to Blanco rider and former world champion on the track Theo Bos during his time in Majorca.
"He [Bos] was commenting on my bike position, and not in a good way. He said I was too stretched out and as a result it was causing me problems on the descents," said Baylis, who in 2012 was riding for the Mid Devon Cycling Club.
Hammond had already told Baylis that you don't change your position or saddle immediately before a race.
Baylis's Volare bike was seen sporting a shorter stem and a seatpost two centimetres higher at the start of the team training camp, which followed on from the Challenge Majorca series.
This article was originally published in the February 21 2013 issue of Cycling Weekly magazine.
Related links
Photo gallery: Madison-Genesis training in Majorca
Roger Hammond to manage new Madison-Genesis team
Thank you for reading 20 articles this month* Join now for unlimited access
Enjoy your first month for just £1 / $1 / €1
*Read 5 free articles per month without a subscription
Join now for unlimited access
Try first month for just £1 / $1 / €1