Marcel Kittel: The young generation has a very clear idea of what cycling should be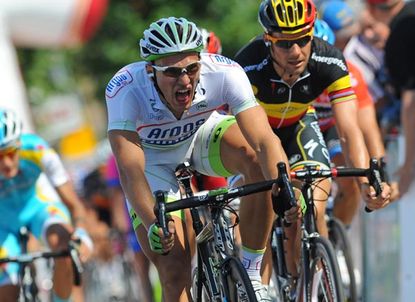 Marcel Kittel has overcome sunstroke and is preparing to begin training proper ahead of the 2013 season he is confident his Argos-Shimano team will secure a WorldTour licence for.
The 24-year-old has returned from the Caribbean where he was for the Amstel Curaçao Race after a highly successful year in which he celebrated 13 victories.
Kittel, via Twitter, has openly reacted to the fall-out from the U.S. Anti-Doping Agency (USADA) report, which saw Lance Armstrong stripped of his seven Tour de France titles, during the off-season.
Speaking to Cycling Weekly he stood by his statements some in which he was critical of riders - naming Alberto Contador, Samuel Sanchez and Miguel Indurain on his Twitter site - who were apparently supportive of Armstrong after the International Cycling Union (UCI) ratified USADA's findings.
"It was just my opinion, maybe I was emotional in that moment but I couldn't understand it and it was important for me to make that clear," Kittel said.
The Scheldeprijs champion applauded contemporary, Taylor Phinney (BMC) who in a recent interview with VeloNation spoke openly about his attitudes on the apparent painkiller and caffeine 'pill culture' in cycling today.
Kittel echoed the world time-trial silver medalist's sentiments saying he preferred not to take stronger, legal analgesics that can have side effects including drowsiness.
"The young generation has a very clear idea of what cycling should be," Kittel said.
"There are some pain killers in cycling, which are still allowed, I've never tried them, for example this Tramadol, but I've heard how it works. I'm not very sure it makes sense to use that in a 200km race, in a stage race, when it's maybe hot and very exhausting. I think you're not clear in your head when you take such a painkiller. I decided for myself not to take that."
Kittel in his Tour de France debut this season was billed as a man to beat in sprint finishes but was forced to abandon in the first week with stomach problems and a knee complaint.
He has unfinished business in France and is hopeful to return to the 100th edition next year with the aim of winning a stage and finishing a Grand Tour. Kittel won stage seven of the Vuelta a Espana as a neo-professional last year before withdrawing after the 12th.
"I would like to do the Tour again. I still have my goals from (this year) and I think that will be the same goal for me next year - to be selected for the Tour and go for a stage win there," he said.
"I had big goals for the Tour but I could not reach them. That made me sad but on the other hand I also reached my goals in spring, for example, with the Scheldeprijs. I really wanted to win that race and then I think when it came to the end of the season I also had some nice wins. In the end I can say it was a good season for myself and it was a very good season for the whole team. I think everyone developed again, the sprinting developed again and that's also very important. I see the team in a very strong position for next year."
Argos-Shimano has applied for top-tier status ahead of next season. Shimano has extended its sponsorship with the Dutch outfit up until the end of 2014, which, along with a roster producing results, bodes well.
Kittel will make few changes to his winter training program and if his team secures top-tier status could begin the new season at January's Tour Down Under.
"I think we can be confident. We had a very good season and we worked very hard to get the licence," he said.
"I will spend a lot of hours on my bike but I also will be in the gym to keep the sprint legs in good condition."
Thank you for reading 20 articles this month* Join now for unlimited access
Enjoy your first month for just £1 / $1 / €1
*Read 5 free articles per month without a subscription
Join now for unlimited access
Try first month for just £1 / $1 / €1