Mark Cavendish is Britain's best ever cyclist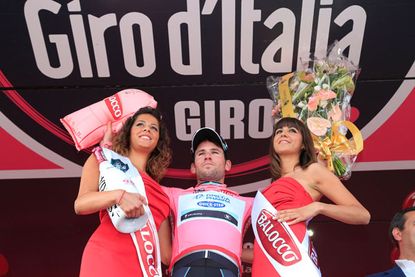 When Mark Cavendish won the sixth stage of the 2013 Giro d'Italia he became Britain's greatest-ever male road cyclist.
For some that is a bold statement, and we know that a section of the British cycling community will disagree strongly. But many more will not.
Several years ago, Lionel Birnie devised a ranking system to try and settle who was Britain's best-ever male professional road cyclist. Until today, Robert Millar was top of the table. Now it's Mark Cavendish.
The ranking is based on points awarded for placing highly in the most prestigious races on the calendar. So, for example, a stage or overall win in the Tour de France carries far more ranking points than a stage win in the Tour of Poland.
Cavendish is now 10 points ahead of Millar in our ranking after taking 98 victories, but the Manxman's tally is far from settled as he shows no sign of slowing down since his first professional win back in 2007. Millar retired as a professional in 1995.
Bradley Wiggins is currently fourth in the ranking after Tom Simpson. If Wiggins wins the Giro d'Italia he will be within striking distance of Simpson's third spot.
With currently active riders Chris Froome and David Millar also in the top ten, we really are currently enjoying the golden age of British cycling.
Cycling Weekly's all-time ranking of British pro cyclists
1 Mark Cavendish 2,910 points
Pro: 2007-present
2 Robert Millar 2,900 points
Pro: 1980-95
3 Tom Simpson 2,545 points
Pro: 1958-1967
4 Bradley Wiggins 2,205 points
Pro: 2002-present
5 Chris Boardman 1,965 points
Pro: 1993-2000
6 David Millar 1,565 points *
Pro: 1997-present
7 Barry Hoban 1,455 points
Pro: 1962-1981
8 Chris Froome 1,040 points
Pro: 2007-present
9 Michael Wright 800 points
Pro: 1962-1976
10 Max Sciandri 675 points **
Pro: raced as a British rider 1995-2004
* David Millar: Points for results that were stripped after admitting he had doped are not included (for example world time trial championship 2003).
** Max Sciandri: Only points scored from 1995 onwards, when Sciandri took out a British racing licence, are included.
For a full explanation of the ranking system and how the points were allocated see our full All-Time Ranking of British Pro Riders>>.
Related links
Cavendish wins stage six of Giro d'Italia
Thank you for reading 20 articles this month* Join now for unlimited access
Enjoy your first month for just £1 / $1 / €1
*Read 5 free articles per month without a subscription
Join now for unlimited access
Try first month for just £1 / $1 / €1