Matt Goss learning complexities of team leadership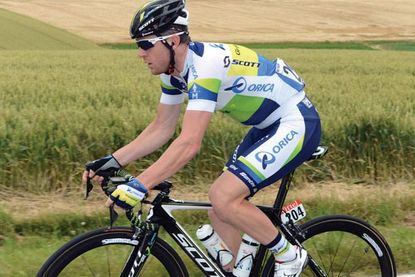 Lotto-Belisol may have set an early season benchmark in sprint finishes but Matt Goss is confident experience will pay dividends for he and his Orica-GreenEdge outfit this year.
Goss joined the first Australian-based WorldTour outfit in 2012 as its marquee signing and admits being a leader is a role that has taken some getting used to.
"I really noticed a difference at the Giro last year," he told Cycling Weekly at the Tour Down Under in Australia last week.
"Your mood affects a lot of other people's moods and I've got to make sure it's not just about trying to win on the bike, it's about keeping everyone in good spirits off the bike. In this team that is simple though."
Goss was around the mark but could not best German Andre Greipel who, with the aid of a drilled Lotto lead-out, was unbeatable in sprint stages in Adelaide.
But Goss has used Greipel's team, which after two seasons together is hitting all the right notes, as a reference as his own continues to move forward.
"Lotto in their first year they had nearly all the same guys they're using now and couldn't put it together properly. It's taken a bit of time getting it to where it is now and that's what we're doing now," the 26 year old said.
"I'm hoping through this year we really get the results of 12 months of experience coming together and by the time we get to the Tour I think we should be at the same point they were at 12 or 18 months ago."
Goss is more than capable of navigating his own way in a sprint finish and is also handy in more undulating terrain, but insists continuing to work on his lead-out is helpful.
"You look at how fast Greipel's guys are and Cav's (Mark Cavendish) got guys he's raced with in the past. It's really difficult to fight your way around," he said.
"You have to have as much energy saved up in that last 10K as possible. Once we get it worked out right I can sit there, not be thinking and just kind of pedaling behind them knowing we're in the right position.
"It's not so much the physical energy you save it's the mental energy you save."
Goss spent most of the pre-season at his European-base Monaco instead of native Tasmania and, free from knee complaints that hindered training the same time last year, is at a similar weight to that of early 2011 - a breakthrough season where he became the first Australian to win Milan-San Remo and later went on to claim silver at the UCI road world championships in Denmark.
"When I ran second (at Down Under) a couple of years ago I'm about a kilo lighter than that," he said. "The shape is pretty good. I'd like to be down a little bit more before we get to San Remo and those races but I'm happy with where it is now. I stopped racing in September so I'm really missing that intensity and I'm hurting a little bit but I still definitely think it's coming up."
Goss is down to compete at next month's Tour of Oman with Tirreno-Adriatico, Milan-San Remo, undisclosed Spring Classics as well as the Giro d'Italia on his race programme.
The Tasmanian's team-mate, Simon Gerrans, won the first monument of the season last year but last week suggested the Ardennes Classics will be more of a focus in the coming months.
That possibly may make room for new signing and national silver road medalist Michael Matthews, who has competed at Milan-San Remo previously under the tutelage of three-time winner Oscar Freire, to start alongside Goss.
Matthews and Goss have similar styles and strengths but that it seems won't be a cause for conflict. The latter said he'd have no worries inviting the 22 year old into his lead-out train if the right opportunity arose.
"I haven't raced with him at all so I don't know what he is like but he's definitely got the talent," Goss said.
"For me it's important that I can climb probably a little bit better than some sprinters, and he can climb as good if not better than me as well. It's good to have someone I know is going to be at the finish line. But at the same time he is young.
"What I think we miss a little bit in our lead-out train is experience. I'm probably the most experienced guy in that type of racing. We're still learning a little bit about it, not like (Greg) Henderson, who has done it for a few years, (Mark) Renshaw and these other guys when they were working with Cavendish. We're a young lead-out and trying to get it to work.
"Jens (Mouris) and (Daryl) Impey have definitely got the HP, that's for sure, but maybe we are just missing a little bit of the racing nous in that finish, especially in the big, big races where we haven't done a whole lot.
"It's going to take time."
Thank you for reading 20 articles this month* Join now for unlimited access
Enjoy your first month for just £1 / $1 / €1
*Read 5 free articles per month without a subscription
Join now for unlimited access
Try first month for just £1 / $1 / €1