McQuaid defends UCI over claims of corruption and ineptitude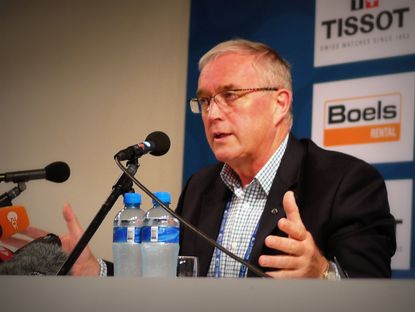 The Union Cycliste International's (UCI) President Pat McQuaid announced today in Geneva that it would strip Lance Armstrong of his seven Tour de France wins, but found himself defending his federation for the sport's ongoing doping problems.
"When I took over as president of the UCI in 2005, I made the fight against doping my priority, that still remains my priority. I admitted and acknowledged that cycling had a culture of doping and that I was intent on changing that culture of doping. Cycling has come a long way since then. There's a lot of evidence that culture of doping has changed or is changing. I was very comforted by the remarks this week by some people like Bradley Wiggins, Philippe Gilbert, David Millar, who testified to the fact that the culture within the peloton has changed."
He added that to catch the dope cheats in the pre-WADA years was difficult, and that the UCI was limited by the system it had to work within. Now they have greater powers and work with national police forces and investigators who have even more powers. "You have to put yourself in that date and place. These activities took place between 1998 and 2005; cycling has changed a lot since then. What was available to the UCI at that time was much more limited than what is available now. If we had those tools that we have now, this sort of activity wouldn't have gone on."
The UCI, according to McQuaid, now spends 7.5m Swiss Francs annually on anti-doping measures and has staff who liaise with police forces across Europe in the fight against doping.
Many questions still remain over McQuaid, and his predecessor Hein Verbruggen who still wields considerable power in his role as Honorary President. Under their watch the UCI received a $125,000 donation from Armstrong and publicly criticised Frankie Andreau, Tyler Hamilton and Floyd Landis when they confessed to their past drug use. Earlier this year they tried to claim USADA had no authority in the Armstrong case - only to be told by WADA they were wrong - and publicly criticised the American anti-doping agency for taking too long to provide the UCI with their evidence.
"I have no intention of resigning as the UCI president," a resilient McQuaid said. "There's nothing in the USADA report that said that Hein Verbruggen did anything wrong, so therefore there's no reason why he should go." McQuaid took over as president in 2005 from Hein Verbruggen, who continues as the honorary head of the cycling federation.
The US Anti-Doping Agency (USADA) published its reasoned decision in the Lance Armstrong doping investigation on October 10, at the same time sending a 1000-page document explaining its case to the UCI. It told of doping throughout Armstrong's career; 1999 to 2010, the years he won the Tour, and his comeback.
The agency details Armstrong's cortisone positive test being covered up by his team via a backdated therapeutic use exemption (TUE) form in the 1999 Tour de France. It gathered testimony from 15 riders, including former Armstrong team-mates Floyd Landis and Tyler Hamilton. Both alleged the UCI covered up Armstrong's positive EPO test from the 2001 Tour of Switzerland. The UCI admitted it received around $125,000 from Armstrong in 2002, but had already said in 2010 that this was not part of a cover-up.
"[The bribery allegations] are absolutely untrue," McQuaid said. "When you study the papers in the file related to the 1999 cortisone [positive test] and the 2001 Tour of Switzerland, you'd see that there was nothing to be bought off. The UCI absolutely denies that ever happened."
"I wasn't President at that time, I can only account for my period from 2005 onwards," McQuaid explained. "If I have to apologise now on the behalf of the UCI, what I will say is that I'm sorry that we couldn't catch every damn one of them red-handed and thrown them out of the sport at the time."
Thank you for reading 20 articles this month* Join now for unlimited access
Enjoy your first month for just £1 / $1 / €1
*Read 5 free articles per month without a subscription
Join now for unlimited access
Try first month for just £1 / $1 / €1