McQuaid expresses anger and regret at UCI list publication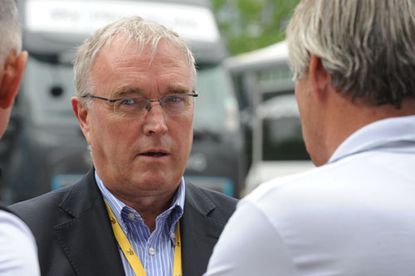 Union Cycliste Internationale (UCI) president Pat McQuaid has said that he is angry at the publication of the so-called 'doping suspicion index' in French newspaper L'Equipe on Friday.
McQuaid published an open letter to riders and teams on Tuesday evening expressing regret that the confidential list had been brought into the public domain. He also acknowledges the discontent among riders due to the publication of the list, branding its leak as 'unacceptable'.
"I write to you following last week's regrettable disclosure of confidential information in the French daily newspaper L'Equipe, under the title 'UCI's secret list'," wrote McQuaid.
"I am fully aware of the anger and strong reactions that the publication has generated and I can tell you that I was angry as well."
The list consisted of all of the riders taking part in the 2010 Tour de France ranked from zero to 10, and was part of the UCI's targeting list for anti-doping tests during the race. Publication of the list caused anger among those named on the list, as well as leading to questions of how the ranking scores were created.
"It is essential to understand that this is not a list that indicates degrees of suspicion of doping, but a working document that establishes an order of priority for carrying out doping tests," McQuaid explained.
Individual scores were drawn up using several elements: data from a rider's biological passport, whetehr the rider has been tested recently or not and 'sporting considerations' which are listed by McQuaid to include race results, ambition and objectives.
McQuaid finishes the letter with: "I make no apologies for the fact that UCI will continue to take every measure possible to protect clean athletes. Our objective, shared by many of you, is a doping free cycling, one where the values of ethics and fair play are cherished."
Both the UCI and the World Anti-Doping Agency (WADA) are conducting investigations into how the confidential document was leaked to the press.
Related links
WADA and UCI investigate source of 'suspicion index' leak
Popovych, Sky, Millar react to being listed suspicious
Riders react with anger to publication of UCI suspicion list
Thank you for reading 5 articles this month* Join now for unlimited access
Enjoy your first month for just £1 / $1 / €1
*Read 5 free articles per month without a subscription
Join now for unlimited access
Try first month for just £1 / $1 / €1