McQuaid pushes for longer doping suspensions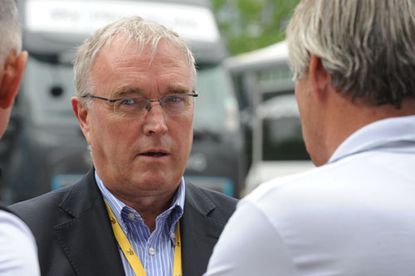 "International Cycling Union (UCI) President Pat McQuaid is pushing for longer doping suspensions. He told France's L'Equipe on Monday that he would like to ban EPO users for life.
"As president of the UCI, I know that it is legally too difficult to implement such a ban," said McQuaid. "I am, however, in favour of increasing the duration. There should be a four-year ban for those who take EPO. We're going to propose that to the national federations soon, they will need to be on the same line as us to prevent appeals to CAS."
A cyclists caught doping typically receives a two-year ban regardless of the drug. McQuaid suggested that the UCI should determine a ban's length based on the drug.
"EPO is serious, and should see four years. But, Ventolin, for example, it may bring six or nine months."
David Millar and Ivan Basso both returned successfully from their doping suspension and, based on their attitudes, were well received. Riccardo Riccò tested positive for EPO-CERA at the 2008 Tour de France and received a different reception when he returned to race this April. There are more cyclists waiting to return, too: Franco Pellizotti, Danilo Di Luca, Davide Rebellin...
"OK, but what has he done to repair the damage he has caused to cycling and his sponsor? It irritates me when I see riders return and want to make as much money as before.
"Riccò? I'll just say that the leaders of team [Vacansoleil] were naive. Riccò would never join my team if I was the team manager."
L'Equipe's reporter asked McQuaid if he was happy to see Italy's Basso return and win the Giro d'Italia this year.
"I was very, very happy for him," said McQuaid. "He was the first to admit his guilt. When he was suspended, he said, 'I accept the penalty, I want to come back with a good image.' He told me how much he suffered. When he took his children to school, he put a hat and glasses so that he would not be recognised."
The UCI introduced its biological passport at the start of the 2008 season as a way to detect doping without an actual positive test result. Scientists are able to monitor the rider's blood and urine values over time to look for suspicious changes.
The biological passport may have helped curb doping cases, but mainstream media still sees cycling as a sport for dopers. The recent investigation in Spain involving Eufemiano Fuentes, Operación Galgo, may help point the media towards other sports.
"Some of the media think that a cyclist cannot do without doping. But we have great credibility with the IOC [International Olympic Committee] and WADA [World Anti-Doping Agency]."
Related links
UCI brands Landis a liar in latest publication
Thank you for reading 20 articles this month* Join now for unlimited access
Enjoy your first month for just £1 / $1 / €1
*Read 5 free articles per month without a subscription
Join now for unlimited access
Try first month for just £1 / $1 / €1