Nairo Quintana says he's not retiring. What next?
The Colombian, let go by Arkéa-Samsic last year, is still without a team, but wants to race on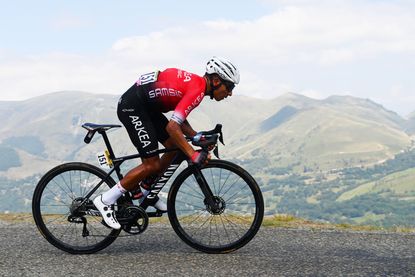 (Image credit: Tim de Waele / Getty)
Nairo Quintana stood up on Wednesday, in front of the world's media, and stressed that he will not be retiring, that he still loves cycling, and that he has always been a clean rider. He wants to continue racing. There is one problem: he does not have a team, and might never find one.
This feels like the biggest flaw in the 32-year-old's plan to carry on in the sport. There had been mounting speculation that Quintana would announce that he was leaving professional cycling at the press conference he called; what else would it be, given he does not have a team? Team after team has denied interest, and as Rui Costa was on the attack in the Challenge Mallorca, he stood up to speak. This had to be it.
However, this did not come to pass. At his coffee company, 9.30, in Bogotá, the diminutive Colombian took to the stage to insist that he wants to continue. The season has already started, however, the WorldTour is underway, and riders are winning races in Australia, Mallorca, Gabon and Argentina, all while Quintana stand on the sidelines. What's the point in fighting to stay in the sport if you will never win?
"I'm going to keep battling to continue - to continue on the bike until my body and mind give way," he said.
"I want to return to competition, pin a number on, feel the pain in the legs but also the satisfaction of victory and of giving the best of myself until the line. I want this, I need this, because competition is a part of me."
I could give a press conference to say I had not given up on my dream of playing for Southampton Football Club, but it's not going to make the outcome any more likely to happen.
Quintana left Arkéa-Samsic at the end of the 2022 season, despite signing a new contract with the French team last summer, ahead of their big promotion to the WorldTour.
The day after Quintana signed his new contract, he was retrospectively disqualified from the 2022 Tour de France, after two of his blood samples revealed the presence of the painkiller tramadol. The UCI's decision was upheld by the Court of Arbitration for Sport [CAS] last month.
While the World Anti-Doping Association (WADA) does not include tramadol on its banned substance list, the painkiller had been banned by the UCI since March 2019 due to its adverse side effects. WADA has since outlawed its use, which will come into effect from 2024.
"I am an honest rider, I've always said so, in my more than 260 [doping] controls in the last 10 years of my career, I've never had problems," Quintana argued on Wednesday. "Ever since I turned professional in 2009, I have respected the rules, competing with integrity, respecting and honouring the fair game."
However, that's not what the tramadol positive shows. It makes it all the more difficult for the ageing climber to find a new squad. Nine of the 18 WorldTour teams, and a further 15 ProTeams are members of the the Movement for a Credible Cycling (MPCC), which has stricter guidelines than WADA or the UCI on corticosteroids and tramadol.
"I don't have a team, but I'm a rider who's still available to put on a jersey and give his best on the road," Quintana said.
Well, with the 24 MPCC teams unlikely to give the Colombian a spot for this year, it leaves him short of options, especially at the top level. One can rule UAE Team Emirates, Ineos Grenadiers, Soudal Quick-Step and Jumbo-Visma out immediately, as teams too successful, too big, to need the controversy that would come with signing Quintana.
Astana-Qazaqstan has already denied interest, and has already taken a punt on someone without a team, signing Mark Cavendish. That leaves Bahrain-Victorious, Movistar, Jayco-AlUla and Trek-Segafredo at WorldTour, and only Trek or Bahrain have space. I can't see it happening.
Quintana again said that he did not want to race for Continental teams from Colombia, like his compatriot Miguel Ángel López, after his dismissal from Astana, but what does that leave him? Setting up his own team?
He can talk about his belief, and his love for Colombia all he wants, but it is so hard to think of where he could fit in; a squad that he would like to ride for, that would also be willing to pay him a wage and give him free reign. It is a lot.
For now, then, Quintana's is a career stuck in limbo, in purgatory, without the push that will take him into his idea of hell - retirement - or into his idea of heaven - one final chance on the biggest stage.
In fact, all of his career's achievements hang in the balance; are we to forget the impressive rides that saw him almost win the Tour de France twice, and win the Giro d'Italia and Vuelta a España, and think of him as the rider who took tramadol? It is not currently clear.
Nothing is certain, and perhaps we will see the wily old climber on the mountains of Europe one last time, reminding us of that day up Mont Ventoux, that day on the Stelvio. It probably time to accept that the time for Quintana is over, however.
Perhaps he should become a poet, or some kind of spokesman for Colombian cycling, such was his eloquence on Wednesday. Farewell Nairo the cyclist, the pen beckons.
"I am convinced that from our mountains emerge the best talents in world cycling, who will read my story and be inspired to go out and conquer the world," he conclued. "I, for now, want to continue writing more chapters on the bike."
Who would allow him to write his verse on two wheels is less clear.
Thank you for reading 20 articles this month* Join now for unlimited access
Enjoy your first month for just £1 / $1 / €1
*Read 5 free articles per month without a subscription
Join now for unlimited access
Try first month for just £1 / $1 / €1