New Specialized S-Works 7 Lace shoe: classic style, lighter weight, lower price
The fourth offshoot of Specialized's flagship road shoe is one for the connoisseur - here are all the details plus a 'first ride'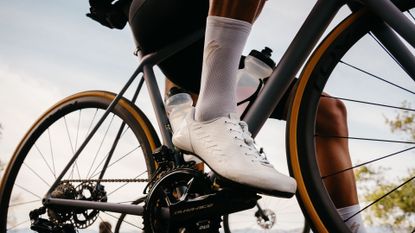 (Image credit: Specialized)
The Specialized S-Works 7 Lace follows hot on the heel cups of the S-Works Recon Lace gravel shoe, which launched last year, and marks the US brand's re-entry into the stylish world of the lace-up road shoe.
The S-Works 7 Lace is the fourth offshoot of Specialized's pro-level cycling shoe (opens in new tab), joining the S-Works Exos (opens in new tab), the S-Works Vent and the S-Works Ares (opens in new tab).
Spesh hasn't had a lace-up road shoe in its range for some time now, but it seems that with the buzz around the Giro Empire dying down a bit and seeing Adidas back in the road shoe market with a laced model aimed at young and style-conscious cyclists the US brand thought, hey, we can do better than that.