New Team Sky lube from Muc-Off (video)
Muc-Off, the lubricant supplier to Team Sky, has launched a new Team Sky branded Hydro Dynamic chain lube.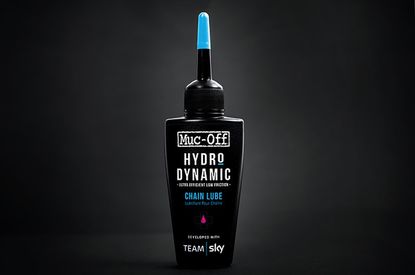 Muc-Off invented a machine to allow it to quantify the efficiency and durability of its formulation and claims that the new lube delivers ultra-low friction, being 15% more efficient than its own C3 Wet Lube and 27% more efficient than a competitor's.
The new lube comes in a 50ml bottle, packaged in Team Sky (opens in new tab)'s familiar black and blue and priced at £16. It should be applied to a degreased and dried chain three to four hours before riding. There's a small UV torch packaged with the bottle, which you can use to check that all links in the chain have been coated, as the lube fluoresces when the torch is shone on the chain. The formulation is petroleum-free.
http://www.youtube.com/watch?v=AarnikjOs4k#t=164
Muc-Off says that the lube contains extreme pressure additives, making it suitable for long distance rides both in wet/damp and dry/dusty conditions and for road and cyclocross use. The company suggests that its ability to quantify performance should allow it to make further efficiency gains in its lubricants in future.
Team Sky has endorsed the new lube, which has been used extensively in race conditions since last year's Tour de France.
More information on the Muc-Off (opens in new tab) website.
Thank you for reading 5 articles this month* Join now for unlimited access
Enjoy your first month for just £1 / $1 / €1
*Read 5 free articles per month without a subscription
Join now for unlimited access
Try first month for just £1 / $1 / €1