New York City passes bill to try and stop e-bike battery fires
There were over 200 fires caused by lithium-ion battery in the city last year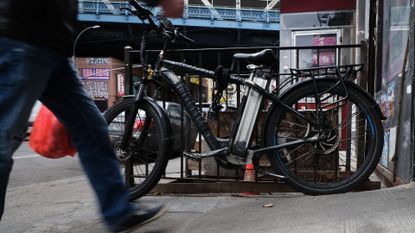 (Image credit: Getty Images)
New York City Council has passed a significant safety legislation regarding e-bikes and lithium-ion batteries in response to a worrying number of fires in the city.
Last year, the New York City Fire Department (FDNY) responded to 220 fires caused by lithium-ion batteries, in which six people died and another 147 were injured. This increased rate of incidences has continued into 2023, with the FDNY called out to an average of three battery fires a week.
The city council's new bill, passed unanimously on Thursday but still awaiting the Mayor's approval, seeks to combat this problem by banning e-mobility devices and batteries that don't meet a minimum safety standard.
As a requirement, e-bikes will have to be certified to UL 2849 - an approved electrical and fire safety standard - in order to be sold, rented or leased in New York City.
City council speaker Adrienne Adams said: "The toll that fires are increasingly having on families and communities is devastating and requires the urgent attention of all levels of government.
"We must reduce the avoidable fire tragedies caused by the wide proliferation of uncertified lithium-ion batteries. These bills are an initial step to increase public education and reduce the growing commercial circulation of uncertified batteries that pose the greatest danger."
The new legislation will only be enforced once the Mayor has signed it, and will then take 180 days to come into effect. Anyone who doesn't comply will not be fined for a first offence, but will then face fines of up to $1,000 each time.
Alongside the ban, New York City Council's legislation also calls for a series of public education campaigns and a restriction on using cells from used batteries to recondition lithium-ion batteries.
The issue of battery fires is, however, by no means confined to the city. According to the U.S. Consumer Product Safety Commission (CPSC), there have been hundreds of reports from 39 out of the 50 U.S. states regarding incidents of fire and overheating of e-mobility products, as well as many other incidences worldwide.
Last December, CPSC sent a letter to thousands of e-mobility manufacturers, distributors and retailers, calling on them to ensure their products comply with established safety standards, or face possible sanctions. These safety standards include ANSI/CAN/UL 2272, ANSI/CAN/UL 2849 and the UL standards.
"Compliance with the standards should be demonstrated by certification from an accredited testing laboratory," said CPSC director Robert Kaye, adding that consumers "risk serious injury or death" if their devices do not meet safety standards.
Thank you for reading 20 articles this month* Join now for unlimited access
Enjoy your first month for just £1 / $1 / €1
*Read 5 free articles per month without a subscription
Join now for unlimited access
Try first month for just £1 / $1 / €1