Olympic long jumper Greg Rutherford 'not afraid of failing' in switch to track cycling
Rutherford says he's spoken to track cyclists who have been encouraging about his switch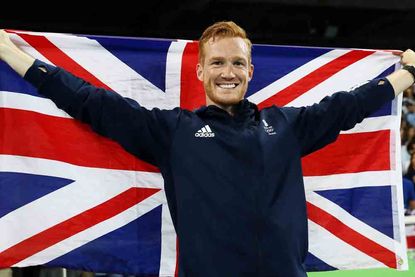 Olympic champion Greg Rutherford has said he is not "afraid of failing" as he embarks upon a cycling career following retirement from 13-years of long jump.
The London 2012 gold medalist told Eurosport "what I am never afraid of is failing - I am happy to give things a go. Now that I am retiring, why not try another sport?"
The 31-year-old announced in June that he intended to retire following the Great North City Games next month, following a long-term ankle injury.
Initially, he planned to try his hand at broadcasting, but now the 2015 world champion plans to extend his sporting years on the bike.
"It's one of those things that you don't know if I am going to be any good, I might be terrible at it," said Rutherford, who took a bronze medal at the Rio Olympics in 2016.
"I cycle a lot anyway recreationally, predominantly mountain biking, so being in a velodrome is going to be very different, but it's a thing I am willing to try," he told Eurosport.
"I have always been good at producing speed and power, hence why I was a good long jumper."
Rutherford is setting his sights high - referencing Rebecca Romero, who won silver in Athens as a rower in 2004 and then gold in the track individual pursuit in 2008 at Beijing.
"Rebecca Romero famously managed to win a medal in rowing and then cycling. If I can do something like her then it would be wonderful."
"I have spoken to a few cyclists themselves including Joanna Rowsell Shand and Dani Rowe, and they seem quite keen on the idea of me doing it.
"When you get the backing of those sorts of people, then absolutely why not," he added.
Thank you for reading 20 articles this month* Join now for unlimited access
Enjoy your first month for just £1 / $1 / €1
*Read 5 free articles per month without a subscription
Join now for unlimited access
Try first month for just £1 / $1 / €1