Over 14,000 penalised by police in London road safety operation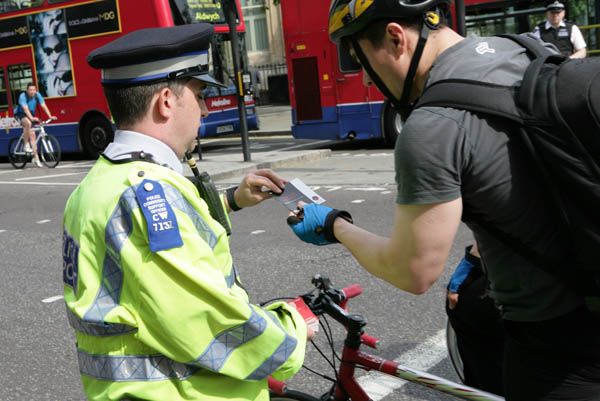 The Metropolitan police issued 14,409 fixed penalty notices (FPNs) and reports for summons in a seven-week road safety operation in London, figures released today reveal.
Operation Safeway, which ran from 25 November to 10 January in response to a series of cycling deaths across the capital, saw 2,500 officers targeting 170 of London's most dangerous junctions.
Safeway was extended for an extra week from 3 January as commuters returned to work. In total 4,269 FPNs/reports for summons were issued to cyclists and 10,140 to motorists, in both cases most commonly for jumping red lights, as well as cycling without lights at night and driving while using a mobile phone.
Those on bikes received 4,269 FPNs or reports for summons in total; 1,277 for contravening traffic signals, 1,608 for cycling without lights at night (though many of these were cancelled when cyclists subsequently produced lights) and 1,057 for cycling on a footway.
Those driving received 10,140 FPNs or reports for summons in total; 1,113 for contravening traffic signals, 2,597 for using a phone while driving, 2,484 for failing to wear a seatbelt and 93 for driving without due care. A further 3,853 FPNs/summons were issued for 'other' offences including driving without insurance or with a vehicle fault.
The London Cycling Campaign's Charlie Lloyd was among campaigners from the CTC and RoadPeace as well as Green Party London Assembly Member Jenny Jones who, though they welcomed the operation, shared concerns over advice given to cyclists.
Lloyd said: "In several cases cyclists have been given penalties for crossing the white line at a cyclist's ASL [advanced stop line] safety zone when they are trying to create safe space in front of a motor vehicle occupying the ASL box. Recently the Crown Prosecution Service dropped their case against cyclist Alex Paxton in a similar situation."
He added: "The police have been promoting the use of cycle helmets and hi-vis clothing where there is scant evidence that these have any effect in reducing the type of casualties seen on London streets. Increased use of helmets and hi-vis should not be seen as a measure of success for Operation Safeway."
Detective Chief Superintendent Glyn Jones of the MPS Road Traffic Unit, said in the eight week operation he has seen attitudes change on London's roads, along with a decline in the rate of FPNs and notices handed out, adding spot checks and education at junctions will continue.
DCS Jones said: "Our aim was to have a sharp and intense period of enforcement and education which would quickly prompt people to behave more safely on the roads.
"One of the most significant factors in whether this change is maintained will be if people continue to act legally and safely on the roads. Remember, nothing is worth risking yours or another's life on the road," he added.
The Mayor's Cycling Commissioner, Andrew Gilligan, said: "This operation has been hugely valuable - exposing and deterring significant levels of law-breaking and dangerous road use by all groups, and almost certainly saving life and limb.
"In the last eight weeks we have not seen one cyclist killed on London's roads and dangerous behaviour has clearly dropped. We want to build on this operation, in tandem with our improvements to infrastructure, and ensure that we continue to see better behaviour from everyone on London's roads."
Related links
2500 police officers deployed in London for road safety