Pendleton fronts latest Hovis campaign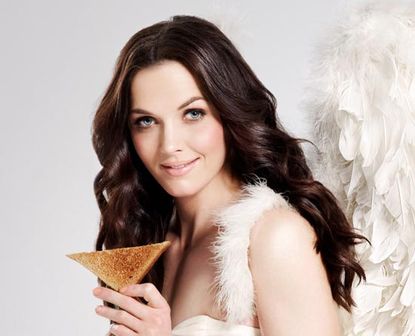 British track star Victoria Pendleton is fronting a new campaign created by baker Hovis to try and stop women from snacking between meals.
According to Hovis, Pendleton has worked with them to create a new 'Stop Snacking' Facebook application to entice people to eat healthily - more specifically wholemeal bread - for breakfast to keep the hunger pangs at bay and hands away from the biscuit tin at tea break.
Olympic and world champion Pendleton appears in a series of publicity shots dressed as an angel and the devil. The angel, of course, eats Hovis wholemeal whilst the devil snacks on all manner of high-sugar, fat-saturated rubbish. Probably.
Pendleton signed up with Hovis to represent the brand in a three-year deal last January, when she dressed up as the famous Hovis delivery cyclist pushing a bike up Gold Hill in Shaftesbury, Dorset.
In April, Pendleton was photographed as Audrey Hepburn's character Holly Golightly from the film Breakfast at Tiffany's.
Pendleton also appears in a new Hovis television advert extolling the virtues of wholemeal bread (YouTube clip below).
Pendleton was most recently in action at the Cali, Colombia, round of the 2010/11 UCI Track World Cup, where she showed that her build-up to the 2012 Olympic Games in London is on course by taking gold in the keirin and team sprint, with Jess Varnish.
Related links
Pendleton adds Keirin gold in Cali
Pendleton is new face of Hovis
Victoria Pendleton: Rider Profile
Thank you for reading 20 articles this month* Join now for unlimited access
Enjoy your first month for just £1 / $1 / €1
*Read 5 free articles per month without a subscription
Join now for unlimited access
Try first month for just £1 / $1 / €1