Peter Sagan's 10 greatest wins - we reminisce as the sprinter retires
Sometimes awe-inspiring, sometimes baffling, but nearly always entertaining, here are some of Peter Sagan's greatest hits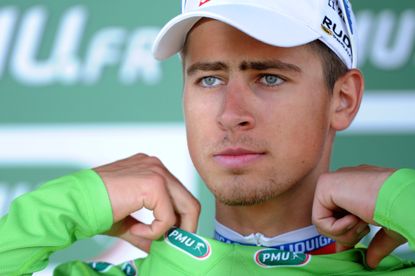 (Image credit: Pascal Pavinii / Getty Images)
Peter Sagan quietly closed his career at the Tour de Vendée on Sunday, with ninth place behind French sprint Arnaud Démare. At the end of what has been the first winless season of a 16-year pro career, Sagan may well have walked away from that one fairly pleased with his work.
In fact you get the feeling he has quite enjoyed winding down without the pressure that came with being one of the best in the world.
He isn't quite done with competition though – he switches to mountain bike now for a tilt at the Paris Olympic Games next year.
But there was a time where only a mechanical or a crash would have seen Sagan down in ninth place in a 1.1 ranked race bunch sprint. Instead, he would more likely have won, and indulged in a bit of showmanship while doing it.
There were many such moments in a career that featured 121 victories – here are 10 of the best.
1. TOUR OF FLANDERS 2016
A major Classic win had looked inevitable for Sagan for a few years as he lined up for the 2016 Ronde. He'd had two top-fives in the race already, but up to that point it had always been a case of 'close but no cigar' on the big appointments. However, a win at Gent-Wevelgem and second at E3 a week before suggested the 25-year-old might be hitting form at just the right time.
He had stiff competition at Flanders of course, with many eyes on three-time winner Fabian Cancellara, who was riding his final edition and seemed determined to go out with a flourish – as evidenced by his win at Strade Bianche only two months previously.
But when Sagan kicked on over the Oude Kwaremont, dragging Sep Vanmarcke with him, Cancellara was caught behind. The Swiss set off in pursuit of the pair, but the bird had flown. Vanmarcke had no reply to Sagan's seated attack on the Paterberg a few Ks later, wearing only an Elvis snarl, and while Cancellara caught and passed the Belgian soon afterwards, Sagan's attack was decisive – he held on for a 25-second solo win.
2. TOUR DE SUISSE 2011, stage 3
As far as victories go, this was one of Sagan's less prestigious, but the style in which he achieved it also makes it one of his most impressive.
Part of a large early breakaway on this 107km mountain day Sagan – still just 21 and in his second WorldTour season – was one of just five riders still in the lead at the top of the day's final climb, the 16km Grosse Scheidegg. It was no soft group either, with Jakob Fuglsang present and even Andy Schleck unable to hold the pace. That didn't stop GC hopeful Damiano Cunego (Lampre) from bridging across from behind, catching them at the summit.
Cunego quickly opened a gap that only Sagan looked to have a chance of closing. The pair left all others behind as they became locked in high-speed pursuit down what was an incredibly narrow and sinuous descent, dotted with rogue damp patches from previous rain.
Despite coming to a standstill with 5km remaining after apparently overcooking a bend, Sagan regained Cunego's wheel and, as the road continued to fall and wind through the streets of Grindelwald, made a move straight from the F1 playbook, squeezing past his rival on a bend to take a hard-fought, high-speed victory.
3. PARIS-ROUBAIX 2018
Now a three-time world champion, Paris-Roubaix stood out as one major race that the sprinter-turned-Classics powerhouse could win but as yet had not.
Having won Flanders in 2016, the following year was something of a damp squib for Sagan: his Flanders was derailed by a crash and then he became ill midweek. Needless to say, Sagan's 38th at Roubaix was not the result he was looking for.
There were no such issues for Sagan in 2018, who by that time was riding for Bora-Hansgrohe. Sixth in both Milan-San Remo and the Tour of Flanders, not to mention a win at Gent-Wevelgem, all pointed to a Peter Sagan on singing form.
He was clearly confident going into Roubaix, attacking from the main group of favourites with 54km to go. Bridging across the the early break and picking up Syvain Dillier of AG2R, the pair forged ahead, working together to hold off the efforts of a crack group of hopefuls including Greg Van Avermaet and Sep Vanmarcke.
The velodrome finish went exactly as expected, with the Slovak – by now already a five-time green jersey winner at the Tour – outgunning Dillier.
4. TOUR DE FRANCE 2012, stage 1
Sagan got his Tour de France career off to a flying start, aged just 22. It was only his second Grand Tour and having put in a stellar performance at the previous year's Vuelta a España, winning three stages in what was his debut three-week race, there was a certain amount of pressure on the young Slovak's shoulders.
That didn't really apply to the 6.4km prologue in Liège of course, but the following day was a likely looking stage and Sagan managed to exceed all expectations with a victory that oozed panache.
In the streets of Seraing, Classics star Fabian Cancellara attacked with around 1300 metres remaining, and Sagan was straight on his wheel, with Edvald Boassen Hagan also following on. Maintaining a few seconds' advantage ahead of the bunch, there was no mistake in the dash to the line, which Sagan won comfortably.
5. WORLD CHAMPIONSHIP ROAD RACE 2015
Sixth place in Florence two years previously suggested Sagan had the World Championships firmly in his sights. But the panache with which he pulled off the first of his three World Championship wins took many by surprise.
The Slovak had sat quietly in the wheels all day, silently biding his time around the course in Virginia, USA. It wasn't until the final steep ramp, with 2.5km to ride, that he showed his hand – to devastating effect.
He leapt out of the wheels at the head of what was a speeding, strung-out bunch as it approached the straight-up cobbled climb. He opened a small, but ultimately unassailable gap, which slowly grew as he threw everything he had into the final kilometres. He contorted himself around the cockpit on a steep downhill, railed the corners and pedalled like fury, all the while slowly adding metres to his lead.
Having held off the charging pursuers behind up the final drag of Governor Street, Sagan crossed the line just three seconds ahead of Australia's Michael Matthews, with Ramunas Navardauskas of Lithuania third.
6. TOUR DE FRANCE 2016, stage 11
By 2016 we were used to two things in the Tour de France. Chris Froome winning on GC with a carefully choreographed three-week strategy, and Peter Sagan taking the green jersey following a campaign of victories and high placings in the bunch finishes. This was all very well, but it was easy to predict.
So imagine the murmurs of approval that bounced around the globe as both riders tore up the playbook, launching into a breakaway together as the race bore down on Montpellier on stage 11 – a day the sprinters had earmarked.
It was Sagan who instigated the move along with Tinkoff team-mate Maciej Bodnar, taking advantage of disarray in the bunch caused by strong winds. Keen to press the advantage, Froome jumped on his wheel, followed by Geraint Thomas.
The quartet rode a team time trial for the next 12 kilometres, touching speeds of 62kph on the flat. The only thing that was predictable about it was Sagan's eventual victory in the final sprint, which he took with only six seconds separating the escapees and bunch sprint winner Alexander Kristoff behind.
7. GENT-WEVELGEM 2013
The previous year Sagan had sprinted to second place from a big group of favourites, with only Tom Boonen ahead of him. When, the following year, he found himself pounding the streets of Wevelgem in another, similar sized favourites group, he tried a different tactic.
His sprinting ability dictated that he probably could have taken care of companions such as Greg Van Avermaet, Juan Antonio Flecha and Heinrich Haussler, but the Slovak, who had already taken three second places in a Classic race that season, tried a different tack.
When Stijn Vandenbergh (Omega Pharma-Quick Step) launched an attack with 4km to ride, Sagan quickly followed, and just as the group reformed, put in an attack of his own. With his companions initially reluctant to work, the gap quickly went out to several bike lengths – and with that, he was gone, finishing 23 seconds ahead.
8. TOUR DE FRANCE 2012, stage 3
Over the years, Sagan has been nothing if not entertaining. His one-handed wheelies on the final major climb of the Tour de France each year have become the stuff of legend. But there was a time when we only knew Sagan as a world-beating young star, and for all many knew, as serious as the rest of them.
But the 2012 Tour de France was perhaps when the world really began to get acquainted with the entertainer that Sagan apparently loved to be and his 'running man' celebration as he sprinted to victory in Bologne-sur-mer on stage three was without doubt a touchstone.
He had already given us a slightly half-hearted 'bodybuilder' – which some decided was a chicken dance – two days before, after crossing the line for what was his first Tour de France victory.
But in Bologne he made no mistake with his celebration – or indeed with his final kick, which left runner-up Edvald Boassen Hagen trailing by several bike lengths. It was a tough finish too, with a sizeable climb up to the line, showing a global audience that this 22-year-old could both talk and talk and walk the walk.
He has given us many more celebrations over the years, many of which have been quite frankly baffling – but always entertaining.
9. TOUR DE SUISSE 2012, prologue
Sagan was never known as a time triallist, but he did in fact win four in his career – all between 2012 and 2015. Like many sprinters, he could kick out a decent short-distance prologue – a world-beating one in fact, and this was perhaps demonstrated to the best effect at the 2012 Tour de Suisse.
Being his only time trial win in a WorldTour race, this 7.3km dash around Lugano was his most prestigious win against the clock.
He was up against some pretty impressive competition too – want to guess who was second? It was Fabian Cancellara, winner of five Tour de France prologues – including the one that would take place two months after Sagan had handed him his pointy helmet to the tune of four seconds in his home race.
Who knows, perhaps it was this defeat that inspired the Swiss rider to train hard enough to win at the Tour that year.
10. WORLD CHAMPIONSHIP ROAD RACE 2017
Sagan's sprint victory in Bergen, Norway, to win the World Championship for a third time was not his most spectacular win by any means. But the pressure he overcame to achieve this historic feat – deserves a whole lot of recognition, as does the feat itself: three Worlds wins in a row. It had never been done before by a male pro.
Sometimes Sagan likes to ride ostentatiously, to break away and ride the glory; but on this occasion he was a silent assassin. Not unlike 2015 in Richmond, he spent most of the day invisible, riding quietly in the wheels and biding his time.
His time, when it came, involved making one big kick in the final 200 metres. With home hope Alexander Kristoff also kicking hard on the other side of the road, it turned into a drag race to the line where the pair could be separated only by the photo-finish equipment. Sagan took it by a quarter of a wheel.
Even in the face of this historic achievement, Sagan remained laconic as ever in the post-race press conference, exuding the air of a man who had better things to talk about. And that, perhaps, is why he is such a star.
Thank you for reading 20 articles this month* Join now for unlimited access
Enjoy your first month for just £1 / $1 / €1
*Read 5 free articles per month without a subscription
Join now for unlimited access
Try first month for just £1 / $1 / €1